If you've been reading my blog or have been following me on Instagram (
@thebakeanista
), you'd know by now how much I love chiffon cakes and how obsessed I am with matcha.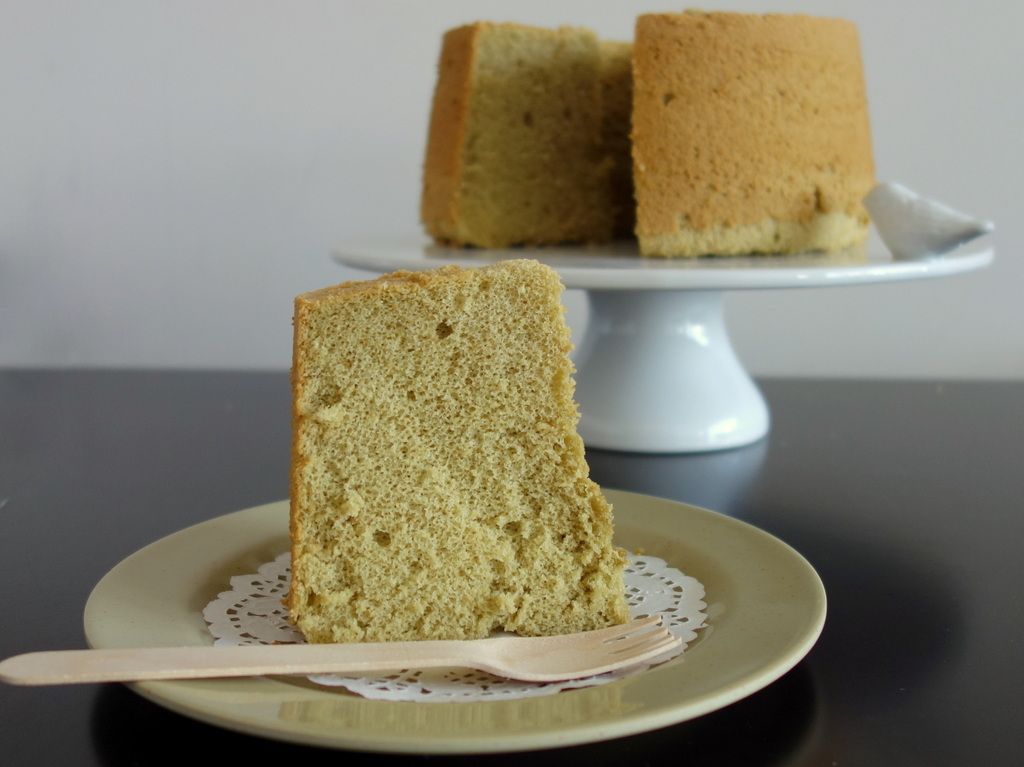 Today I am sharing with you this matcha chiffon cake recipe that I have made many times in the past. I've received lots of amazing feedback from my family and friends whom I have shared the cake with.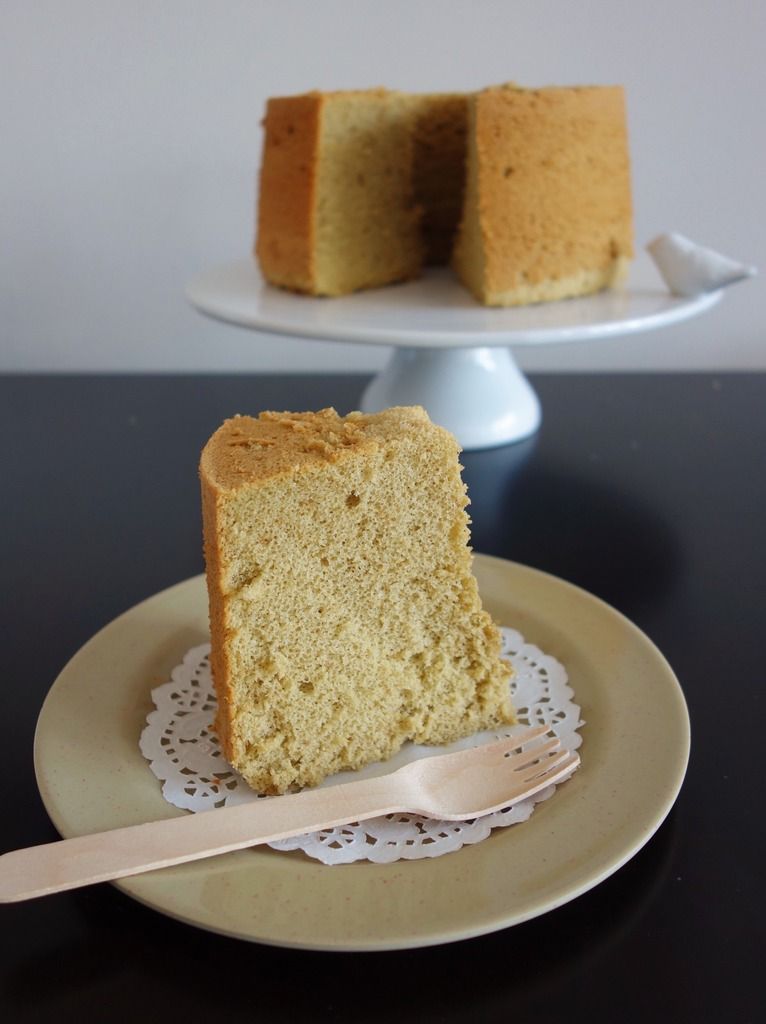 The texure of the cake is really airy, light and fluffy, as all chiffon cakes should be! Don't say I didn't warn you but you won't be able to stop at one slice. ;)
Here's the recipe and if you'd like to read on, I also shared a little on the difference between using low and high grade quality matcha powder.
Green Tea Matcha Chiffon Cake
Recipe adapted from Just One Cookbook and modified by The Bakeanista
Ingredients
(A)
6 large egg yolks

90g castor sugar

80ml vegetable oil

120ml water, room temperature

150g cake flour (substitute w/ 122g plain flour & 33g corn flour)

2 tsp baking powder

1 tbsp matcha powder
(B)
6 large egg whites

½ tsp cream of tartar

60g caster sugar
Method
Preheat oven to 170°C. Sift flour once with baking powder and matcha powder then set aside. As I used a substitute of plain flour and corn flour, I had to sift the combination thrice before sifting again with baking powder and matcha.

Combine egg yolks and sugar in a bowl and beat until mixture becomes light and colour turns pale. This takes approximately 4-5 minutes.

Add vegetable oil and mix together. Add the water and whisk until well combined.

Add flour mixture gradually in 4-5 folds, and mix until batter is well incorporated without any lumps. Set aside.

To make meringue, in another clean and dry bowl, beat egg whites until foamy then add in cream of tartar. When the mixture starts to get bubbly, add half of sugar and continue beating on high speed for a few minutes. Reduce speed to medium-high then add remaining sugar and beat until egg whites are glossy, with stiff peaks.

Using a spatula, add one-third of meringue into egg yolk mixture and fold in lightly. Add in another third of the meringue and fold. Finally add remaining meringue and fold to incorporate completely.

Pour batter into a 22cm chiffon cake tube pan (please do not grease the pan) and knock it lightly on the tabletop to remove air pockets.

Bake in preheated oven for 45 minutes. When cake is done, remove from oven and invert it immediately, leaving it to cool. Please make sure the cake is left upside down until completely cool.

Once cake has cooled completely, carefully run a knife or spatula around the sides of the cake to loosen it before inverting onto a wire rack. You can now enjoy the cake!
I hope you will enjoy the cake as much as I did! :)
*********
I have been asked many times what matcha powder I use in my bakings, so I thought I'd share this little insight on what matcha powder I have been using in the past and what I am currently using.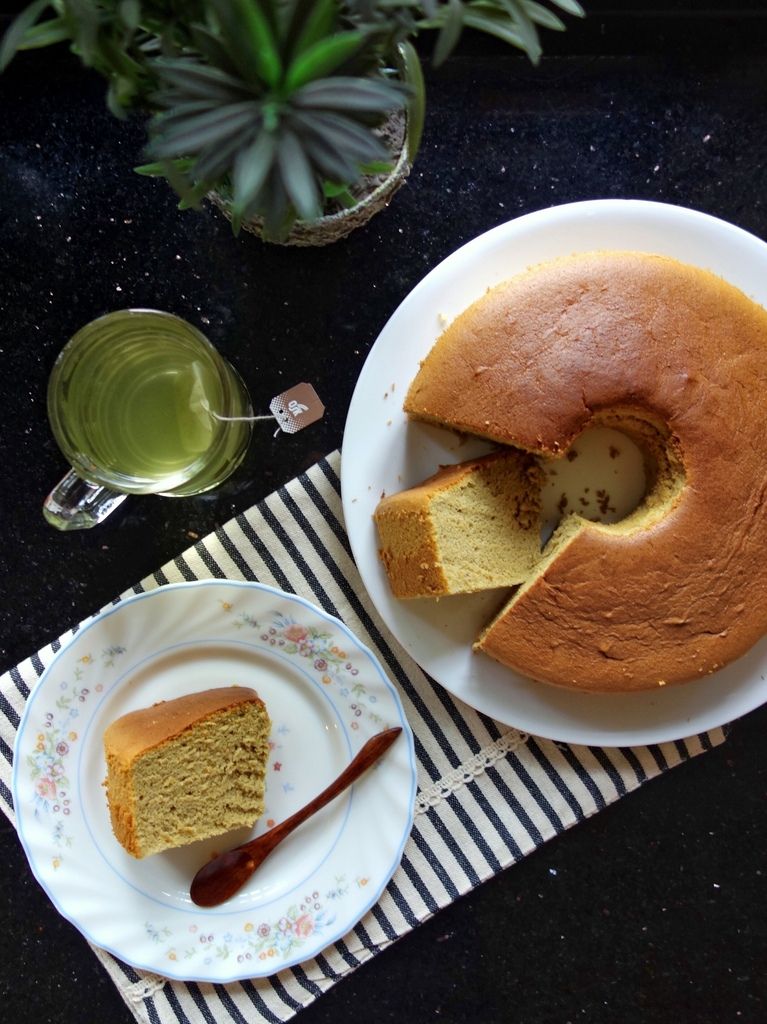 As you can tell from the above few photos, the cake turned out a little dull and brownish in colour after baking as I was using a lower quality matcha powder, namely the Ujinotsuyu Hagoromo Matcha.
A friend once commented on my photo and noted how brown my matcha cake looks, in her exact words "colour looks like gula melaka chiffon cake", and gula melaka as you all know is dark brown in colour! Can you hear my heart break? Lol lol.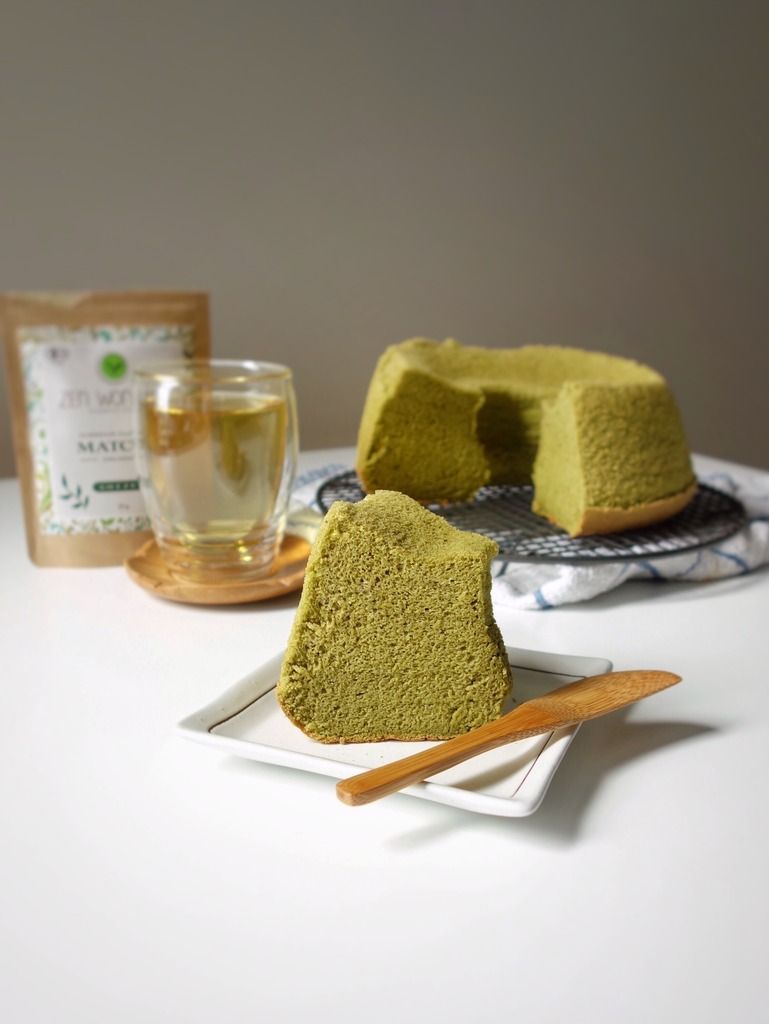 But well, ever since I was recently introduced to
Zen Wonders matcha
powder, I've never had any more problems with dull looking matcha baked goodies. Yay! See how the cake is greener in this photo? It not only looked greener, the cake also tasted better and smelt so much more fragrant!
I'm now hooked onto good quality matcha. Winning this pack of
Superior Organic Culinary Shizen
from Zen Wonders has well and truly changed my perspective on using better quality matcha; as the phrase that goes "you pay for what you get".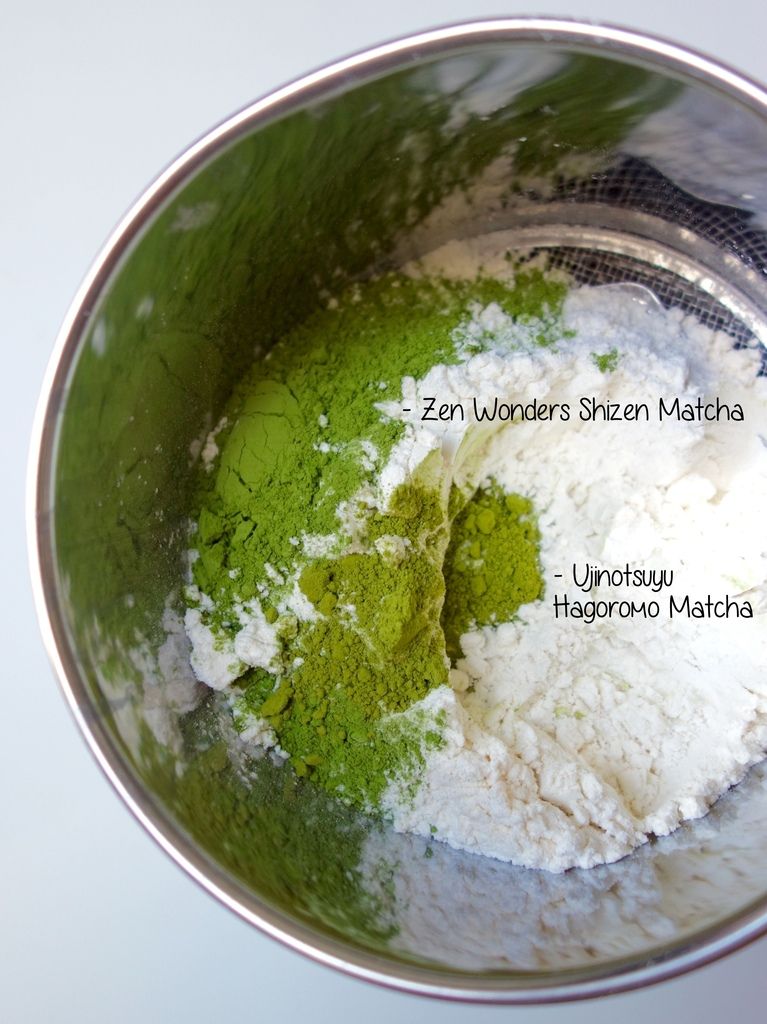 You can tell from the above photo the difference in the colour itself. The
Zen Wonders Shizen
matcha powder is more vibrant in colour because it is of higher grade which means the matcha is fresher in taste and a lot less bitter.
So if you're hunting for good quality matcha, a good key point to spot a good matcha is in its colour - ie. the more vibrant and green it is, the better as this means that younger tea leaves have been used to produce the matcha powder. This also translates to the product having slightly higher nutritional values too.
I have also learnt that the vibrant green is an indicator of a proper shading procedure prior to the harvest, which increases the chlorophyll content of the leaves and a good thing to note is that chlorophyll is a powerful detoxifier for our body.
Lower grade quality matcha is dull green in colour because the product is obtained by grounding older tea leaves and many times including their stems, which doesn't happen for higher grades as the leaves are carefully de-stemmed and de-veined prior to grounding.
So although the Hagoromo Matcha is more affordable and widely available in many Asian grocery stores for $6-7 a tin, the difference in using a better quality matcha really is more beneficial as it is more nutritional and hey, it definitely does yield a more aromatic and fragrant matcha cake too!
I have been enjoying my
Zen Wonders Shizen
in matcha lattes and baked goodies, and hoping that my pack of matcha never finishes! I am a convert now and I cannot recommend
Zen Wonders
enough.
I rave about it to all my matcha lover friends, and now, to you too! If you're looking for good quality culinary grade matcha powder, look no further -
here
. ;)
I thought I was a matchaholic before this but now I am even more obsessed with matcha than I have ever been, which I guess makes me a matcha addict 2.0? Haha!
Have a great week y'all. Until my next matcha post strikes again. *waves*
Update (11/01/2016) - For those keen to try,
Zen Wonders Matcha
is offering an exclusive 10% off the total bill across all products for The Bakeanista's friends. Just enter "BAKENSTA" at check out.