It seems that these days I'm matcha-fying almost everything. There's so much one can do with matcha powder - cakes, breads, cookies, ice cream, ganache - oh, the endless possibilities!
I've tried them all before and I was looking to experiment making something I've never done before. This time around I was inspired by
Thirsty for Tea
to make my very own matcha chocolate chips.
Look at the stunning green colour!
Zen Wonders
was really kind to provide me with a new packet of Shizen to experiment with.
I had a chat to Robert, the owner behind Zen Wonders and I was really impressed with how passionate they are about matcha. They really do pride themselves in offering only high qrade matcha.
In his exact words, "Although our margin would be comparatively lower than others in the market, we don't mind because we just want to share our love for good matcha with everyone else."
In my
previous post
, I shared a brief comparison between Zen Wonders Shizen and Ujinotsuyu Hagoromo Matcha and today I want to share yet another photo for comparison sake.
My friend Sally and I have both tried Matcha Maiden and sadly we weren't as impressed as I didn't find it any different from the Ujinotsuyu Hagoromo. I personally feel that Zen Wonders' Shizen takes it up a notch as it is definitely more fragrant, and the colour difference above is quite apparent.
As I mentioned in my previous post, the more vibrant and green it is, the better as it translates to a higher grade matcha.
In terms of pricing though, Zen Wonders is a tad more expensive, but you really get what you pay for. Below is the pricing for your perusal. Like everything else, there is a different grade with matcha as well and I guess it just really depends on how much you're willing to spend on matcha powder.
Zen Wonders Shizen: 50g for $26.90 ($5.38 per 10g)
Matcha Maiden Mix n Match: 70g for $24.95 ($3.56 per 10g)
Ujinotsuyu Hagoromo: 40g for $7 ($1.75 per 10g)
Even though I was given the product to bake with, I was not paid to write this. I am sharing this with you because I truly love their matcha powder. I wouldn't rave about a product that I personally do not like, that you can be rest assured of.
Plus, if my above photo does not convince you enough, I don't know what will. You've just really gotta try it for yourself. ;)
Update (11/01/2016) - For those keen to try, Zen Wonders Matcha is offering an exclusive 10% off the total bill across all products for The Bakeanista's friends. Just enter "BAKENSTA" at check out.
Anyhow, here's the recipe for those keen to make their very own matcha chocolate chip:
Matcha Green Tea Chocolate Chips
Recipe adapted from Thirsty for Tea and modified by The Bakeanista
Ingredients
Melt white chocolate over a double boiler, making sure the bottom of the bowl does not make contact with the boiling water. Use a spatula to gently stir.

Once chocolate is melted and smooth, sift in the matcha powder and mix until well incorporated.

Transfer to a piping bag with a small and round nozzle tip and pipe into 'chips' onto a piece of parchment paper ensuring that the chips do not touch each other. The chocolate will start to harden as you go, so make sure you work as quickly as you can.

Allow to harden completely, about 1 hour at room temperature or you can speed up the process by placing tray in refrigerator.

Once harden, release the chips from the parchment by gently pulling the parchment up from each of the 4 corners towards the center of the baking sheet. Store them in an airtight container.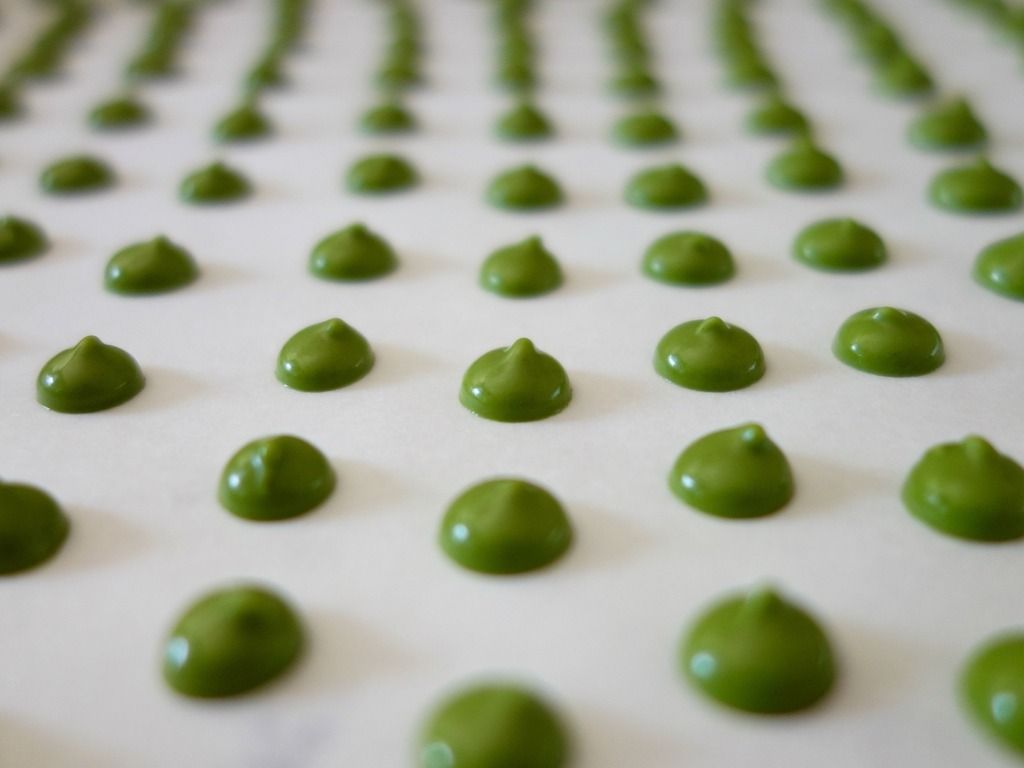 I have to admit though, piping these matcha chocolate chips was not an easy task. It was arduous and tiring. By the end of it, my fingers and arm were all aching! You have no idea how relieved I was when I got to the end.
As the chocolate was really hot at the start, I couldn't work as quickly as I'd like. The chocolate did start to harden as it cooled down, so I had to quicken up my pace which means no rest for my poor hands. And to think that I started making these right after I came home from my intense yoga class. *cringe* I won't lie, my hand started shaking towards the end haha!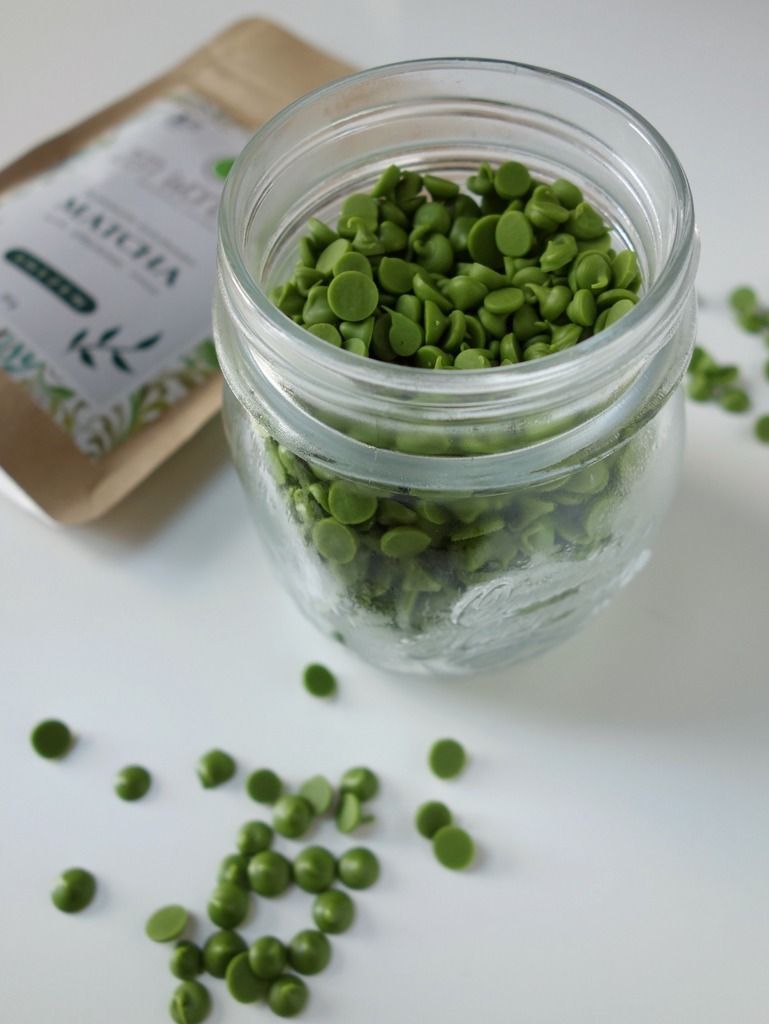 But it was well worth the effort though. These tiny little gems are cute and delicious! I love the bittersweet taste of matcha; it cuts through the sugary sweetness of the white chocolate and the result is simply amazing! You may use these chips in any recipe, as you would chocolate chips.
I am planning to make chewy chocolate chip cookies, but instead of using milk chocolate chips as I usually do, I will use these matcha chocolate chips instead. I will be sure to share the recipe once I get to baking them! Till the next matchanista post. Enjoy baking, y'all. :)