With Christmas around the corner, I'm sure many of you are looking for gift ideas. I'm not sure about you, but I personally love giving edible gifts that I make with care and love.
These Matcha Shortbread Cookies are buttery and fragrant, and I reckon would make the perfect Christmas gift for matcha lovers.
What I love about this recipe is that it's so easy to make and requires only 5 ingredients. They are simple but so delicious, and the addition of matcha powder adds an exotic taste to these buttery treats. They're so good, I am trying not to devour them all too quickly.
Of course you can use any cookie cutter that you like, but the Christmas tree shape makes it extra special for the festive season. ;)
Matcha Green Tea Shortbread Cookies
Recipe adapted from Martha Stewart and modified by The Bakeanista
Ingredient
1 cup or 226g unsalted butter at room temperature

½ cup confectioners or icing sugar

2 cups all purpose plain flour

½ tsp salt

2 tbsp matcha powder
Method
Preheat oven to 180°C and line a baking sheet with parchment paper. Sift together the flour, salt and matcha powder then set aside.

Cream butter and icing sugar for approximately 4-5 minutes until mixture turns light, pale and fluffy.

Add in flour, salt and matcha powder mixture then mix on low speed until a soft dough is formed.

Transfer and roll dough out to 1/4 inch thick on either a clean parchment paper or like I did on cling wrap. Refrigerate dough for 25-30 minutes until firm so it will be easier to handle.

Cut cookies using a christmas tree cookie cutter and place them on a lined baking sheet about 1cm apart. Bake for 13-15 minutes on middle rack or until edges are golden brown. Cool on pan for 2-3 minutes then transfer to wire rack to allow to cool completely.

You will have some remaining cookie dough scraps. I gathered them together and placed them onto cling wrap. I rolled the dough into a log about 1½ to 2 inches in diameter then refrigerated for a further 25-30 minutes. When firm, I cut the log using a clean knife into 1/4 inch thick cookie before rolling the sides of the uncooked cookie in white sugar for a crispier edge after baking. I arranged them onto baking sheet 2cm apart then bake for 11-13 minutes as these cookies were slightly smaller in size. Let it cool completely on wire rack before you dig into them. Make sure you don't scoff them cookies all up alone. ;)
This easy recipe is perfect to bake with kids, or if you're looking for a quick last minute recipe for stocking fillers, this would be a good one. I haven't got to it yet, but I'll be making a new batch closer to Christmas and I bet they'd look really cute wrapped up nicely.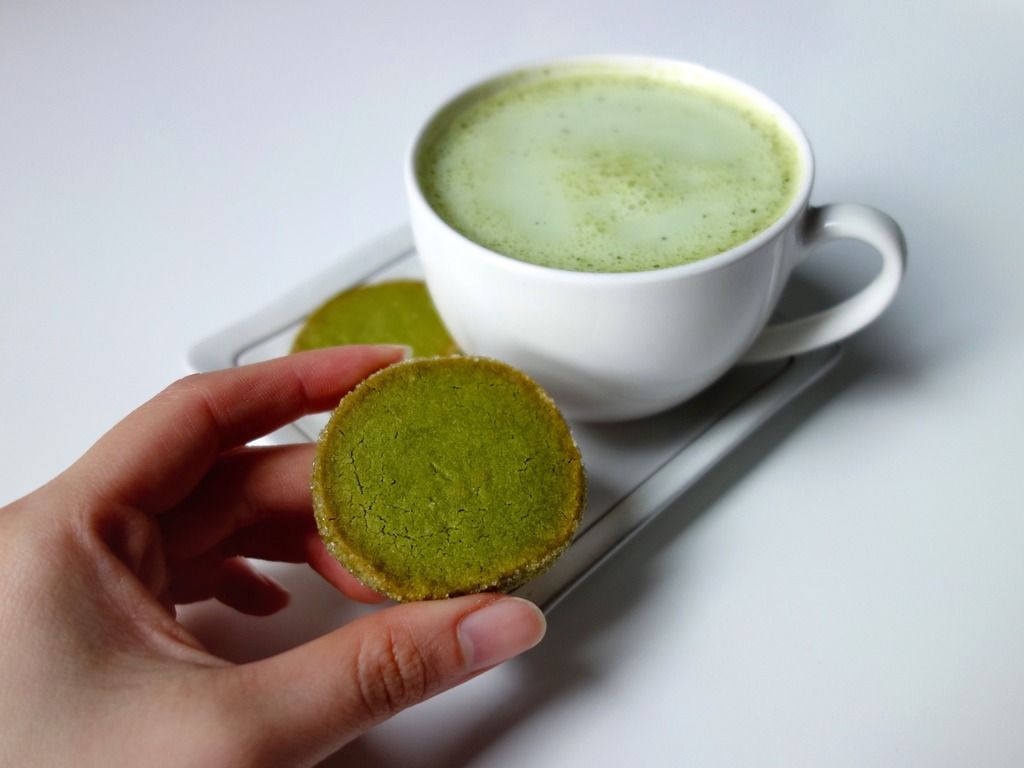 For now, The Boyfriend and I are just going to enjoy the cookies. Our afternoon tea snack is set for a few days. Mmmm, delicious! P/S: They're best with a cuppa tea or matcha latte hehe.
Note: I used Zen Wonders Superior Organic Culinary Shizen (that I won from a competition they held on Instagram) in this recipe, and also in many of my recent bakes and I am absolutely loving it.
Update (11/01/2016) - For those keen to try,
Zen Wonders Matcha
is offering an exclusive 10% off the total bill across all products for The Bakeanista's friends. Just enter "BAKENSTA" at check out.