Before I begin with the recipe, I'd just be honest and admit that I ain't no big fan of earl grey tea. As you know I am a green tea girl, always have been and always will be.
But I was intrigued with how earl grey tea would taste infused in a cake. So I choose one of my favouritest cake ever - the chiffon cake - and baked an earl grey version of it.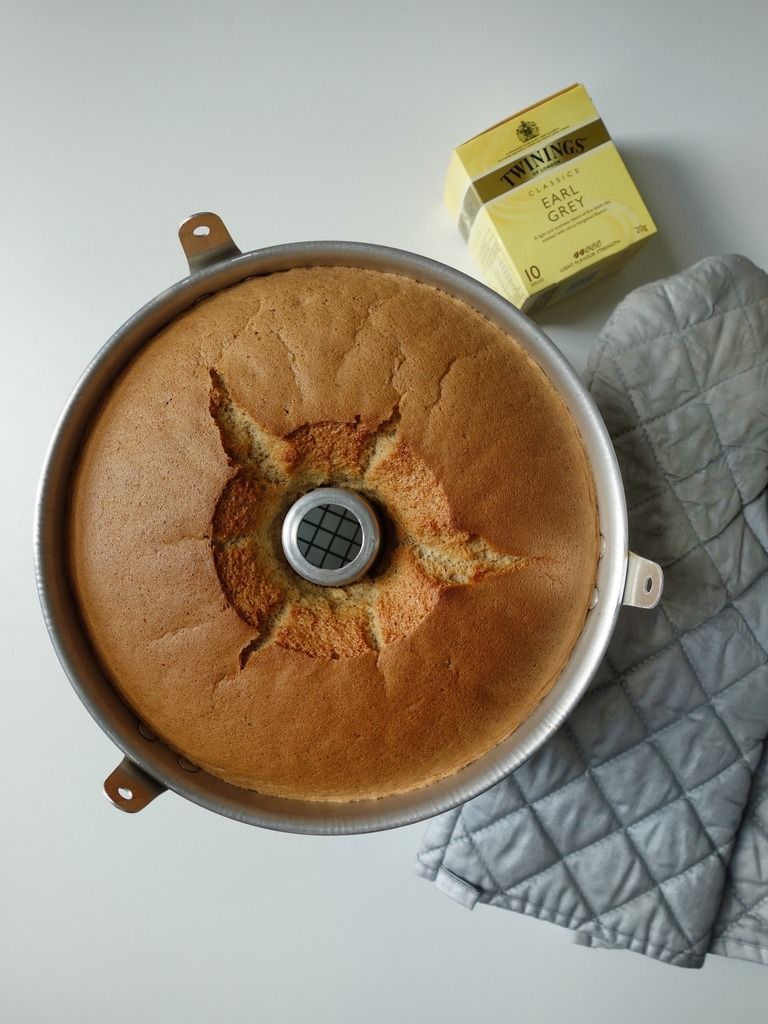 And the result is this tall, fluffy, soft, bouncy... and delicious cake! Oh dear, it was fragrant with aromatic citrusy notes. It smelt so good fresh out of the oven.
As you know, I'm on a clean eating diet so once it cooled completely, I thought I'd take one bite, just one bite, y'know to taste test it.

I mean I don't even like earl grey tea to begin with, but one bite was all it took to change my perspective on earl grey tea. I really, really enjoyed this earl grey chiffon cake, so much that I had 2 slices in one go. #byebyediet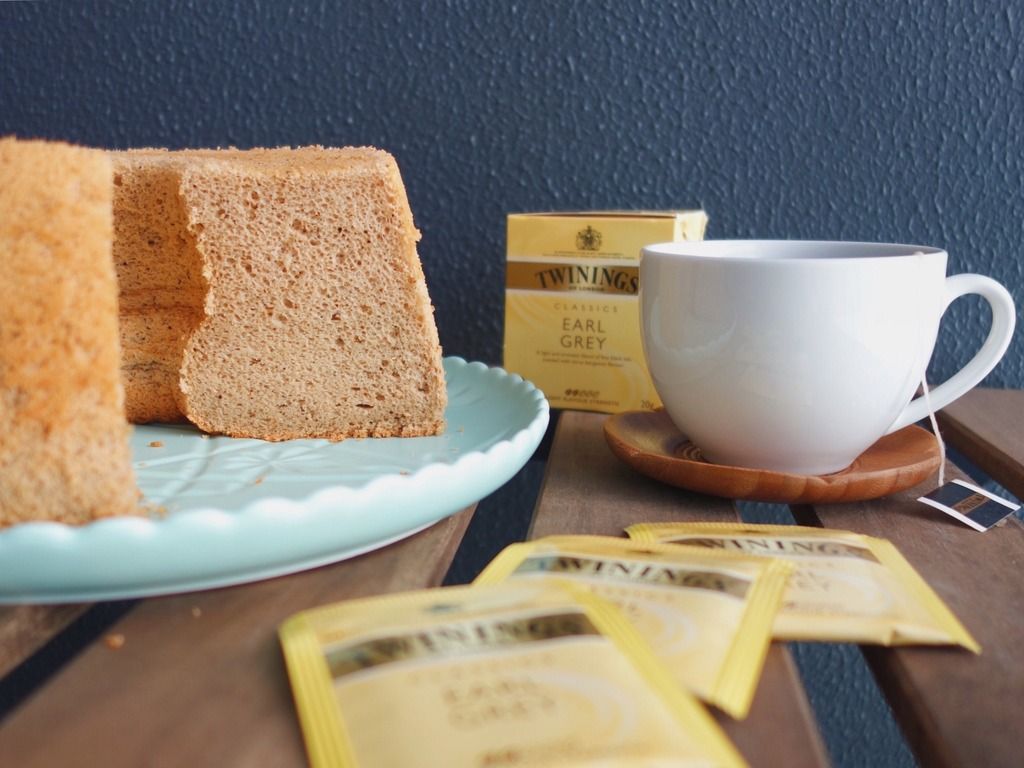 I absolutely love how chiffon cakes are so light and airy. That makes it so... actually almost too easy to eat! The whole cake was demolished in one day, that's how good it was.

I wanted to remake it again the very next day only to find that I did not have enough eggs left. I can't wait to experiment earl grey in more baked goodies, but for now, I'd leave you with the recipe so you too can enjoy this fragrant deliciousness.


Recipe by The Bakeanista - Makes a 22cm cake
(A)
6 large egg yolks
90g castor sugar
80ml vegetable oil
120ml water (hot water infused with 1 tbsp earl grey tea)
2-3 tsp crushed earl grey tea leaves (optional)
150g cake flour (substitute w/ 122g plain flour & 33g corn flour)
2 tsp baking powder
(B)
6 large egg whites
½ tsp cream of tartar
60g caster sugar
Preheat oven to 170°C. Sift flour once. As I used a substitute of plain flour and corn flour, I had to sift the combination thrice. I sifted in the baking powder as well. Set aside.

Steep 1 tbsp of earl grey tea with hot water, I used two bags of Twinings Earl Grey tea. But if you're using loose leaf tea, be sure to drain the tea leaves. Set aside.

Combine egg yolks and sugar in a bowl and beat until mixture becomes light and colour turns pale.

Add canola oil and mix together. Add the infused tea water, and crushed tea leaves and whisk until well combined. You may wish to omit the crushed tea leaves, but they do add to the strength of the earl grey flavour and I'd highly recommend it.

Add flour gradually in 4-5 folds, and mix until batter is well incorporated without any lumps. Set aside.

To make meringue, beat egg whites until foamy then add in cream of tartar in a clean and dry bowl. When the mixture starts to get bubbly, add half of sugar and continue beating on high speed for a few minutes. Reduce speed to medium-high then add remaining sugar and beat until egg whites are glossy, with stiff peaks.

Using a spatula, add one-third of meringue into egg yolk mixture and fold in lightly. Add in another third of the meringue and fold. Finally add remaining meringue and fold to incorporate completely.

Pour batter into a chiffon cake tube pan (please do not grease the pan) and knock it lightly on the tabletop to remove air pockets.

Bake in preheated oven for 45 minutes. When cake is done, remove from oven and invert it, leaving it to cool. Please make sure the cake is left upside down until completely cool.

Once cake has cooled completely, carefully run a knife or spatula around the sides of the cake to loosen it before inverting onto a wire rack. You can now enjoy the cake! :)
Happy baking, and of course, let me know if you've got any questions. I hope you enjoy this recipe as much as I did! :)