Last weekend, I was craving pancakes. But I wasn't feeling generous enough to head out to a brekkie or brunch place to spend $30 on pancakes for The Boyfriend and I.
I wanted to make some at home, and whilst looking for a recipe, I suddenly remembered about the ones
Thanh
raved about - Jamie Oliver's American pancakes.
I trust my food blogger buddies; when they say it's good, it must be pretty damn good. And it sure did turn out pretty damn amazing. If you love pancakes, I highly recommend that you try this recipe. ;)
Jamie Oliver's P

ancakes

USA Stylie
Recipe adapted from Jamie Oliver
Ingredients
3 large eggs

115g plain flour

1 tsp baking powder

140ml milk

1 pinch of salt
Method
First separate the eggs, putting the whites into one bowl and the yolks into another. Add the flour, baking powder and milk to the yolks and mix to a smooth thick batter. Whisk the whites with the salt until they form stiff peaks. Fold into the batter – it is now ready to use.

Heat a good non-stick pan on a medium heat. Pour some of your batter into the pan and fry for a couple of minutes until it starts to look golden and firm. At this point, if you have any flavouring to add, this is the time to sprinkle them on to the uncooked side before loosening with a spatula and flipping the pancake over. Continue frying until both sides are golden.

Stack the pancakes up, then top or layer with whatever tickles your fancy. Finally, drizzle with a generous dash of maple syrup.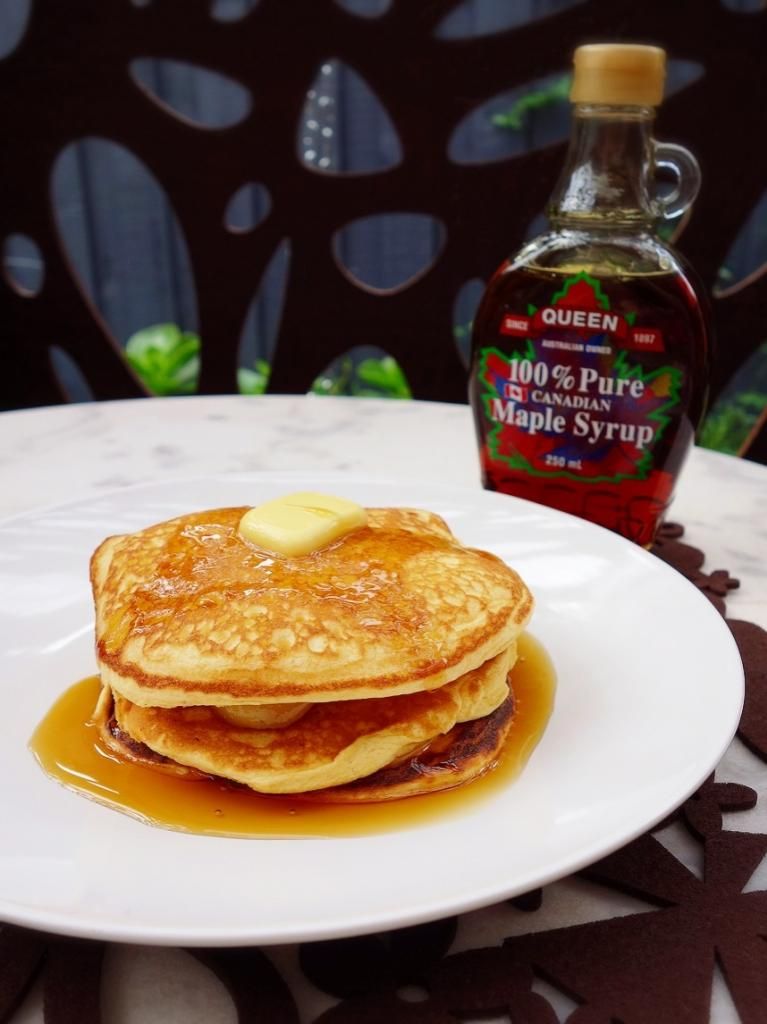 Let me tell you, these pancakes were so soft, thick, light and fluffy!!! Just like how I like my pancakes. This recipe is an absolutely keeper. ;)
Yes, it does take a little bit of extra effort with the egg separation method, but this extra effort is so worth it. Whipping up the egg white separately ensures that the final result is satisfyingly fluffy.
Making pancakes at home is fun and you get to choose your flavourings and top your pancakes with basically anything you want!
The Boyfriend prefers his pancakes with savoury toppings and I, on the other hand, like my pancakes sweet.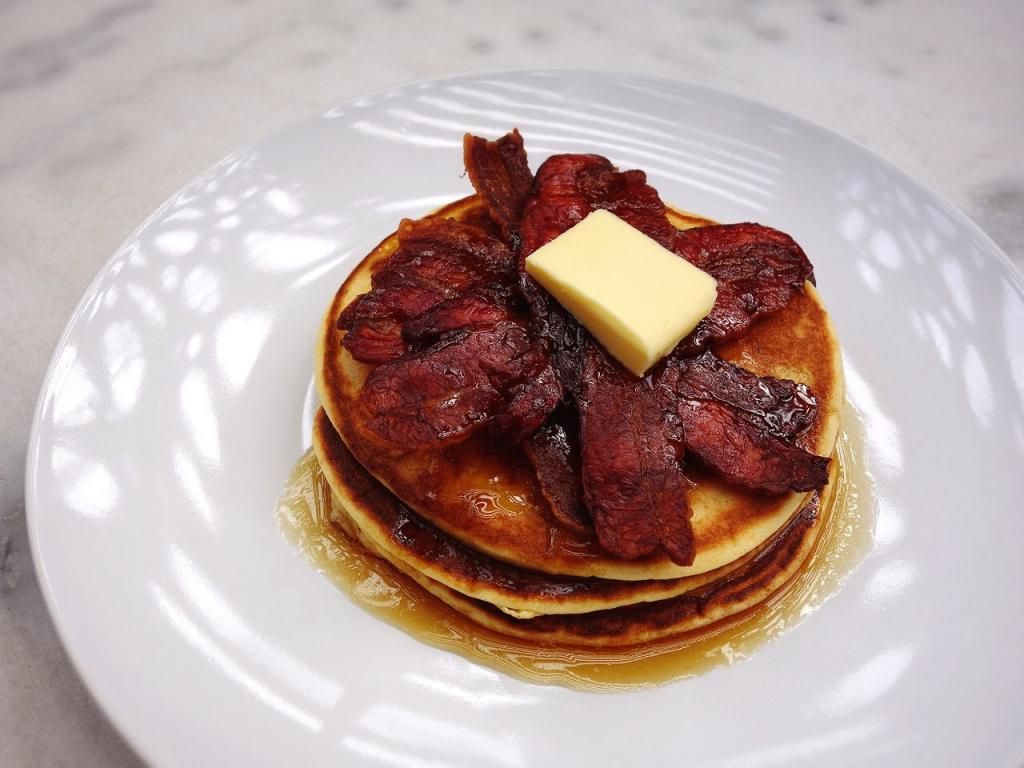 His; with butter, crispy bacon and 100% pure maple syrup. After this picture was taken, I placed this plated up stack of pancakes to sit in the oven for 2-3 minutes to help the butter melt. ;)
Please note, the oven has already been turned off, but it still contained heat from earlier when we used to cook the bacon.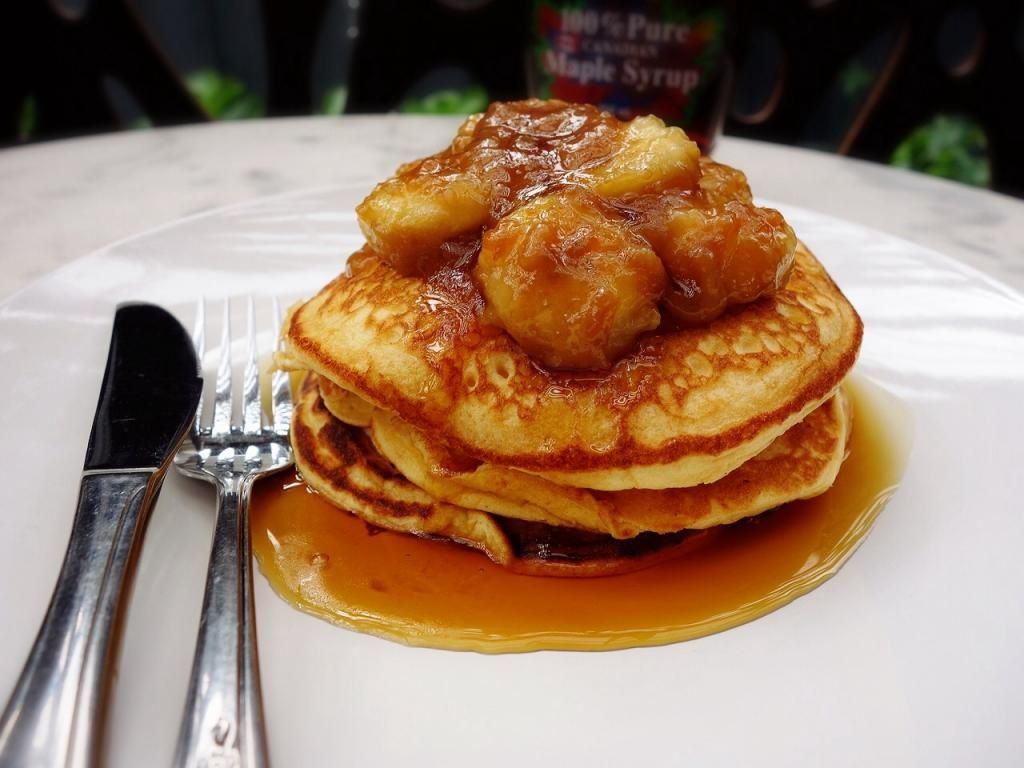 Hers; with sautéed bananas, Greek yogurt in between the layers and a generous drizzle of 100% pure maple syrup.
Remember, when you're at the supermarket aisle looking for the right maple syrup to get, take an extra minute or two to check the ingredients on the labels to ensure that you're getting 100% pure maple syrup and not maple flavoured syrup as that's all sugar. ;)
As for my sautéed bananas, I simply sliced up a riped banana, and cooked it in approximately 15g of butter, melted in a pan with 1 tbsp of brown sugar until caramelised.
Can't wait to make these pancakes at home again with The Boyfriend! I'm going to try Jamie Oliver's suggestion next, with corn in pancake, served with bacon and maple syrup. Sounds so so delicious!!
I hope if you do try this recipe, that you'd enjoy the pancakes as much as The Boyfriend and I did. Good luck! :)