Following my post on Jinda Thai, I thought it'd be totes appropriate to follow through with a recipe post for the Thai Milk Tea cupcakes I made for The Boyfriend (who is a big fan of cha-yen) on V-Day.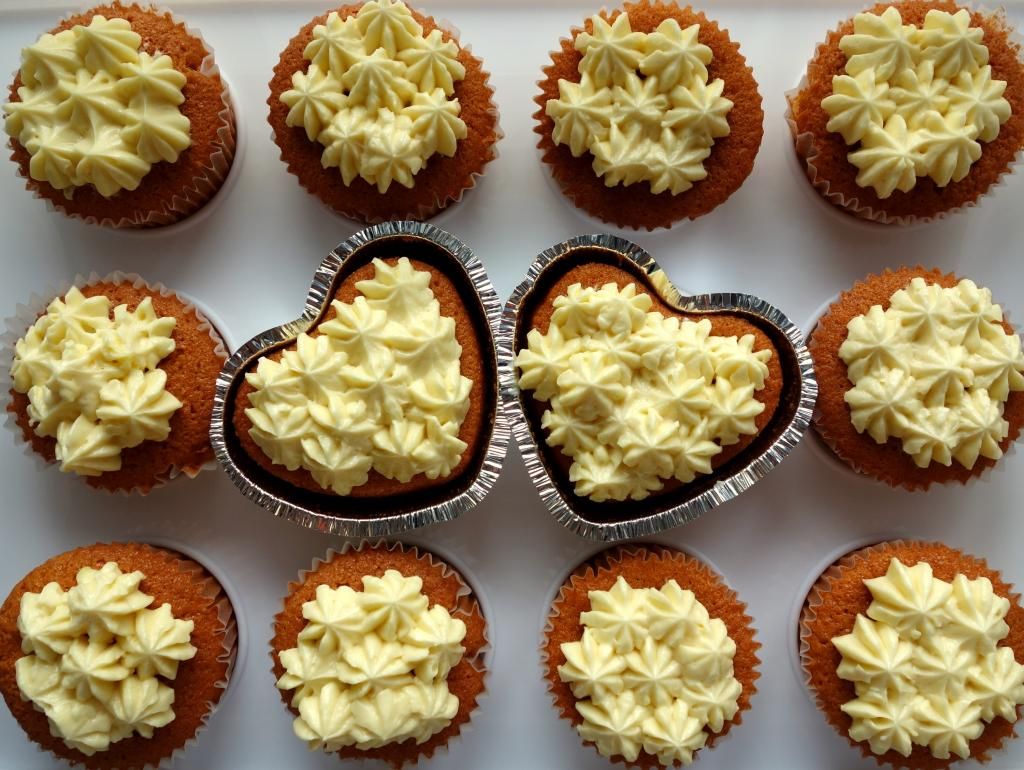 Topped with a generous amount of condense milk buttercream, these Thai milk tea cupcakes taste exactly like the drink. So glad that The Boyfriend enjoyed them! :) Without further ado, here goes the recipe:
Thai Milk Tea Cupcake with Condensed Milk Buttercream
Recipe adapted from
Bowen Appetit
& modified by The Bakeanista; makes 24 cupcakes
Ingredients
2 cups milk

1/4 cup condensed milk

3/4 cup Thai iced tea mix

225g cake flour

2½ tsp baking powder

½ tsp salt

225g butter, room temperature

1½ cup sugar

4 eggs, room temperature

One batch condensed milk buttercream, recipe below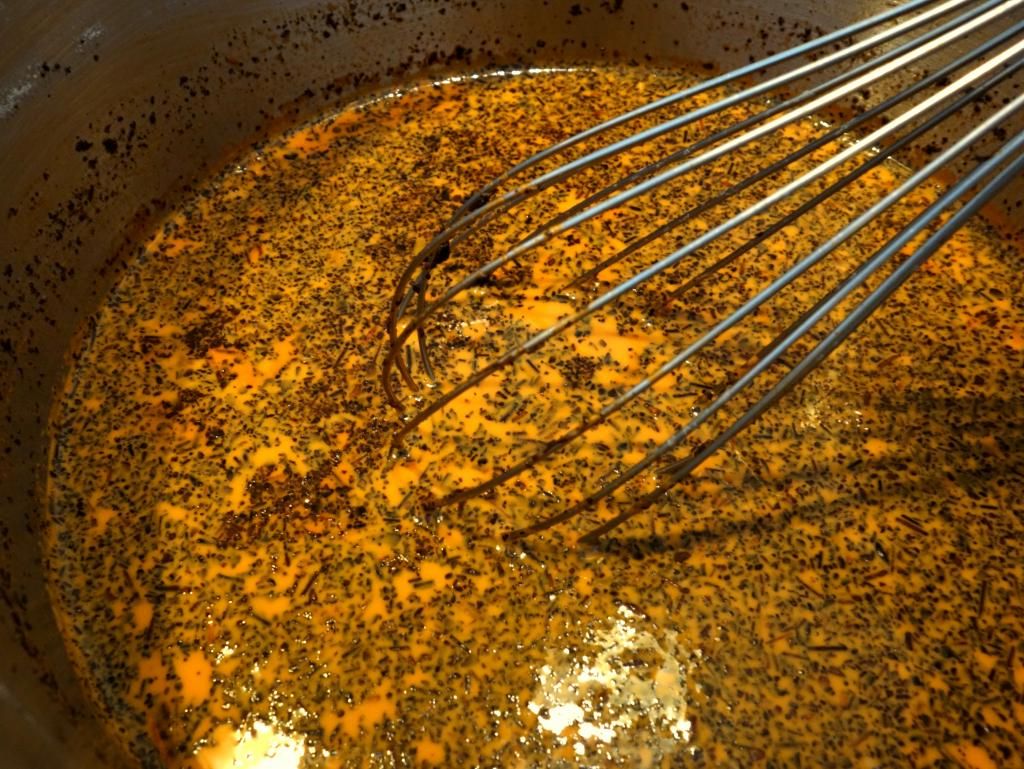 Method
Preheat oven to 175°C. Line with paper liners 2 x 12 cups muffin pans.

Whisk together milk and condensed milk in a medium pot. Heat over medium-high heat until scalded (steaming with bubbles forming around the edge) whilst stirring occasionally.

Add the tea mix, remove from heat, cover, and let sit 10 minutes. Pour through a sieve, coffee filter, or tea screen to strain out the tea. Let the mixture cool to room temperature.

Whisk together the flour, baking powder, and salt in a large bowl then set aside.

Using an electric mixer on medium speed, cream together butter and sugar until light and fluffy (for approximately 4-6 minutes).

Beat in the eggs one at a time, making sure each egg is fully incorporated before adding the next.

Reduce speed to low and beat in one-third of the flour mixture. As soon as the flour is almost incorporated, add half the milk mixture. Repeat with a second third of the flour mixture, the rest of the milk, then the rest of the flour, making sure not to over-mix after each addition.

Use a rubber spatula to give the batter a final stir, scraping along the bottom and sides of the bowl to make sure all lumps are incorporated and that there are no pockets of dry ingredients hiding in the batter.

Pour batter into the prepared pan(s), filling cupcake cups about 3/4 full.

Bake for 20-30 minutes or until cake tester inserted into the center of the cake should come back clean.

Let the cakes cool in the pans on wire racks for 10 minutes. Then remove each one and let cool on wire racks until completely cool.
Condensed Milk Buttercream Frosting
225g butter, room temperature

3/4 cup condensed milk

100g icing sugar, sifted

2 tsp vanilla
Beat butter with an electric mixer until completely smooth, about 1-2 minutes. With the mixer on low, pour in the condensed milk. With the mixer on low, add the powdered sugar in a few batches. Add vanilla. Beat until completely incorporated. Frost! ;)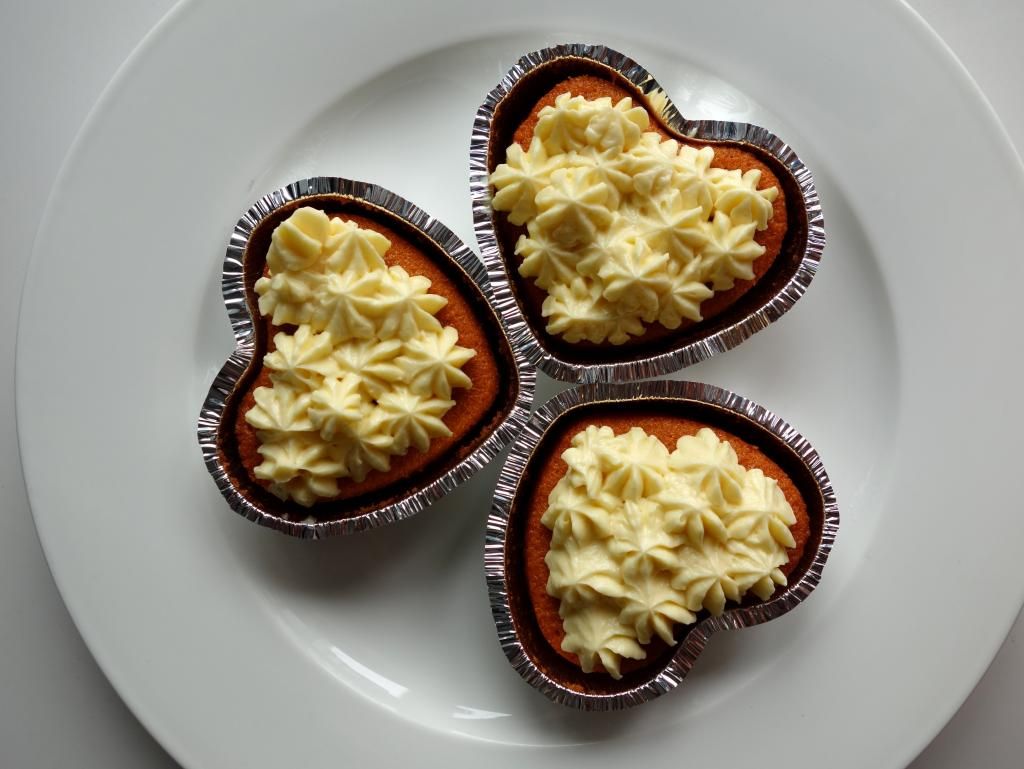 It was recommended to rest the cupcakes for at least a day before serving them to allow the flavours to develop and be more intense.
You may opt to refrigerate them in the fridge, just remember to let them sit at room temperature for at least 15 minutes before serving.
This is the brand of Thai milk tea mix that I bought from the Thai grocery store located next to Jinda Thai in Richmond for only $4.50. I like that it also comes with a filter! ;)
These Thai Milk tea cupcakes are perfect for afternoon tea! As they are a little too sweet for me, I had mine with a cuppa mocha. The Boyfriend thought the level of sweetness was fine though. ;)
Good luck and I hope you'll enjoy them as much as we did!