I can't believe it has taken me this long to blog about my favourite Thai restaurant - Jinda Thai. But on the good note, that also means I've had the opportunity to accumulate more pictures to share with you over the few visits I've made to Jinda.
They have quite an extensive menu, and we're still trying to try new dishes although at times we find ourselves ordering a familiar dish that we particularly return for.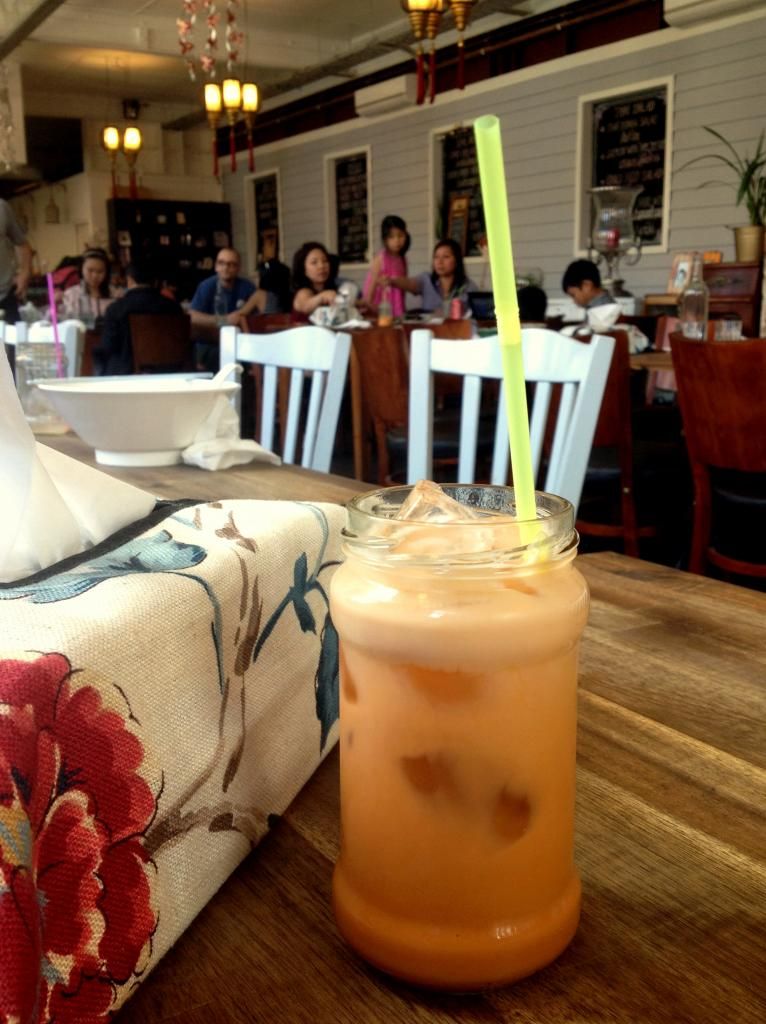 The cha-yen (Thai milk tea) is something The Boyfriend has to order every single time we are there. He loves it so much that I went to the Thai grocery store next door to purchase Thai tea leaves to make at home for him, with lesser sugar. :P
Oh, and with The Boyfriend being a big fan of soft shell crab, he was stoked to find one whole page on the menu dedicated to just soft shell crab. His mission is to try all the soft shell crab dishes lol.
The som tum soft shell crab was good; tangy dressing with a kick of spice from fresh chilli and a good crunch from the cashew nuts.
And so was the deep fried soft shell crab with green apple salad. The salad was so spicy, yet addictively good.
I had a glass of water in one hand, and a fork pierced with some salad and crab on the other - I simply could not help myself. I reckon this is my fav soft shell crab dish.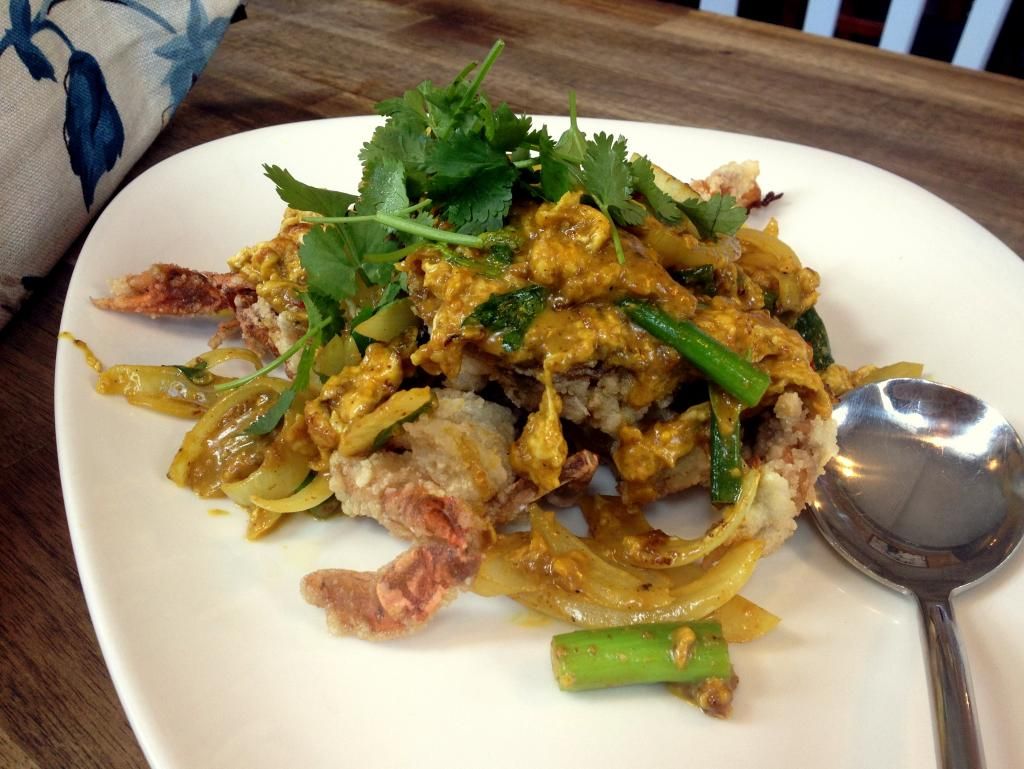 The Boyfriend, on the other hand, particularly prefers the dry curry soft shell crab. I am going to try replicating this dish at home one day. ;)
I also tried Thai boat noodles for the first time at Jinda - this is traditionally served on floating boats at the market in Thailand.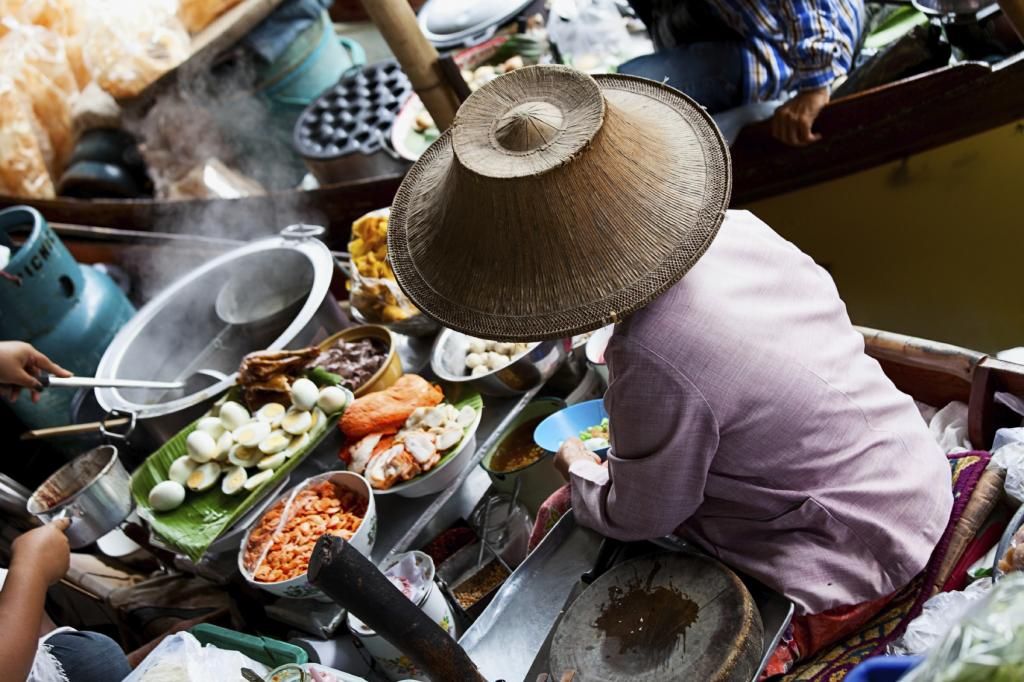 Picture from Google
It's basically a beef based soup with noodles of your choice. I find the soup to be aromatic and rich in flavour although I have to admit that I much prefer the boat noodles from Tom Toon Thai, just around the corner from Jinda.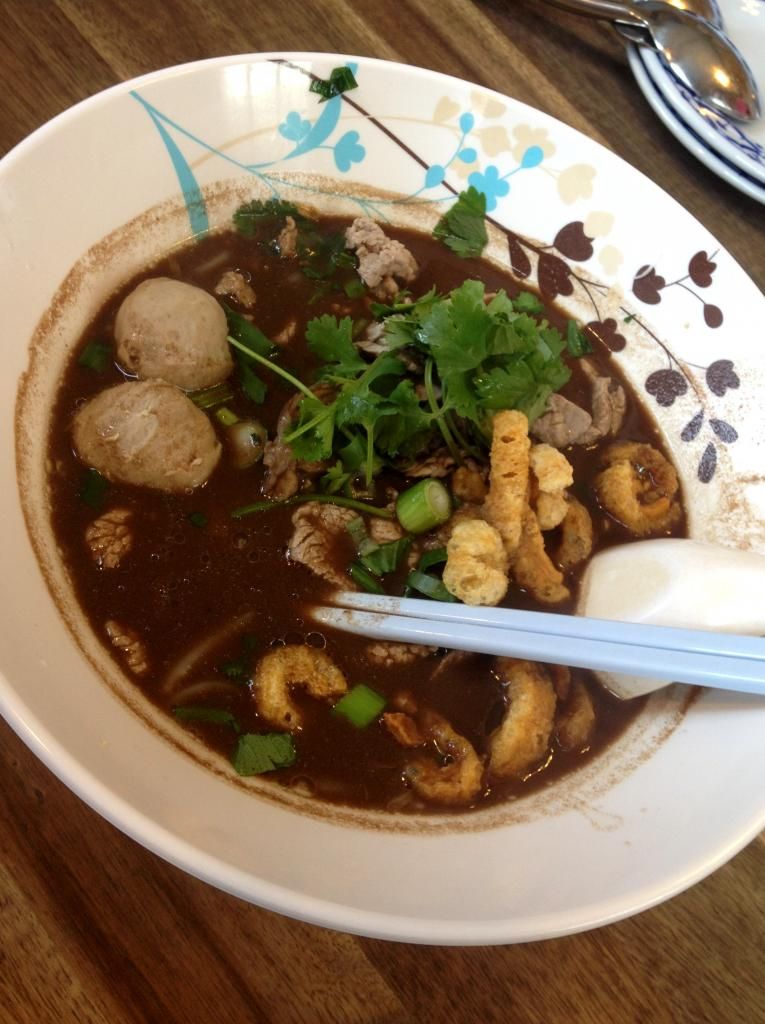 I guess with the boat noodles, it's either you like it or you don't; I really enjoyed it, whereas The Brudder ain't too big a fan.
He, as in The Brudder loves his Pad Thai though. "This is good stuff," was his comment after he was done. He has since ordered this twice on both occasions when he visited Jinda with me.
I prefer the Pad See Ew better - so well cooked, albeit a little sweet. But I guess that's why I love it. :P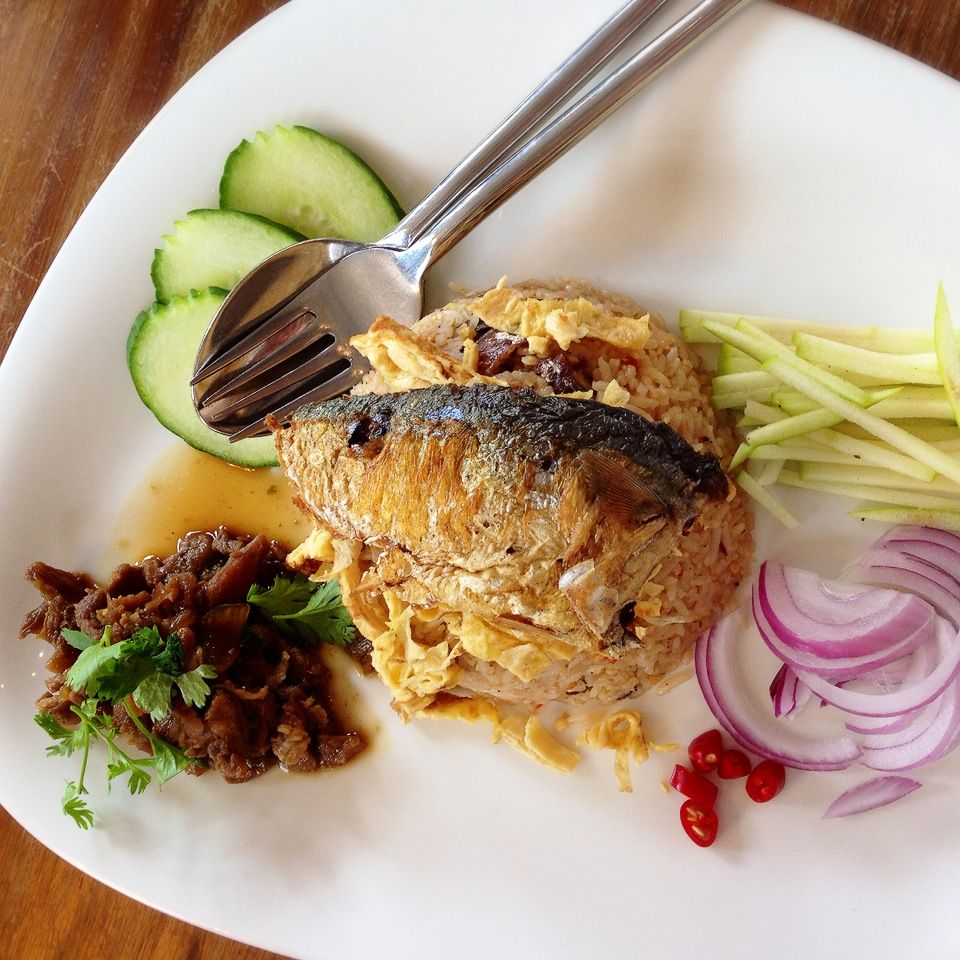 Of course if you're a 饭桶 (direct translation: rice bucket lol) who cannot go without rice, then definitely try the mackerel fried rice. It went down a treat, but man was it spicy!
Or you could order their fragrant coconut rice which goes perfectly well with their amazing rich and creamy red roast duck curry. So so so so so so good! Can't wait to go back for this!
Last but not least, onto desserts... I had to try their popular Thai Milk Tea crepe cake with coconut ice cream after all the hype it received.
It did not disappoint. I'm ordering a whole cake for The Boyfriend's upcoming birthday. :P
However on some days when we've stuffed our tummy silly and are unable to stomach anymore food, I often pop into the grocery store next door to takeaway a slice for later in the night after I've digested all the Jinda Thai goodness. :P
As you can tell, I am a big fan of Jinda Thai. Every time I crave for Thai food, I'd drag The Boyfriend and/or The Brudder to Jinda with me.
They have authentic and tasty Thai food and I highly recommend Jinda - just don't forget to make a table reservation in advance. ;)