Kinako (きなこ) is the Japanese term for roasted soybean powder. It is this fine powder with a light and beautiful toasty, nutty flavour that goes really well with glutinous sweet rice cakes, which I am sure many of you would know as mochi.
I believe it is also known as 볶은 콩가루 (bokkeun konggaru) in Korean. The Koreans also often use kinako in their desserts such as injeolmi (similar to mochi) and gyeongdan (rice cake).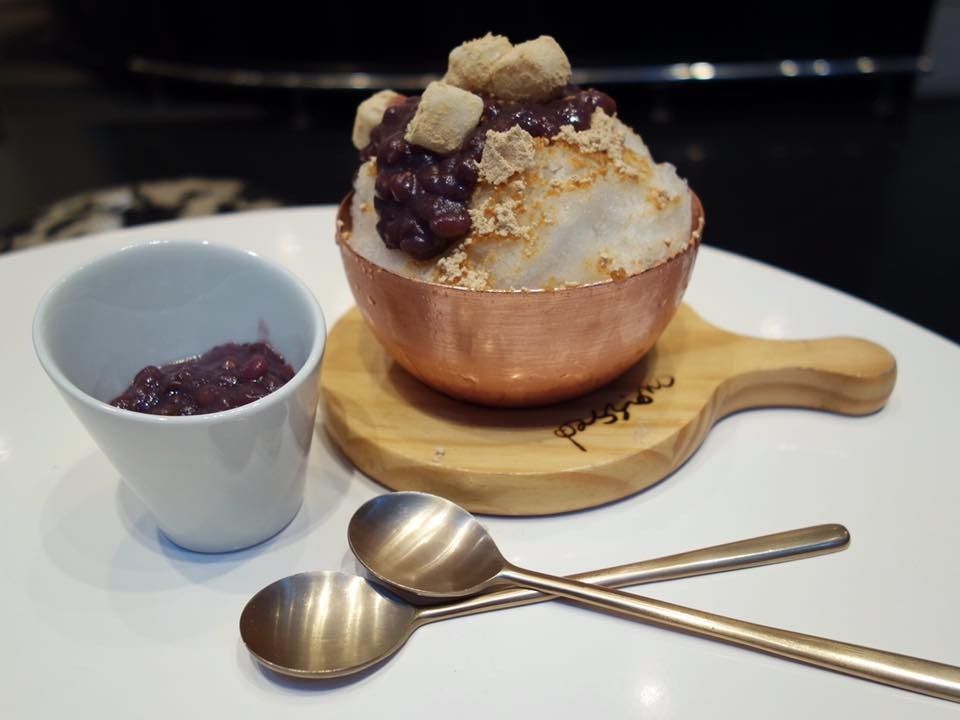 They also use kinako (alongside red bean as they make a perfect pair) as a topping for their shaved ice dessert known as patbingsu. That was my first time tasting kinako and have since fallen head over heels with it.
I have been craving kinako for a while now, and the other day when I discovered them at Fujimart in Prahran, I quickly bought a pack so I could experiment with it at home. If Korea World in Boxhill is closer to you, I've also seen them there before.
One fine afternoon, I had a lightbulb moment and came up with the idea of using kinako in chiffon cake. So I did a quick google search and found a recipe by Keiko Ishida that has been tried, tested and raved about by many other bloggers.
This recipe is from her book titled
"Okashi – Sweet Treats Made with Love"
which I am now wanting to get my hands on. I mean, French-style baking using Japanese flavours techniques - that's totally up my alley yo! I absolutely love baking/cooking with Asian flavours, especially Korean and Japanese.
As I have a 22cm chiffon pan, I had to modify the recipe slightly in order to obtain a tall chiffon cake.
Kinako Chiffon Cake
Recipe adapted from Okashi by Keiko Ishida and modified by The Bakeanista
Ingredients

(A)
6 large egg yolks

25g dark brown sugar

70ml vegetable oil

70ml water

60g cake flour

60g kinako (roasted soybean powder)
6 large egg whites

100g caster sugar

12g corn flour (or rice flour)
Method
Preheat oven to 170°C. Sift flour once. As I used a substitute of plain flour and corn flour, I had to sift the combination thrice. Set aside.

Combine egg yolks and brown sugar in a bowl and mix well until mixture becomes light and colour turns pale. Add water and canola oil and blend together. Add flour and mix until batter becomes sticky, then fold in soy bean powder.

To make meringue, combine sugar and corn flour then set aside. Beat egg whites until foamy. Add half of sugar and flour mixture and continue beating for a few minutes, then add remaining sugar and flour mixture and beat until egg whites are glossy, with stiff peaks.

Add one-third of meringue into egg yolk mixture and fold in lightly, then add remaining meringue and fold to incorporate completely.

Pour batter into a chiffon cake tube pan. Please do not grease the pan.

Bake for 45 minutes. When cake is done, remove from oven and turn it over, leaving it to cool.

Once cake has cooled completely, carefully run a knife or spatula around the sides of the cake to loosen it before inverting onto a wire rack.
My mighty lil chiffon cake. I found that this recipe yielded a slightly firmer cake than my usual chiffon recipes but I love how nutty the cake smelt. It tasted slightly like peanut butter cake too.
I enjoyed a slice of kinako chiffon cake with a cup of hot green tea, whilst reading a book on the balcony. Ahhh, life is good!
I have also since used kinako to bake sweet bread - will share more of that in my next post.
Happy baking! :)