One of my best purchases that I brought back from Malaysia has got to be my new recipe book on deco rolls by
Junko
.
I was waiting for Mummy one arvo and stumbled upon this book and instantly fell in love with how cute the deco rolls were.
The only problem is that the book was in Mandarin, and I can barely read Mandarin. "I love Swiss rolls and I really want to try baking a deco roll but it's all in Mandarin," I sighed.
So my very kind Mummy dearest actually bought me the book and sat down with me that evening to translate as much as she can for me. *touched* But of course, the step-by-step picture instructions also helped massively, especially without Mummy here in Melbourne. :)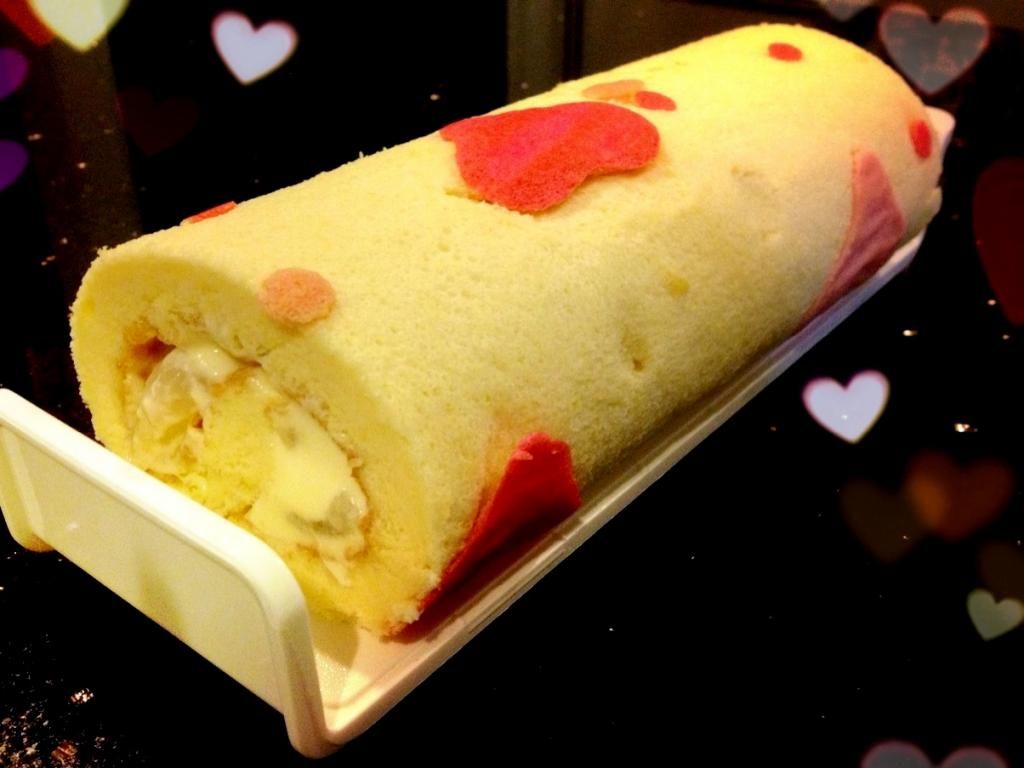 This was my first attempt using the basic recipe with heart shaped deco. Some of the ♥ unfortunately got stuck to the baking paper, so I figured I must not have used enough oil.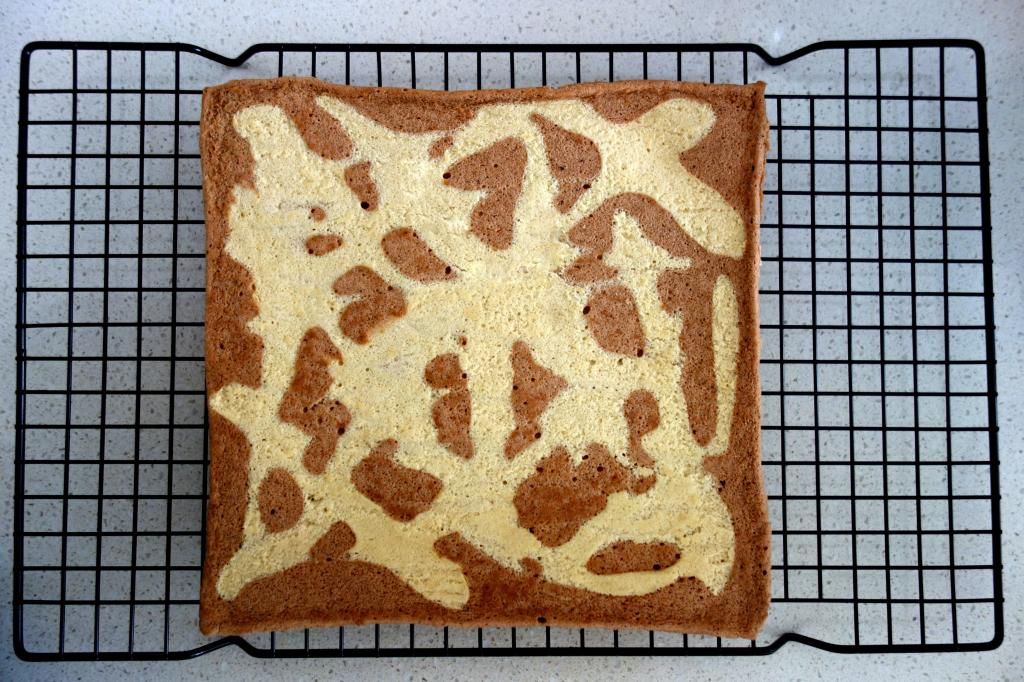 So this time around, I was a little more generous with the oil and removed the baking paper as soon as I took the cake out of the oven. And voila, the pattern did not stick to the baking paper!!
And here's the completed Chocolate and Coffee (therefore Mocha) Swiss Roll!! Really really happy with how it turned out. :D
The Brudder was standing right next to me as I was photographing the cake. Just as I stopped to pause for a little, his greedy hands immediately attacked one of the cut slices. (-__-")
We both had two slices in a row, it was really yummy and not too sweet either which I think is always a plus point.
I tweaked the recipe slightly so I thought best if I save a copy here before I lose that piece of paper with my scribbles. ;)
Mocha Deco Swiss Roll
Recipe by Junko and modified by The Bakeanista
Ingredients
(A) Egg Yolk Mixture
3 large egg yolks

35g caster sugar

60ml water

40ml vegetable oil

1 tsp vanilla extract

80g cake flour (65g plain flour sifted thrice with 17g corn flour)

10g cocoa powder
(B) Meringue
3 large egg whites

30g caster sugar

1/2 tsp cream of tartar
(C) Coffee Pattern
1 large egg white

1/2 tsp cake flour

1/2 tbsp hot water mixed with 1 tsp instant coffee
(D) Sugar Syrup
10g caster sugar

20ml hot water

1/2 tbsp hot water mixed with 1 tsp instant coffee
(E) Filling
150ml whipping cream, chilled

1 tbsp caster sugar

1/2 teaspoon vanilla extract

Fresh fruits of your choice
Preheat the oven to 170°C. Grease and line a 10 x 10 inch sheet roll pan with baking paper.

Using an electric mixer, beat egg yolks and sugar on medium-high speed until pale and creamy.

Add in water, oil and vanilla extract and mix at low speed until combined.

Sift flour over egg mixture, and whisk at low speed until smooth and well-incorporated.
In another bowl, with a clean set of mixer, beat the egg whites until frothy.

Add in cream of tartar and beat until foamy-like.

Gradually add sugar in (1 tbsp at a time) and beat until glossy and stiff peak form.
The Bakeanista's Note: I beat the 4 egg whites in the one go, and estimated 1 egg white portion for the coffee pattern.
Scoop out 4 tsp of egg yolk mixture from (A) into a small bowl.

Stir in 1/2 tsp of cake flour followed by dissolved coffee mixture. Stir in approximately 3 tablespoons of whisked egg whites from (B) and fold until well-combined.

On the prepared cake pan, you may either pipe the pattern or smear on as I did. Bake for 1 minute and remove from oven. Set aside.
Continuing with (A) and (B)...
Add 1/3 of meringue from (B) into egg yolk mixture from (A). Fold in lightly with a spatula to loosen the mixture, then add the rest of the meringue and fold to incorporate completely.

Pour batter into the prepared pan over the coffee pattern, spreading the mixture evenly and smoothing the top with a spatula. Lightly tap the bottom of the tray on the work surface.

Bake for 14 minutes until the cake has risen slightly and feels springy to the touch. Remove from oven.

Turn sponge straight from oven onto a sheet of baking paper. Peel off baking paper from the bottom of the sponge (very important step!). Cover with baking paper, then a damp tea towel. Set aside to cool completely.
Dissolve sugar in hot water, then mix in coffee mixture. Set aside to cool.
(E) Filling
Combine cream, sugar and vanilla extract in a clean bowl. Using an electric mixer, whip cream at medium-high speed until stiff peaks form but cream is still smooth.
When the cake is completely cool, make shallow cuts along the cake, 2 cm apart, in the crust on top of the cake with a small sharp knife.

Brush sugar syrup over the cake, followed by the whipped cream and fresh fruits. Roll up the cake around the filling.

Wrap the cake in fresh clingfilm and refrigerate for at least 1 hour before serving.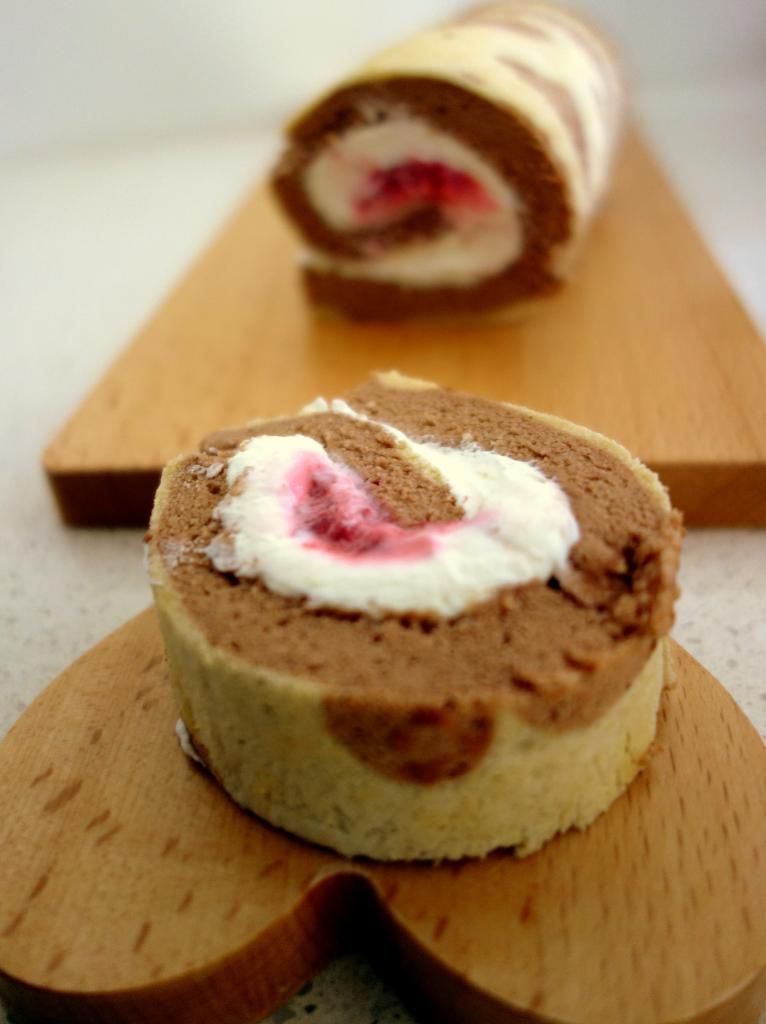 Good luck, and enjoy your pretty and delicious Swiss roll! :)