Holla!!! How is everyone? I am finally back from my trip to Malaysia and feeling very very homesick. :( I thought, to take my mind off home and my parents, maybe I'd blog and keep myself busy.
This post on Third Wave Cafe has been saved as a draft for about two months now, so I thought best to actually finish writing it.
I was invited along with my +1 to the (then) newly opened Third Wave Cafe in Prahran late last year when they expanded from their Port Melbourne branch.
After I learned that Third Wave Cafe in Prahran was headed by Chef Ryo Kitahara, who is a protégé of Iron Chef Sakai, I accepted their invitation excitedly.
I dragged The Boyfriend along with me and we arrived at their bright, spacious cafe with clean setting one fine Saturday arvo.
For caffeine addicts, Third Wave Cafe offers 5 Senses coffee. However, we were not up for coffee that day so I went for the Hazelnut Hot Chocolate and The Boyfriend on the other hand, had an Ice Chocolate (not pictured).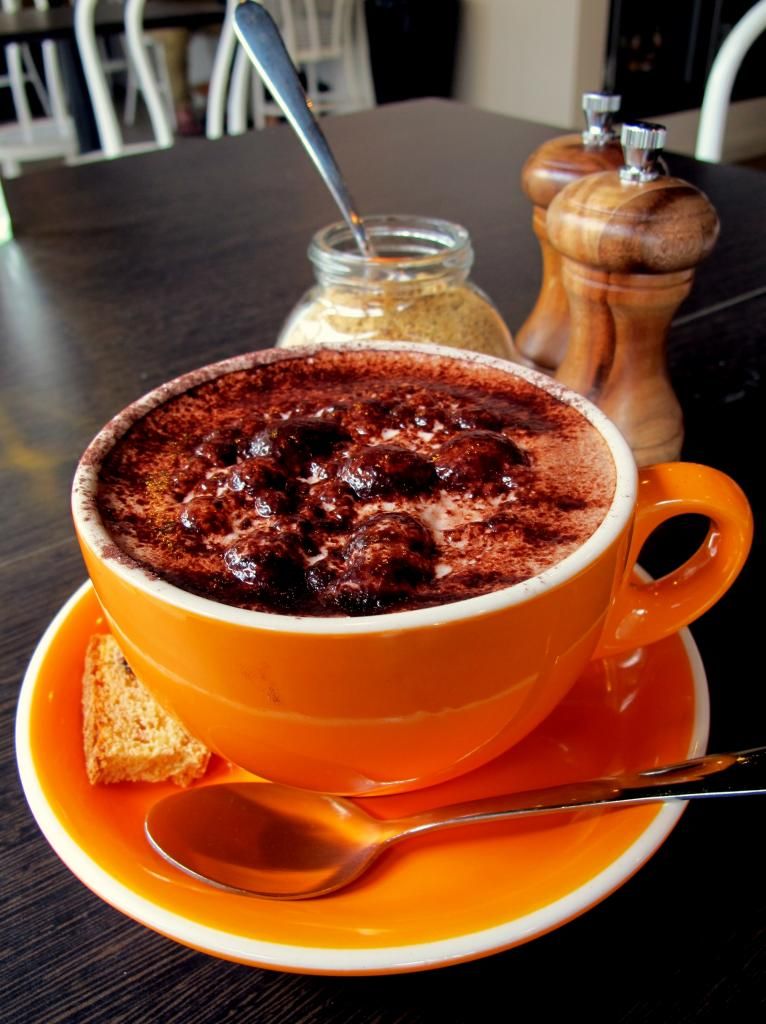 It was very nutty - a little like Ferraro Roche in a drink! ;)
What I was also really pleased with is the option to go for lactose free milk, something most cafes do not offer.
Being able to pay that little extra (70 cents) for lactose free milk means I am able to have any drink I so desire. If only more cafes would offer lactose free milk too... (>.<)"
Anyhoos! We kick started our meal with a Russian Platter. I've never had Russian food before so I wasn't sure what to expect, nor do I have any benchmark to compare this with.
The Russian Platter includes Russian salad, two types of blintzes (mushroom & meat), syrniki (savoury pancakes) and meat dumplings.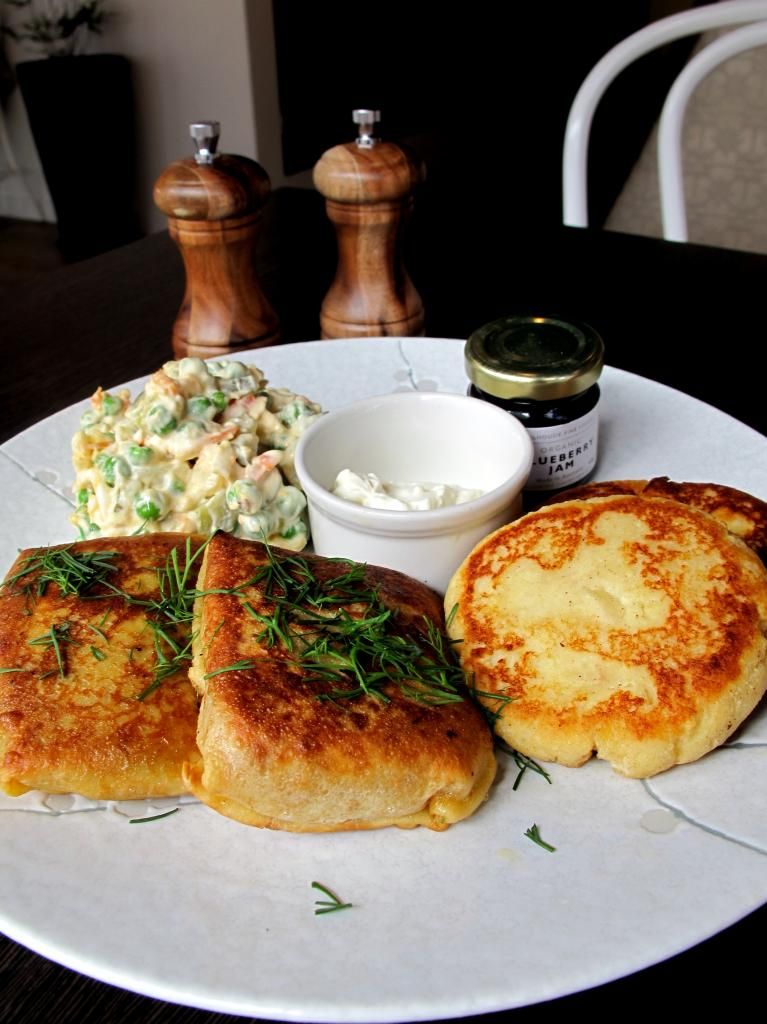 The savoury pancakes were fluffy but nothing spectacular to shout about. It wasn't really what I had expected; eaten with sour cream and blueberry jam, it was more like a sweet pancake rather than savoury.
I freaking love the mushroom blintzes though. Don't bother going for the sample platter, just go ahead and order the mushroom crepes - it was amazeballs! ;)
These Russian meat dumplings, also known as 'pelmeni' served with a dollop of sour cream were a part of the sample platter.
As you can see, the skin was a little too thick (or maybe it is meant to be like that, I'm not sure) but I guess it was pretty alright. A little different if compared to Asian dumplings, I'd add.
At this stage we were already quite full, but we had another upcoming dish. Well you see, Third Wave Cafe offers their diners an extensive menu (which consist of American, Russian, Australian, Mexican, and even Paleo dishes) with a huge variety of choices.
Although I personally feel, with over 70+ items on the menu, it was really hard to decide what to have. I was contemplating between the Texan Fry Up or the American BBQ ribs, so The Boyfriend being the carnivore that he is, made the pick.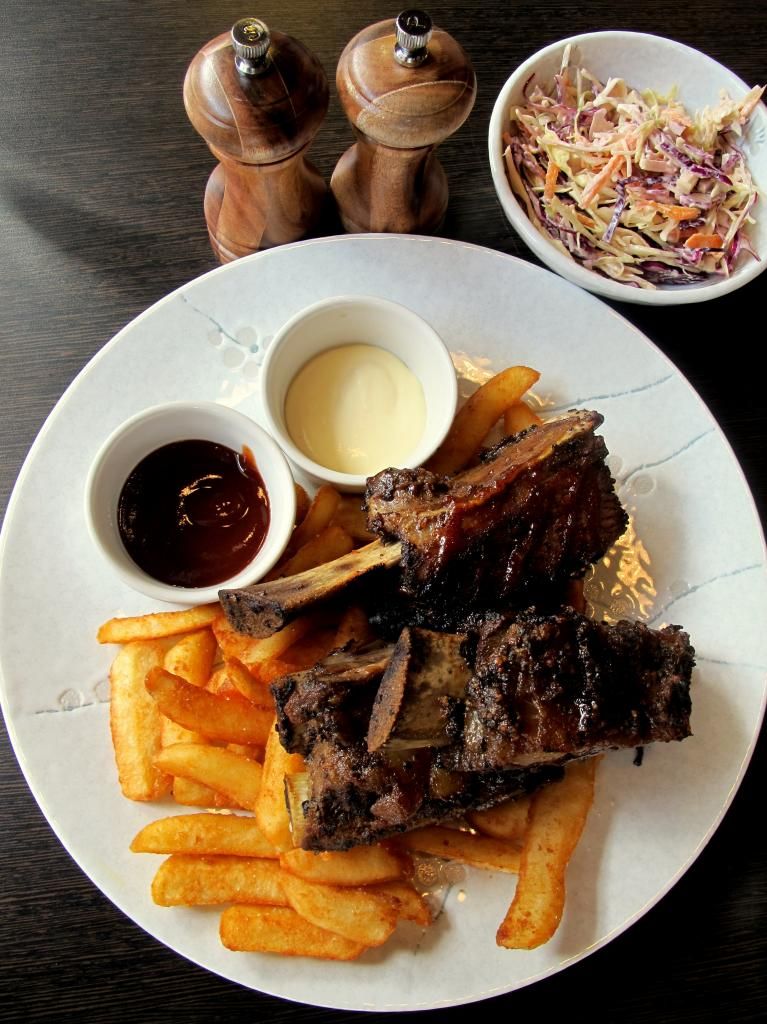 Served with beer battered chips, two house made sauces (spicy bourbon and horseradish) and coleslaw at the side, the American BBQ Beef Ribs arrived at our table smelling oh-so-good!
Meat was flavourful and smoky, but somewhat too salty for my liking. Plus, The Boyfriend and I also felt that the meat was a tad dry. It would have been better if the meat was a little more tender and juicy.
But those chips were good - super crispy! Wished I had more tummy space to have more, not that my waistline would thank me for it haha!
Our experience at Third Wave Cafe was overall pleasant, but I guess I've had better brunch elsewhere. Not sure if I'll be returning again.
Okay wait, I take my words back, maybe for those mushroom blintzes, I
might
. I won't make my way all the way to Prahran though, but I might consider if I'm already in the area.