Following
the tour at Brasserie Bread
, I was so inspired to make my own bread. I wanted to start my own starter, but knowing that I was going to be back home in Malaysia meant that it will not be fed, and therefore will not survive.
So using the organic flour that Sarah has so nicely packed into our goodie bag for us, I decided I was going to make my own brioche bread. I love brioche bread - they are light, fluffy yet sweet and buttery! Plus no starter required, bingo!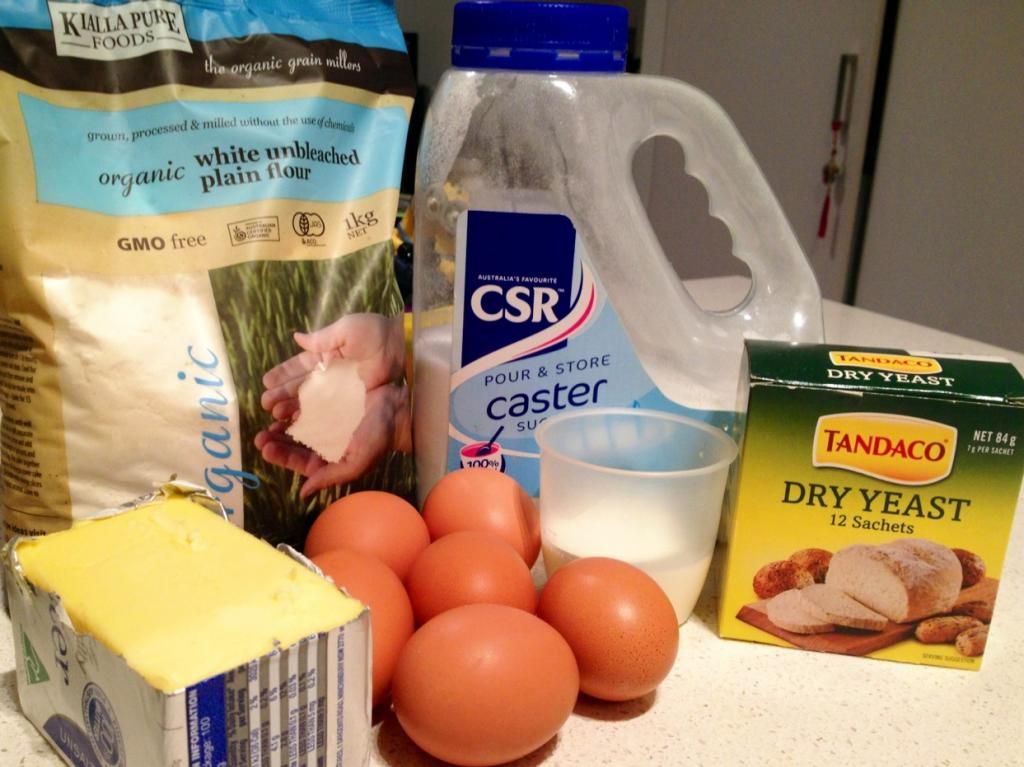 I remember coming across
Citrus & Candy's brioche recipe
that I bookmarked a while ago and haven't had the chance to try because back then I didn't have a stand mixer. Now that I do, I can finally try.
Well, I didn't think that making brioche bread was such a long process until I gave it a go. It's not hard work, it's just tedious - after kneading, the dough had to rest in the refrigerator overnight, then again for 4-5 hours out of the fridge after it has been punched down.
But it was a lot of fun, and I got really excited to see how much my dough has risen. It was pillowy soft, and very very fluffy! This shot was right before I brushed egg wash over and popped into the oven.
The apartment smelt so so amazing the whole time the bread was cooking in the oven, I was impatiently standing in front of the oven, inhaling the smell of freshly baked bread and hoping that it would be done quicker. Haha come to think of it, that is so silly of me!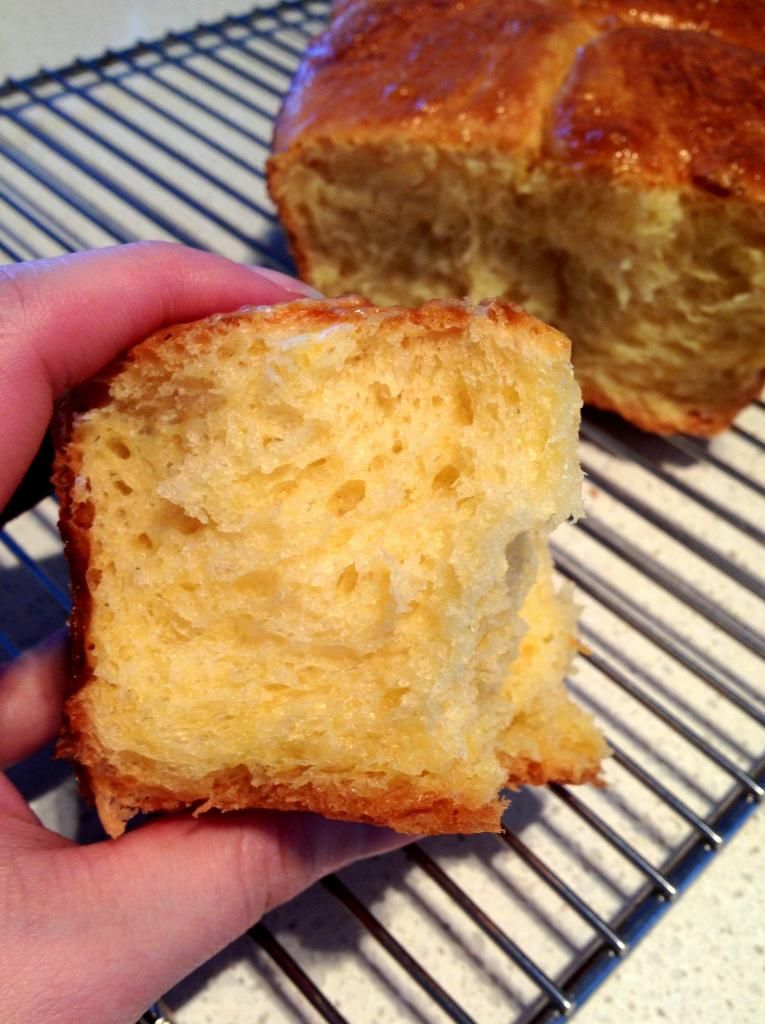 I was so so happy to see that the brioche turned out looking good, but when I had a taste, it was not that yummy, and I have no idea why.
I even got The Boyfriend to taste test for me, and he did scrunch up his nose. We were both very disappointed. :'(
But I didn't want to put my effort to waste and bin them, so I thought and thought and thought... what can I do with these bread?
*And then I had a lightbulb moment...*
HAHAHAHAHAHAHA! xD
*ching*
Pain Perdu!!! I remembered the amazing one I had at
Breakfast Thieves
a while ago and how delicious it was. I've been wanting to return for a while now, but there are just too many new places to try. But until then I shall settle with a homemade version.
Of course, given that the brioche didn't taste as great, there is a chance that it might not turn out well, and I'll end up wasting more ingredients, but this little voice in me told me that I had to take my chances. And so I did!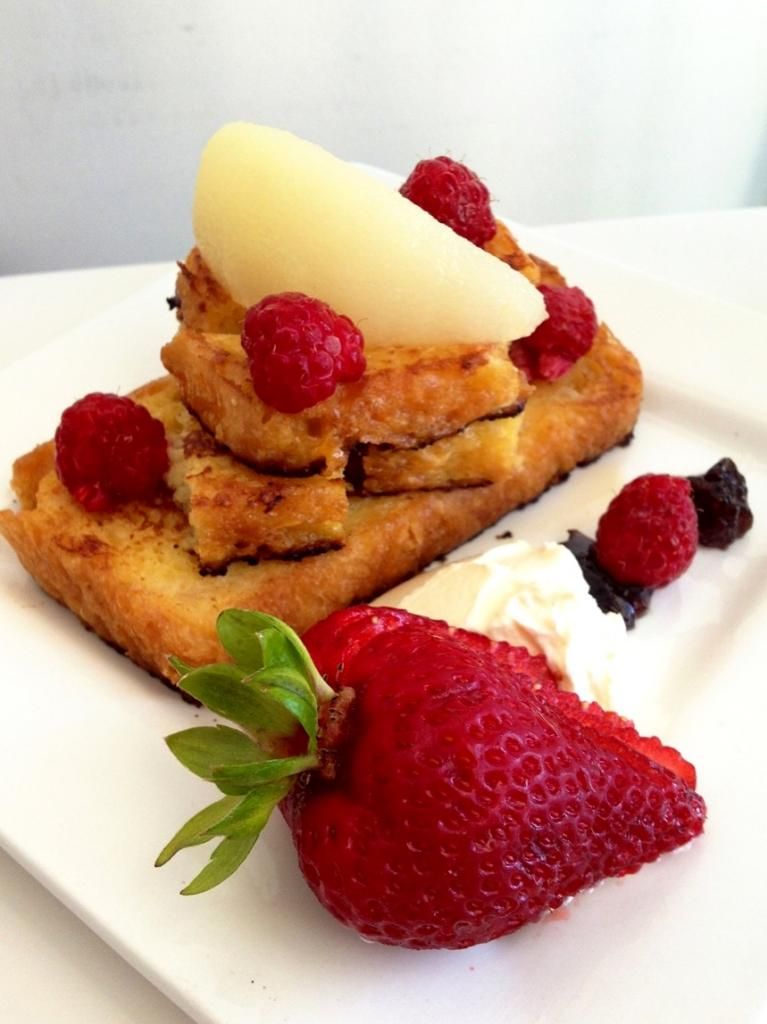 Tadahhhhh, this is The Bakeanista's version! :D Hehehe, pretty or not? *points knife at your throat - you better say yes!* Haha!
And it tasted super yummy too! Next time when you have the luxury of having stale brioche bread (3-4 days old) sitting on your kitchen counter, please do give this recipe a go.
Brioche Pain Perdu
Recipe by The Bakeanista - serves 3
Ingredients
3 large eggs

70g caster sugar

120ml milk

1 tsp vanilla extract

6 slices of brioche (approximately 1.5cm thick)

60g unsalted butter

fresh berries

dollops of creme fraiche

any jam of your liking
Method
In a large bowl, beat the eggs then mix in the sugar to dissolve.

Gradually pour in the milk and vanilla extract.

Place 2 slices of brioche (depending on how many fits in your bowl) in the egg mixture and soak for approximately 5 minutes. Carefully lift the brioche from the bowl and reserve on a tray.

Heat up a medium frying pan over medium heat, and melt 20g of butter. When it reaches foaming stage. add 2 brioche slices and cook for 2-3 minutes each side until golden brown. Make sure it isn't too hot or the bread might blackened easily. Once done, set aside.

Repeat with remaining brioche slices, cooking two slices at a time.

Out of the 6 slices, cut up 3 slices into 2cm thick sticks.

To assemble, place one slice on plate, and stack up like I did with the sticks from one brioche (think UNO hehe) for each serving.

Serve with a generous dollop of creme fraiche (Pepe Saya's is amazeballs!), some jam then garnish with berries or poached pear/stone fruits.

DIG IN! Om nom nom...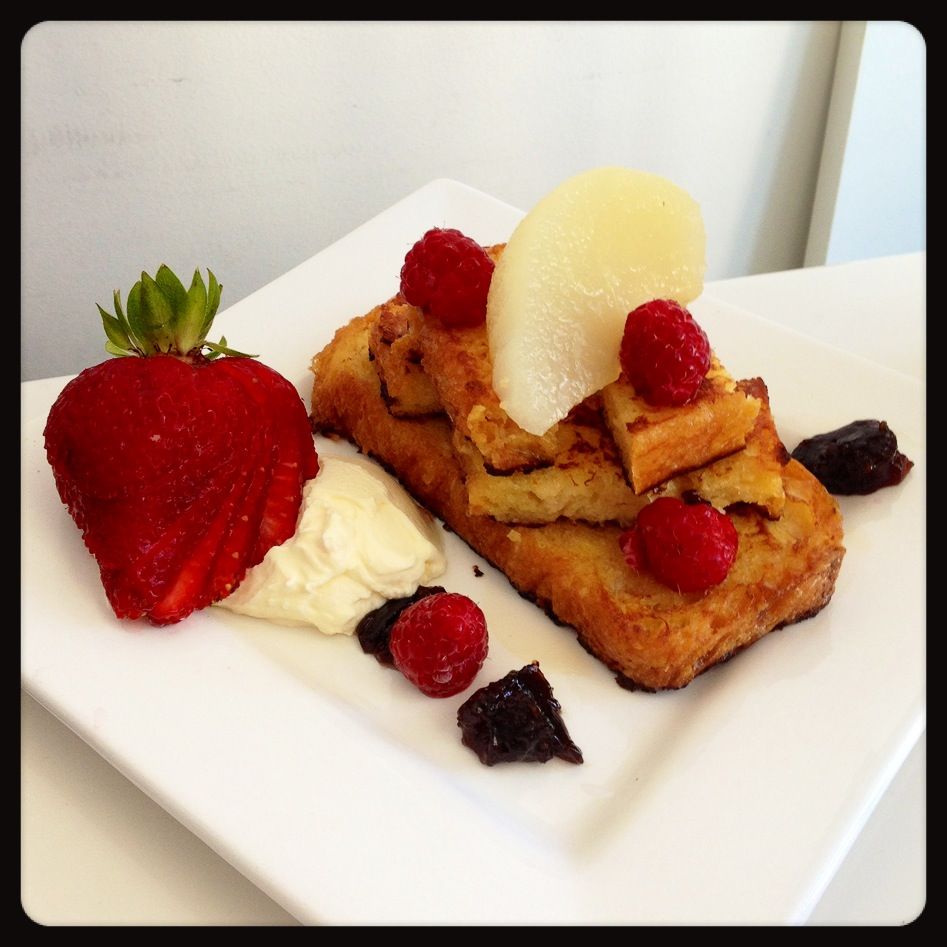 Brioche Pain Perdu is perfect for brekkie over the weekend! I would definitely be making this again. :)
Now, I can't wait for Brasserie Bread to introduce a Brioche Bread making class in the Melbourne baking school. Chef Gauthier also briefly mentioned "lamination classes" (think croissants!) could be in the pipeline. Can't wait! Hopefully not too long to go! :D