Whilst holidaying in Malaysia, I allowed myself to be pampered, so I did not do any cooking, or any cleaning for that matter. Okay I admit, I was just lazy. Period.
The last time I did any work was probably a month ago before I left, but coming back to Melbourne also meant it's back to house chores (which I dislike with a strong passion) and cooking/baking in the kitchen (thankfully this part I enjoy immensely).
We, as in The Brudder and I, usually clear out the fridge and freezer before we pack up and leave for our holidays, so this time was no different. Of course this meant we would return to having no food.
So I headed off to Victoria Market the following day, and bought like bags and bags of meat, vegetables and fruit. And like always, I stock up on a lot of prawns. I use them a lot in my cooking, be it with noodles, in stir-fried vegetables, etc.
But this time I had a different idea, I had a stick of Lurpak with Crushed Garlic butter sitting in my fridge, waiting to be used. *lightbulb moment* I wanted to cook Garlic Butter Prawns pasta!!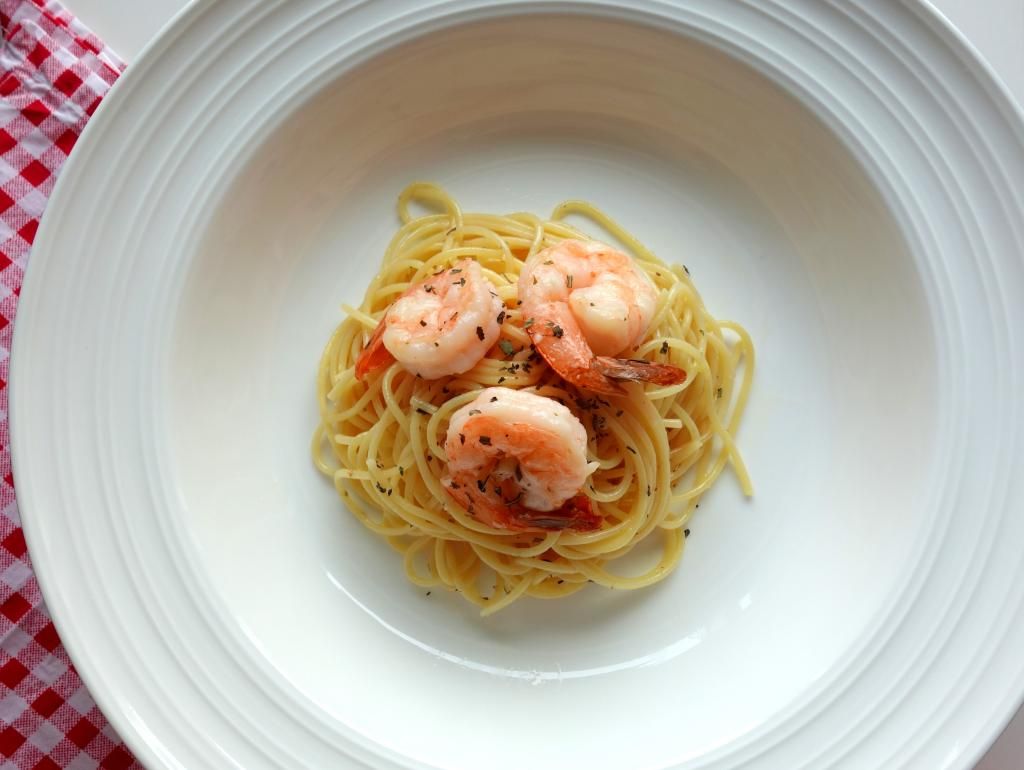 And so I did. It was so so easy, yet so incredibly yummy too!! Below is the recipe, based on what I remember doing that arvo. Heh!
Garlic Butter Prawns Pasta
Recipe by The Bakeanista - Serves 3
250g spaghetti

1 tsp + 1 tbsp olive oil

4 garlic cloves, crushed and chopped finely

12 prawns, peeled and deveined with tails intact

60g Lurpak with Crushed Garlic butter

a dash of white wine (approx. 1/3 cup)

a generous dash of parsley and basil leaves (I used dried ones)

sea salt & cracked black pepper, to season
Cook the pasta in a large saucepan of boiling salted water until al dente. Drain, return to the pan and toss with a little (approx. 1 tsp) olive oil. Set aside to keep warm.

Meanwhile, heat 1 tbsp olive oil in a large pan over medium heat. Stir chopped garlic in until slight brown, then add prawns. Cook for 2-3 minutes.

Melt 30g of the Lurpak butter, then stir in white wine. Cook until sauce has reduced in half.

Add drained spaghetti, and let it cook away in low heat until sauce reduced almost completely. Stir in remaining 30g of butter.

Season with the herbs, salt and pepper as desired. Would be good to give a squeeze of lemon juice, but I didn't have any. Toss to combine, then serve warm. :)
I had a small portion for lunch then came dinner, I grilled a barramundi fillet, then let it sit on a bed of yummy smelling pasta (which I of course reheated), and served to The Brudder.
Is he a lucky boy or what? Haha! #selfpraise
Ahh, thinking about it, it would be nice if I had some bacon to add in as well. Maybe you should do so if attempting this recipe.
What I meant to say is, feel free to tweak the recipe to suit your own taste - that I believe is the beauty of cooking. Good luck! :)
Note: This post is by no means sponsored by Lurpak - I just really liked the product so thought I'd feature it in my recipe post.