Happy New Year 2016!!!
Gosh I still can't believe today is the 1st of January already. It feels like each year passes by faster and faster, doesn't it?
Looking back though, 2015 has been such a great year for me. Even though I had to put my career on hold whilst I try to work things out in my head, I have achieved a lot personally and I've grown up in the process.
I've also accomplished one of the best (and hardest) thing that I've ever done for myself this year. I wanted to lose 10kg for the longest time and
I FINALLY did it
! It just goes to show that if you think you can do it, you really can!
For my 2016 New Year's resolution, even though there are still a lot of fats to lose (especially with all the Christmas eating haha), it's not about losing weight anymore, it's about getting healthier, fitter and stronger. I promise I will put in a lot of effort to achieve that. I want to be leaner and I strongly believe that I can do it. Fighting!! (Note to self: Don't procrastinate, start today!!)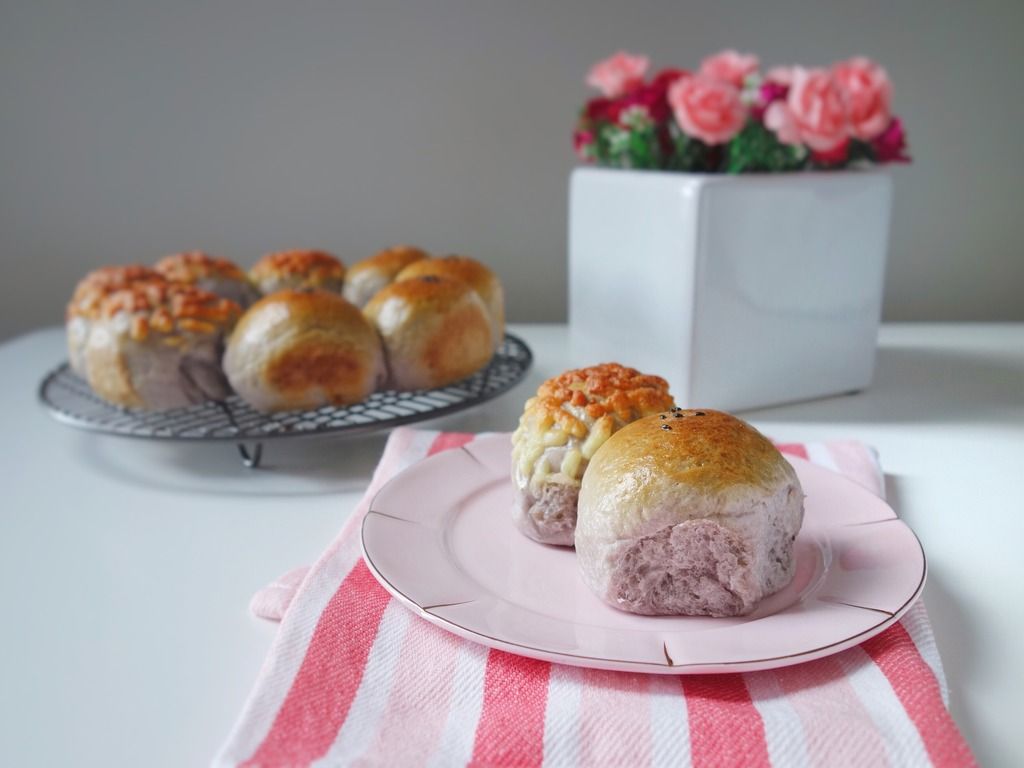 Apart from that, I also started off the year wanting to expand my knowledge in baking. I didn't get the chance to do any courses or workshops, but one thing I'm sure of is I sure did manage to improve my breadmaking skills.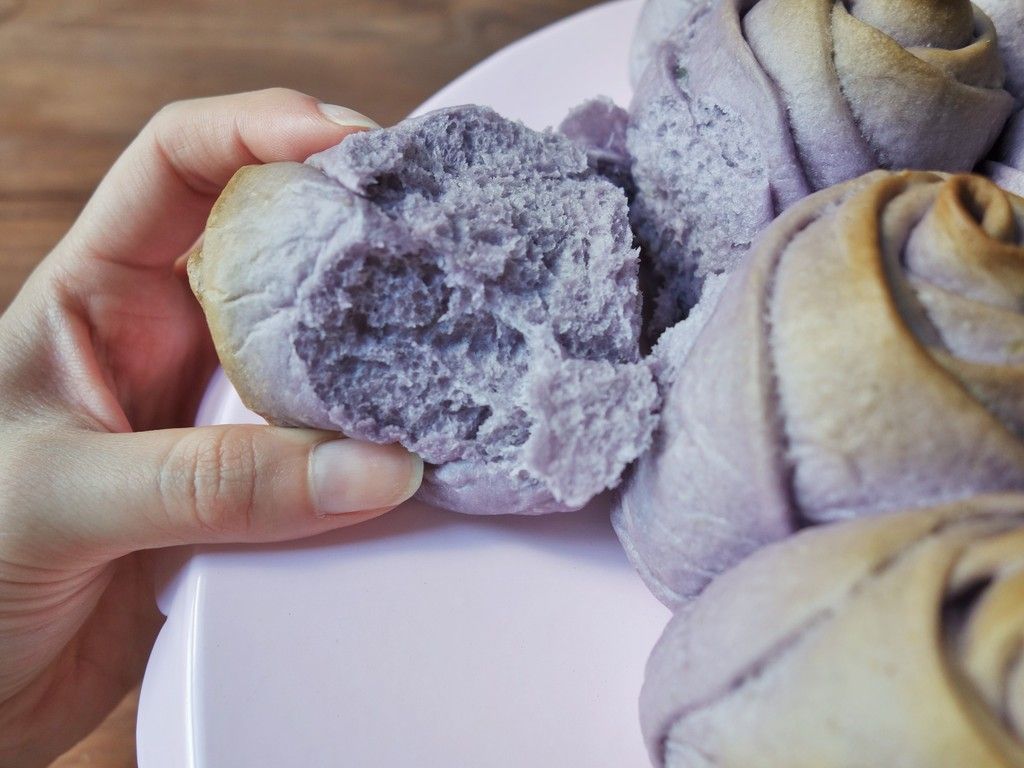 Those of whom I have made my guinea pigs (mostly The Boyfriend, The Brudder and The SIL) have all agreed that my bread is a lot yummier these days; they are fluffier and tastes much more delicious too. They even stay softer for longer too, yay!!
This rose-shaped purple sweet potato bread recipe that I am sharing today is one of my favouritest recipe of 2015, and I hope you will love it as much as I do.
Rose-shaped Purple Sweet Potato Bread
Recipe adapted from Kitchen Corner and modified by The Bakeanista
Ingredients
300g bread flour

50g caster sugar

1/4 tsp salt

80g fresh milk

130g purple sweet potato (steamed and mashed)

17g whole egg (beat an egg to mix the white & yolk)

50g unsalted butter, softened at room temp

7g yeast
Method using breadmaker
Prepare purple sweet potato. Peel, core and cut into cubes. Steam until soft (it takes about 10-15 minutes) then mash up and set aside to cool. I often refrigerate for approx 15 minutes as I am impatient.

Add all ingredients (except yeast) into a breadmaker, first the wet ingredients (milk, egg, butter then mashed purple sweet potato), followed by the dry ingredients (sugar, salt, flour).

Select the "dough" mode (refer to the menu of your breadmaker to select the kneading dough programme).

Knead for 15 minutes and the ingredients will come together. Stop the cycle, add in the yeast and restart the "dough" mode. The total kneading time is 35 minutes to ensure dough is smooth and elastic.

Let the dough complete the 1st round of proofing until double in size, about 40-50 minutes, best temperature for proofing is 28C, humidity 75%, until double in size.

Punch and deflate dough, then remove dough from bowl and shape into a big ball. The dough will be approximately 660g as a whole.



Roll and flatten out each ball. Using your fingers, press the outer corners of the circle to create ripples.

Arrange 6 pieces of flattened dough, half stacking on top of one another.



Cut the log into half then using your fingers, round the bottom of each rose and place on lined/greased baking sheet. I used a 9-inch non-stick round pan brushed with oil.



Once complete, let buns rise until double in size, this takes about 20-25 minutes.

Preheat the oven to 180 deg C. Milk wash the dough and bake for 16-20 minutes on the lower rack.

Take out the buns from the oven and after 10-15 minutes later, transfer the bread to a wire rack to cool.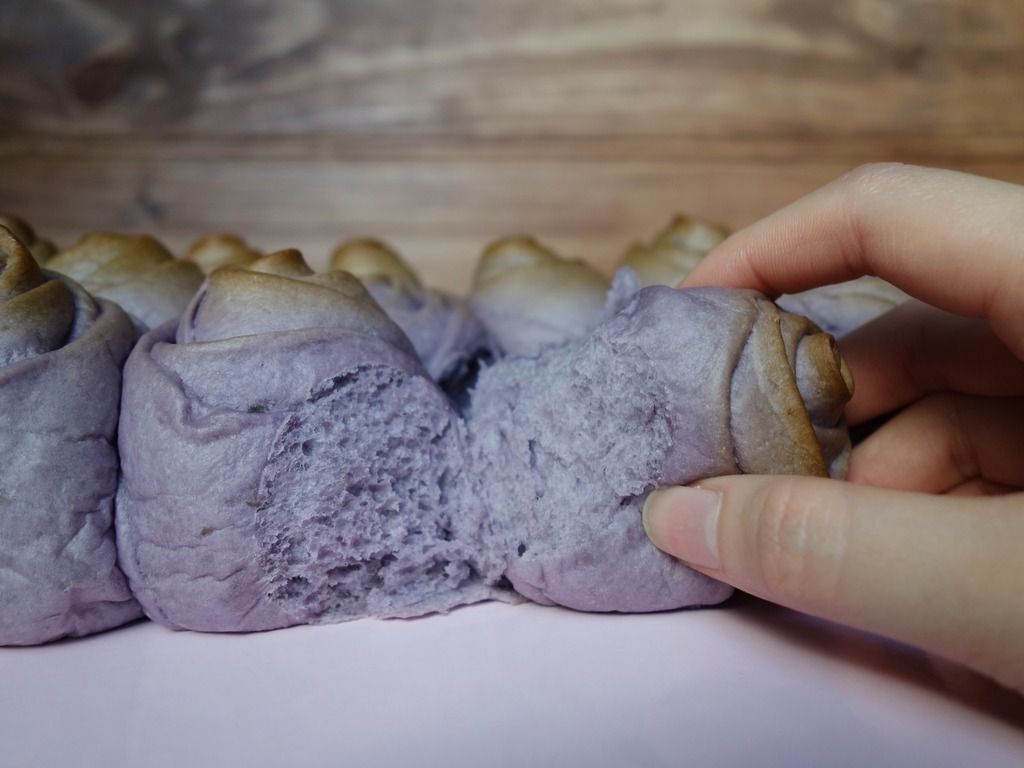 This recipe is definitely a keeper; I absolutely love how soft and fluffy the bread is! It was also heaps of fun shaping these rose-shaped buns although I cannot deny that it was quite time consuming.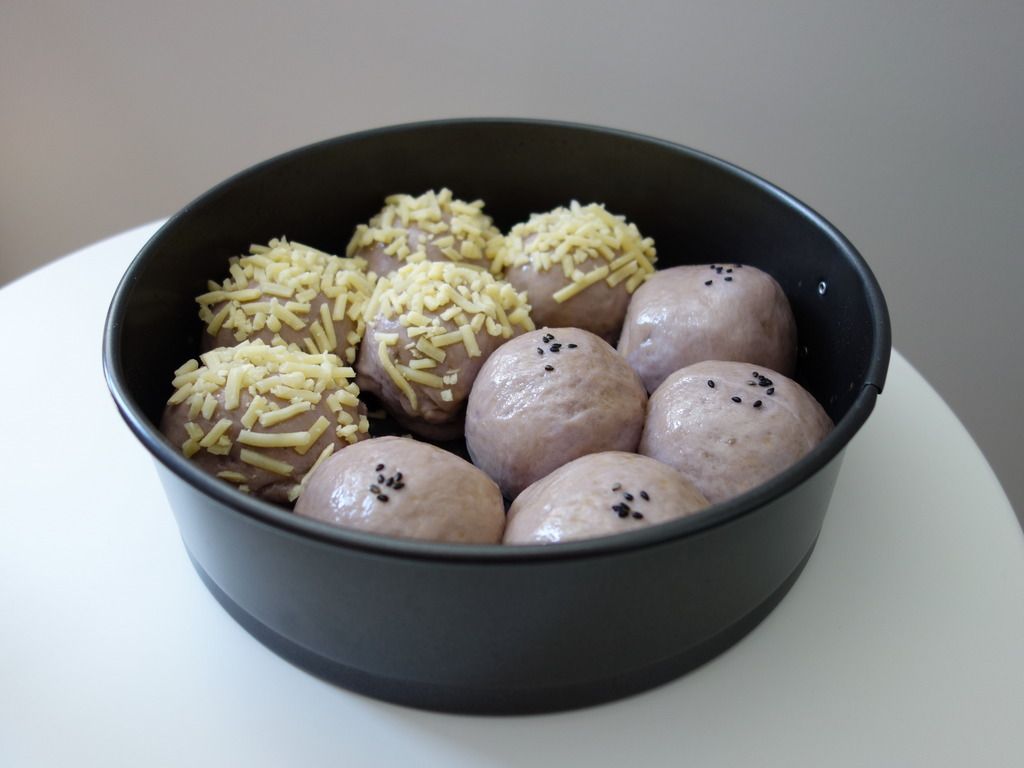 Alternatively, you may also opt to roll the dough into 60g round balls instead. Being a big fan of cheese, I could not help but cheesify everything and the bread was no exception. All you have to do is to brush the buns with egg wash then top them with mozzarella cheese. Or if you prefer it plain, simply sprinkle some black sesame seeds for decoration. ;)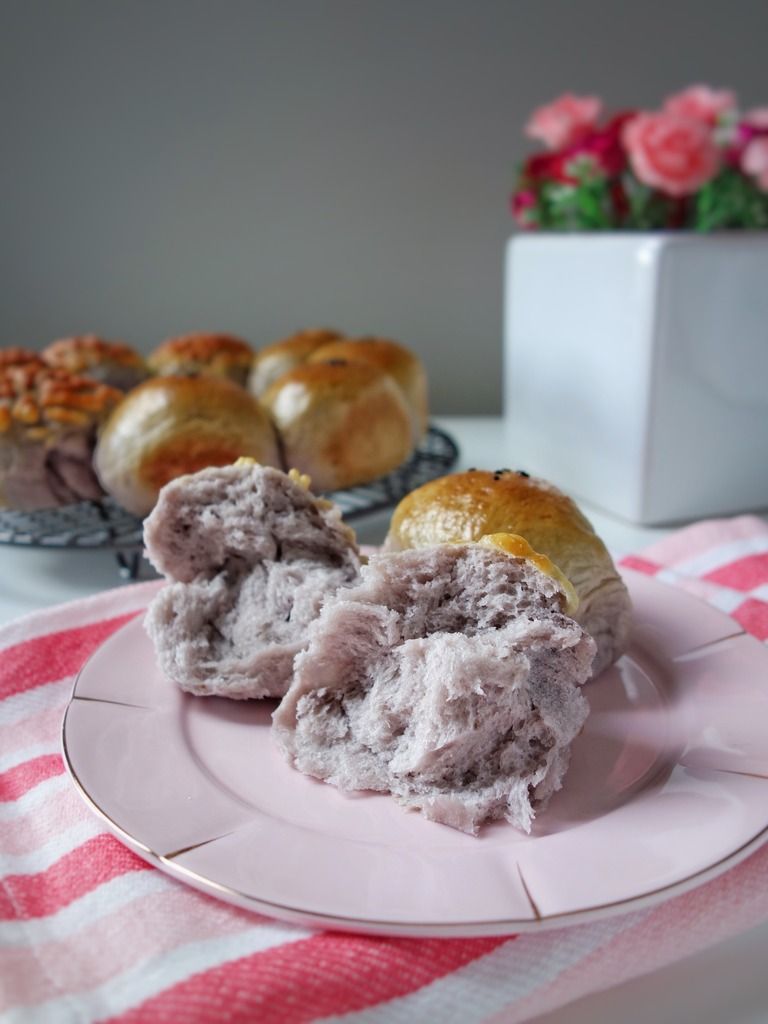 They're best eaten fresh out of the oven after they've cooled, but they stay just as soft for 2-3 days. I've made this recipe 4 times and it has never failed me. I hope you will enjoy them as much as I did. And of course if you've got any questions at all, let me know in the comments below.
Happy 2016 - here's to a sweeter and better year for all of us!!! ♥