If you're following me on Instagram, you'd notice that I've been into breadmaking lately.
I find breadmaking oh so very therapeutic. Although I let the breadmaker do all the kneading, I love watching the dough come together and rise into one big, fat, round ball.
Just in case you were wondering, no, I never bake my bread in the breadmaker. I always shape them myself, by hand, then bake it in the oven.
The best part about the whole breadmaking process is the smell of freshly baked bread emanating from the oven. The aroma... it feels very comforting and undeniably divine.
I love making bread using the tangzhong water roux method as I find that the bread often turn out gorgeously soft and fluffy. This time around though, I thought I'd try something different.
This pumpkin bread loaf uses the cold milk method, and boy I have to say it is amazing and definitely one of my new favourite method now!
I used
Nasi Lemak Lover's pumpkin walnut loaf recipe
as a base and tweaked it slightly. Her recipe uses a stand mixer, but I modified the method in my recipe below as I used a breadmaker.
I've baked several different types of bread before, but never once with pumpkin. This is my first time baking with pumpkin and I absolutely love how beautifully golden yellow the loaf is. Au naturel yo!
I like shaping my bread into mini loaves like the above. Here they are, fresh out of the oven, smelling SO good! As you can see, I topped them with some rolled oats for garnish just before popping them into the oven, but I reckon you could also use pumpkin seeds, sunflower seeds or even sesame seeds.
And for the million dollar #breadporn shot:
Oh my, oh my!! It's so fluffy I'm gonna die!!
Just look at how soft they are. I had to handle them very gently because they were extremely tender fresh out of the oven, but did firm up slightly as they cool down.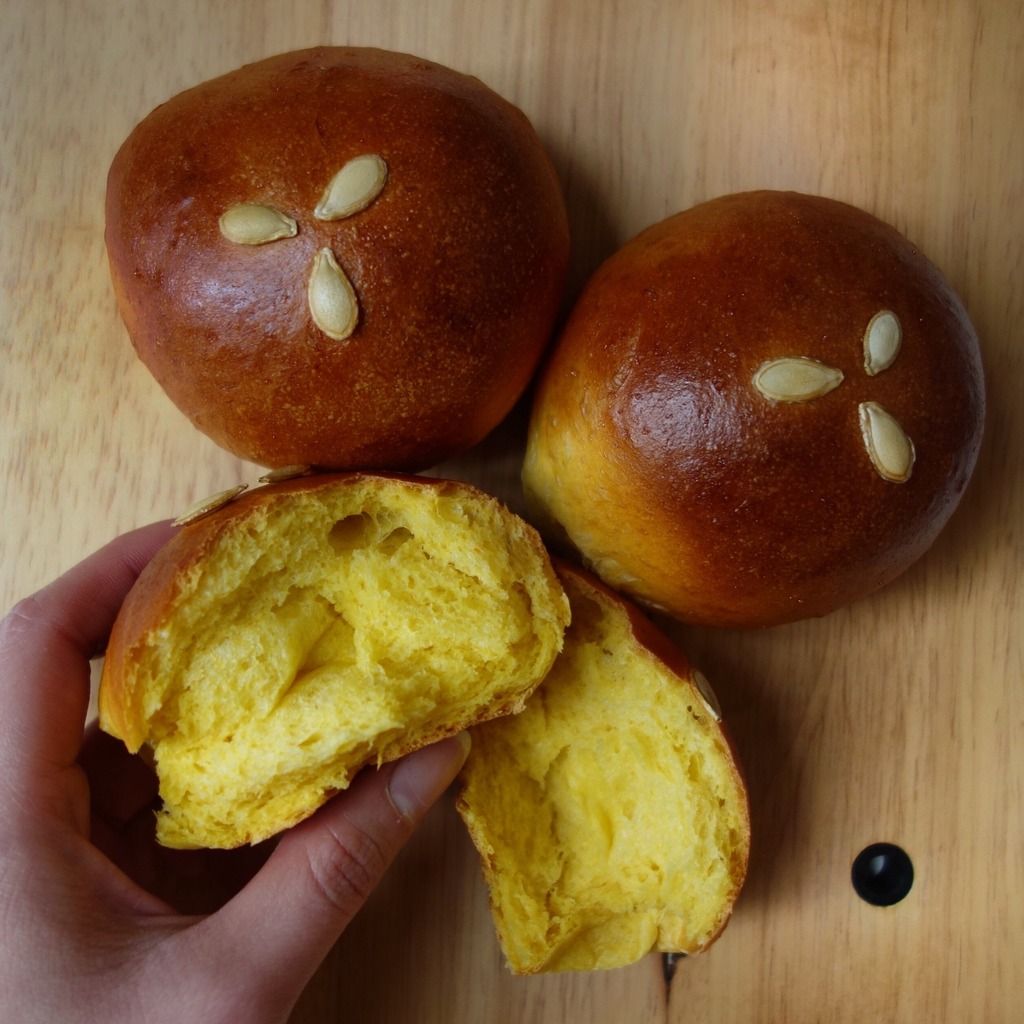 I also made some into buns topped with pumpkin seeds. They were just soft and delicious. The Boyfriend said "Mmm, they remind me of KFC dinner rolls, but better". I agree, they definitely do make pretty amazing dinner rolls. They can be eaten plain, or with a good spread of butter.
And because the bread were so good, and stayed soft even on day 2, I made more the following day! This time though, I had this ingenious idea of topping the loaf with cheese.
Did someone just say CHEEEEEEESEEEE?!! *hearts in eyes*
Ahhhh it was so SO good! This is possibly the best bread I've baked to date. They were divine, with or without cheese. I totally cheated on my diet big time because I could not resist 'em.
I highly recommend you give this recipe a go because the bread is exceptionally soft and delicious.
Pumpkin Bread Loaf
Recipe adapted from
Nasi Lemak Lover
& modified by The Bakeanista
Ingredients
350 grams high protein or bread flour

100g mashed pumpkin

20g sugar

½ teaspoon salt

150g fresh milk (cold from fridge)

1 teaspoon instant yeast

20g butter, cubed and at room temperature

1 egg, beaten (for egg wash)

rolled oats/pumpkin seeds/cheese for garnishing
Method using breadmaker
Prepare pumpkin. Peel, core and cut pumpkin into cubes. Steam until soft (about 10 minutes), then mash up and set aside.

Add all ingredients (except butter) into a breadmaker, first the wet ingredients (milk then mashed pumpkin), followed by the dry ingredients (sugar, salt, flour, yeast).

Select the "dough" mode (refer to the menu of your breadmaker to select the kneading dough programme).

When all ingredients come together, add in the butter, continue kneading until the dough is smooth and elastic. The time of kneading in the breadmaker is about 30 minutes.

Let the dough complete the 1st round of proofing until double in size, about 40-50 minutes, best temperature for proofing is 28C, humidity 75%, until double in size.

Punch and deflate dough, then remove dough from bowl and shape into a ball. As this recipe makes two loafs, divide into six equal portion. The dough will be approximately 660g as a whole, so each portion should be approximately 110g.





With seal facing down, place in the loaf tins to have the 2nd round of proofing, until double in size. This takes another 40-50 minutes depending on the weather. The best temperature for 2nd round proofing is 38C, humidity 85%. As the weather in Melbourne can sometimes be a little too chilly, I sometimes preheat my oven at 40 deg C then turn off, and let dough proof inside, whilst covered with a damp cloth.

Brush whisked egg wash on surface and garnish with rolled oats or pumpkin seeds. If you'd like to make the cheese version, this is when cut a cross on the top of the loaf, and top with shredded mozzarella and sprinkle a little pinch of parmesan cheese.

Bake in a pre-heated oven at 180 degrees C for 20-25 minutes, or until top of bread is shiny and golden brown.

Remove from the oven, and let cool for 5 minutes. Remove bread from pan (handle with care as bread will be very soft) and transfer onto a wire rack to let cool completely. You will find that the bread will firm up once cool.

And now to the best part of it all, take in a deep breath of the aroma of your freshly baked loaf and DIG IN!
Do let me know in the comments below if you've got any questions, as always I'd be happy to help where I can. Off I go to enjoy some freshly baked bread now! Happy baking!
Sorry I can't help but end this blog post with another #breadporn shot. ;)