Truth be told, I am rather hesitant about writing this blog post. Why, you ask? Because I absolutely love Mahn Doo, and I don't want to share this secret gem with everyone else. *shifty eyes*
I appreciate that not many people are aware of Mahn Doo yet as I can easily get a table, even on a Friday evening.
I like that I don't have to queue, wait for long, or even call to make a table booking. I often say to my friends, "I booked out the whole restaurant to have dinner with you!"
At the same time though, I really
really
enjoyed all my experiences at Mahn Doo and I do hope to see them succeed. Of course, I also hope that others get to enjoy their amazing Korean food too.
I'm not sure if my blog post will be able to change much of that, but I think Mahn Doo at least deserves my raving post, so here goes! :)
Mahn Doo is sister restaurant to popular Joomak and Hwaro, located at the corner of Latrobe and Queen Street.
I first discovered Mahn Doo at the end of 2014, and have since returned 5 times. I must really LOVE the food for me to visit the same restaurant 6 times in 3 months. Mahn Doo never lets me down. I've brought few groups of friends there, and like me, they all love it.
Mahn Doo or usually spelt as man-du (만두) are Korean dumplings. So when a restaurant names itself after a dish, you just have to order it.
At Mahn Doo, you can have it two ways - fried (군만두) or steamed (찐만두). They offer three different fillings - beef, pork, or kimchi pork. I've tried them all, but my favs are the beef and kimchi pork.
Steamed Kimchi & Pork Mahn Doo ($5)
The steamed mandu's have soft, silky skin which aren't too thick; just the way I like it. I love how it's so beautifully presented too. They even come with the best dipping sauce.
I like to have the kimchi pork dumplings steamed, and the beef ones fried. The Boyfriend, on the other hand, is a bigger fan of the pan-fried dumplings (whatever filling it may be).
Pan-fried Beef Mahn Doo ($6)
But I can see why, they're delicious - crisp to perfection on the outside but each bite is tender, with a burst of tasty fillings! And hey, not greasy at all which I really appreciate.
As its name suggest, Mahn Doo do serve the best Korean dumplings I've had in Melbourne, and so so reasonably priced too! For 8 pieces per serving, the fried ones are $6 and steamed ones $5.
Korean Traditional Seafood Pancake ($17)
The haemul pajeon is another good snack to share. Guess what I like most about pajeon? The crispy edges! So yum, and I love how they come served with the most delicious dipping sauce. I really need to find out how the sauce is made!
Korean traditional minced beef BBQ ($24)
Oh, I'm salivating as I write this but the tteokgalbi at Mahn Doo is one of the best I've had! I used to only enjoy the ones from Darac, but this has also won my heart.
The meat patties were so tender and full of flavour, but what's unique about Mahn Doo's version is that they have mushroom and tofu sandwiched in between, Really really yummeh!!
Pan-fried Spicy Pork Bulgogi with Vegetables ($22)
Yeap, the spicy pork bulgogi did taste just as good as it looks. It was sweet and had a good kick of spiciness to balance it all up.
This is one of my favourite Korean main dish, and not a lot of places do them well. This however, was perfect!
I can't seem to stop raving about Mahn Doo, can I? They should hire me as their ambasssador. :P
Grilled Fish - I'm guessing mackerel? ($18/$19)
I'm sorry I can't remember what fish we ended up choosing (it's either mackerel, rainbow or atka) but all I can say is that I was surprised even a simple grilled fish could taste so delicious. My friend and I were like "Wah actually very yummy hor!"
I also absolutely love their unlimited ban chan (side dishes) of kimchi, Korean potato salad and soft silky tofu.
I know, it's embarrassing because they don't charge for refills, but they're so delicious, we just gotta be shameless and ask. If we go in a group, we ask for refills at least 3-4 times, at least.
Deep-fried Whole Chicken served with honey mustard, salt & pepper ($30)
Of course, The Boyfriend being the KFC lover that he is, insisted that we tried Mahn Doo's version. I'm glad he did though, because it was SO GOOD! I liked that they use a thin batter which was fried to a crisp, yet the meat was kept juicy and tender.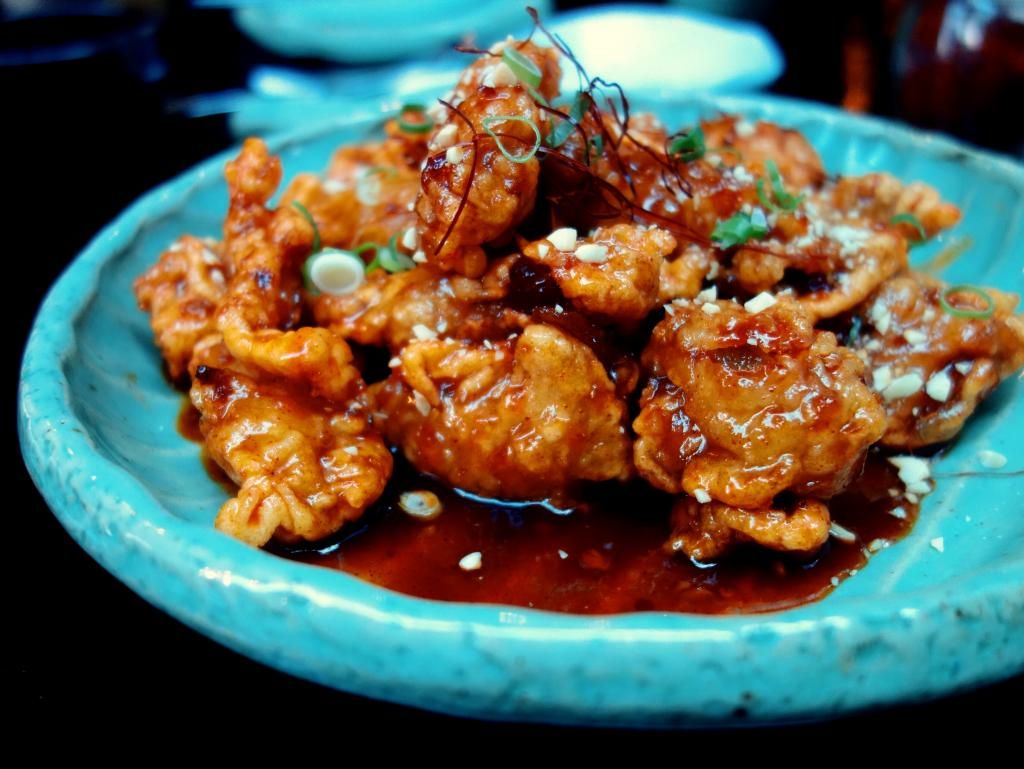 Sweet & Spicy Fried Chicken ($18)
Because the fried chicken was so delicious, we thought we'd try their dakgangjeong $18, which is essentially crispy fried boneless chicken in sweet and spicy sauce.
I'm not too big a fan of boneless chicken but oh that sauce, if only I can pair it with the original fried chicken, rather than the boneless fried chicken.
Spicy Kimchi & Pork Traditional Soup $20
We also really enjoyed the soondubu jjigae (soft silky tofu stew) with kimchi and pork ($15). I've had this three times in 6 visits.
If you're all in for something spicy, I highly recommend the spicy kimchi and pork traditional soup (as pictured) instead as I found it much nicer! Yes, this is coming from someone who doesn't tolerate spiciness very well.
I'm looking forward to try their galbi-tang (beef ribs stew). We wanted to top up our order once after inhaling the first round of food, but was told there was a 20 minutes wait for the galbi-tang so we ordered something else instead. Can't wait to try!
Grilling marinated thinly sliced beef with mushrooms ($40)
It was my first time having beef bulgogi jeongol and I thought geez, that's a huge portion!
Little did we know that beneath all that beef and variety of mushrooms, lies a little dome which was part of the bronze grilling pan. It was delicious though, and I kept helping myself to the broth.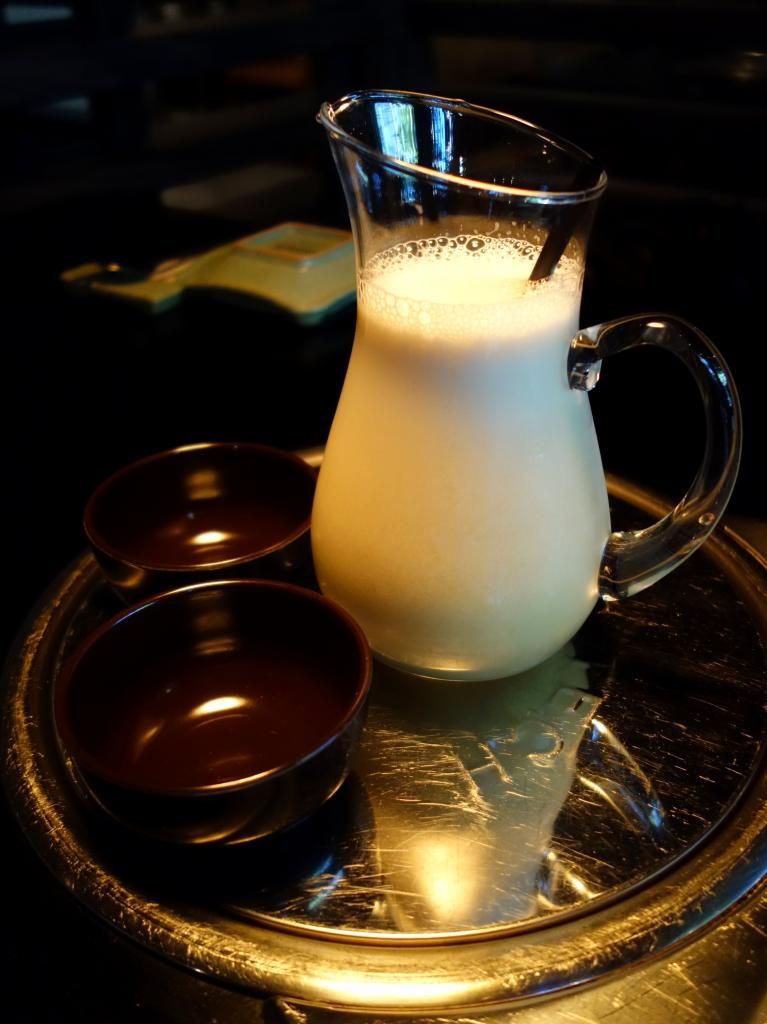 If you know me well, I'm not too big on alcoholic drinks, but I do enjoy my makgeolli's! Like Joomak, Mahn Doo also offers flavoured rice wines. I've only tried the peach rice wine thus far, but I am hoping to try the other flavours next time.
All in all, amazing and absolutely taste food and drinks! I haven't had a dish or meal at Mahn Doo that has let me know yet. I cannot recommend this place enough!
Even the interior is set up really beautifully, it looks very posh and fancy, don't you think? I feel like the decor gives off the impression like "Oh, this place must be expensive!" But it's not, in fact the prices are very reasonable.
As for service, it has been really fantastic; all the waitstaff were extremely friendly and always very welcoming on all my visits. I also appreciate that they have a little 'CALL' button on every table so there's no need to wave or signal to attract the waiter's attention.
Pair all of that with the perfect ambience with jazz music playing in the background, it's the perfect place for a date or even to hang out with friends for a few drinks and good food.
Mahn Doo far exceeded my expectations, and I simply cannot fault this place. Do give it a try, and you can thank me later! ;)