I found a new modern Korean restaurant which I absolutely ADORE and as much as I'd like to keep
Table by S
a secret to myself, I figured sharing is caring. Plus, good things are meant to be shared anyways.
And I want the world to know how amazing/fantabulous/brilliant (...you get the drift) Table by S is, simply because they deserve it.
Corrine was so bubbly, helpful and engaging, she made us feel very very welcomed! Needless to say, service was top notch the entire night. If I ever open a restaurant of my own, she'd be the first person I'd poach. That's how amazing she is!
menu
at Table by S is fairly complex - it is broken down to Korean tapas, danpum (like soups/noodles/rice dishes), mains to share and stone grill BBQ, but there are a lot of options.
There was no need to fret though, because Corrine did a fab job with explaining the menu and putting forward recommendations that works for everyone at the table.
It was so hard to decide what to have, I wanted to try everything! Although we eventually managed to narrow down our options, I think we still did over-order... just slightly... but everything was so good, it was way worth it!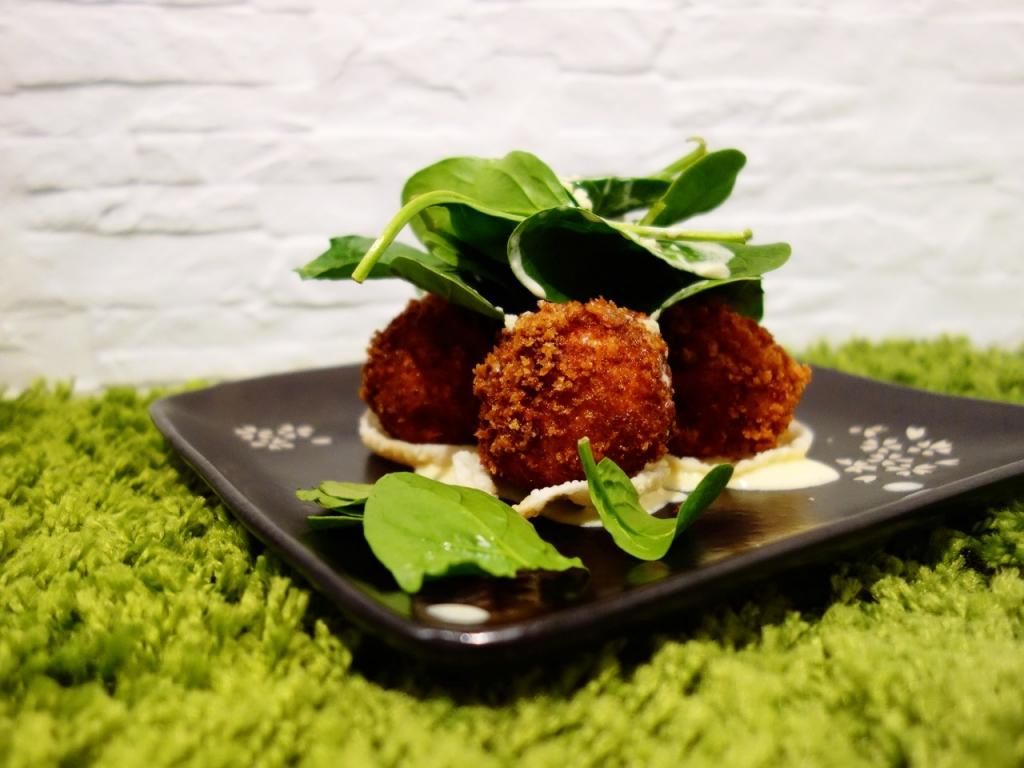 김치 아란치니 - sauteed kimchi, cheddar, mozzarella, vegetable, rice balls
The first tapas that we had was these beautiful fried kimchi aranchini balls. Crispy on the outside, soft and cheesy on the inside. I loved the addition of kimchi - it was amazeballs!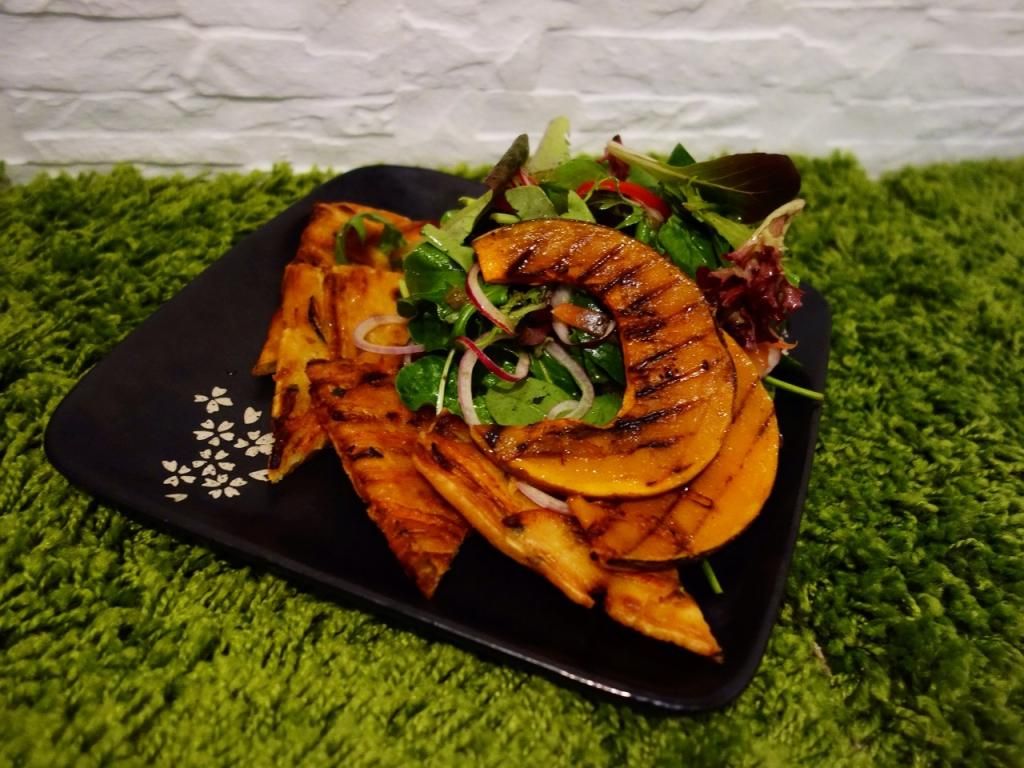 호박 지짐이 - sweet potato zucchini pancake, and salad
The sweet potato and zucchini pancake arrived with roasted pumpkin and fresh green salad. I've never had pajeon (Korean savoury pancake) with these ingredients before and boy, it was very tasty. The only thing missing is the soy dipping sauce - it'd be a great little addition.
치킨 - buttermilk marinated chicken pieces (half)
And of course, there's always fried chicken when The Boyfriend is around haha! Buttermilk marinated deep fried chicken in garlic soy sauce, served with wedges in this beautiful gigantic spoon.
The chicken pieces were fried to a crisp perfection, without too thick of a batter. What I loved most about the KFC is that it wasn't too greasy and the garlic soy flavour was just right.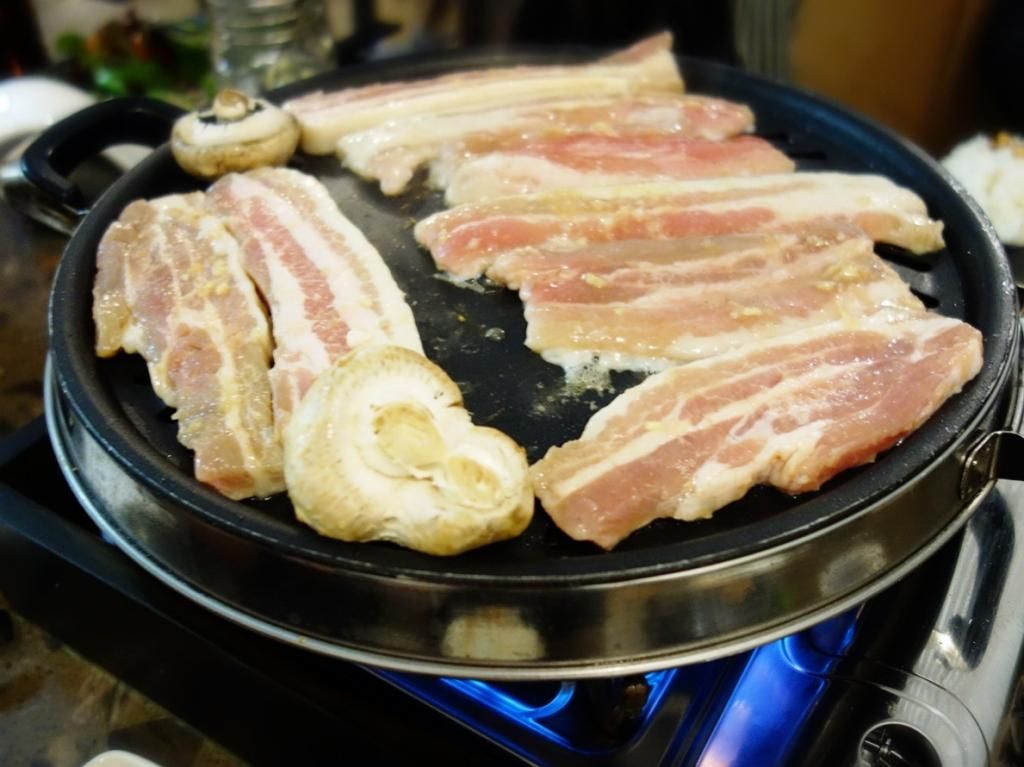 미소 삼겹살 - miso pork
We started with the pork belly marinated in white miso. Whilst the meat was cooking, I just sat there,
very impatiently
, just staring at the meat because it smelt so so good!
I also appreciate that there was a fair amount of meat to go around the table. We thought the portion was comparatively generous considering the price of $27.90.
The Boyfriend and I were at a different K-BBQ last weekend, and we paid $30 for two miserable piece of meat which did not even taste good. But I shall not name and shame. I'll just have to go back to Table by S whenever I crave K-BBQ.
Sorry all I have are action shots. No "after shot" pictures because let's just say it was too incredible that all I wanted to do was eat. I was too busy devouring it all!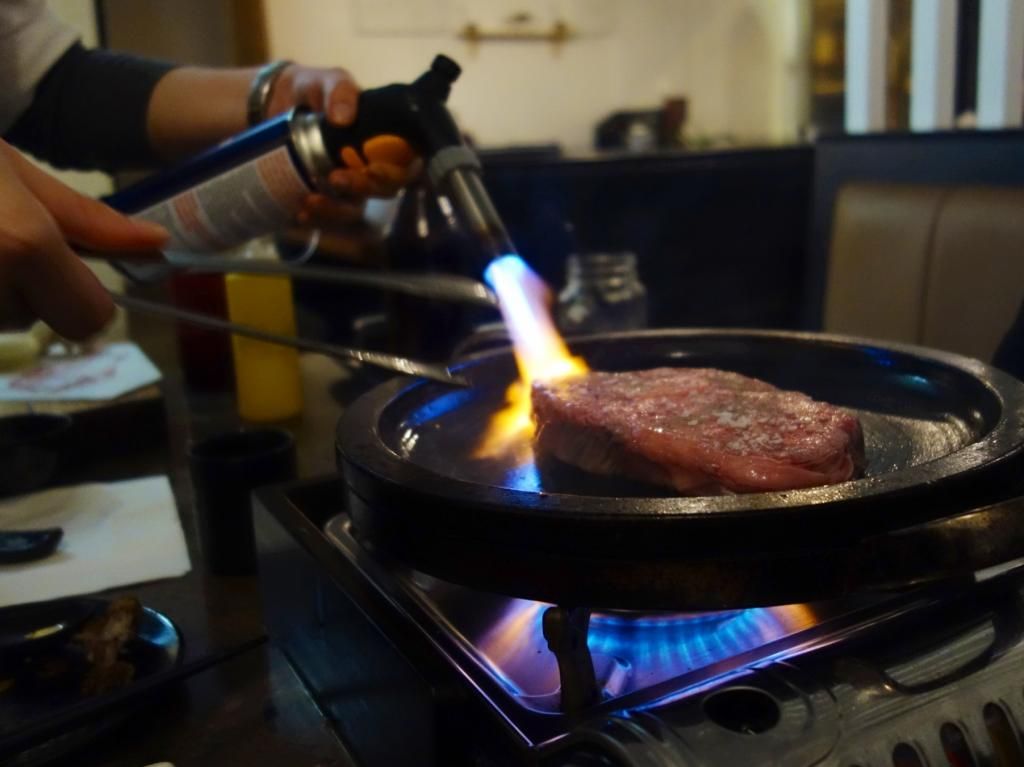 Wagyu Scotch Fillet 250g with house pickles & dipping sauces
Every bite was heavenly! The meat was so succulent, tender and juicy plus the good marbling evenly distributed on the meat... oh dear me, melt-in-your-mouth goodness! THE BEST I'VE HAD, I kid you not.
"OMG SO GOOD!"
over and over again.
I'm sure everyone else was not annoyed at me repeating myself, because it was true. It was so good and we were all so satisfied.
The platter consisted of a moist dark chocolate cake with cranberries, vanilla ice cream with rice puffs and almond praline, and lastly, fried chocolate dumplings. For $7.90 a platter, that's a pretty good deal hey!
Yes, I even took a picture of the bill.
Like I said, I loved all the little touches here and there. Even the bill was delivered in such a cute manner. That screwdriver was such a great fitting to the shop's industrial design and decor.
You can tell how much effort and thoughts the owners put into this business, and I would love to see them flourish and succeed. If I ever get to meet the owners, I'd thank them for such a great execution.
THIS
satisfied. I give them 10/10.
I cannot recommend Table by S enough! I've never had food with flavours that Table by S offers and I really love the fusion twist that they take on my ultimate favourite K-food.
At the end of the night, I rubbed my food baby gleefully as I walked out the door and I was already planning my next trip back!
Just trust me and make your way down as soon as you can, because I'm sure they're going to get really busy in no time.