When I was a young girl, I loved following my Mum to bakery stores so I could pick out the buns I like to have during recess at school.
I am rather boring; I pick up the same few ones time and again. Sausage rolls were one of them, and I've missed eating them.
There are Asian bakery stores here in Melbourne such as Breadtop or Breadlicious (my favourite two) but the buns can be a tad expensive for at least $2 each.
So, when I came across this
mini sausage rolls recipe
by Sonia at Nasi Lemak Lover, I was ecstatic!! They were so cute in size to start, and they did look very much like what you'd get at the bakery. And well, they cost a lot less too; I probably spent about $7 in total for 15 buns.
I made The Boyfriend drive me to the supermarket at 9.30pm (and spent an hour there lol lol thank God for 24 hours Coles) to get all the ingredients so we could bake first thing the following morning.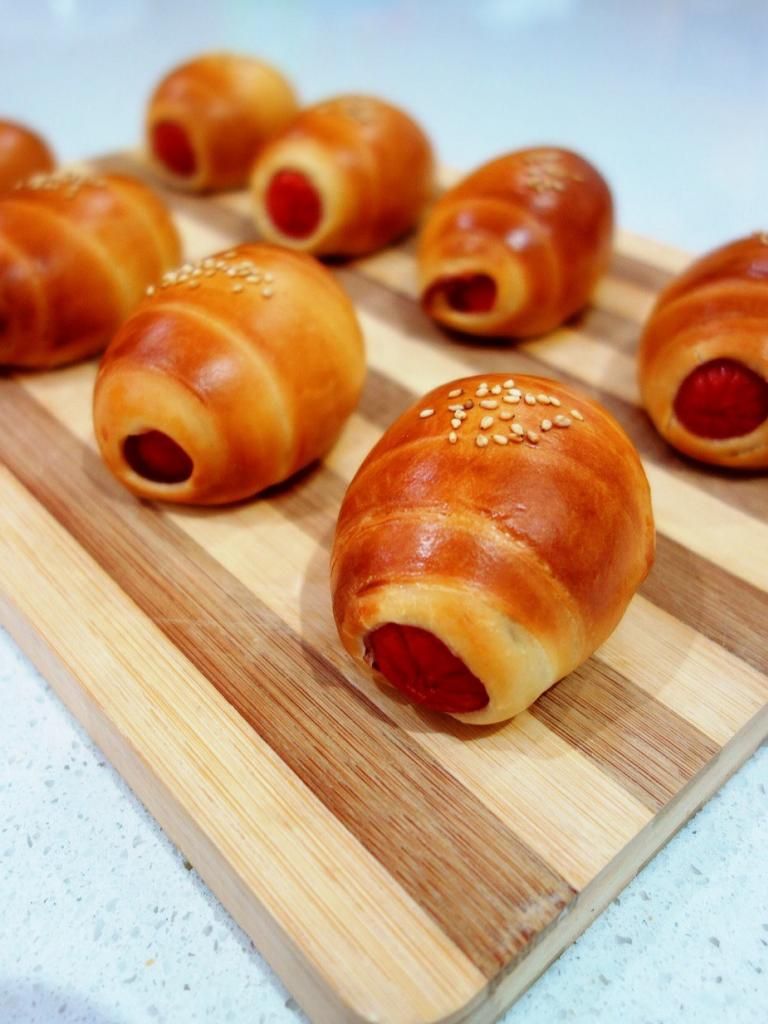 And this is the final result! How cute are they? These buns were also soft and delicious. Both The Boyfriend and I really enjoyed them!
They were not difficult to make and having the bread maker knead the dough for me definitely made it much easier for me. ;)
200g bread flour

130g milk

35g sugar

3g instant yeast (1/2 tsp+1/4 tsp)

1/8 tsp salt

25g butter, softened at room temperature

15 mini cocktail sausages, washed & pat dry

Sesame seeds (for garnishing)

Egg wash
If using stand mixer, combine all ingredients except butter in a mixing bowl, mix and knead till smooth. Add in butter, continue to knead till elastic and smooth dough. Keep aside to rise till double in size.

Alternatively, if you're using a bread maker machine, simply put all ingredients in and using the dough-knead-only function, knead for 5-10 minutes until smooth. Then add in butter, without stopping the machine. Let the bread maker finish its round, then set aside to double in size.

Divide the dough into 15 small round balls at 25g each then let rest for 10 mins.

Take a small dough, use a rolling pin to flatten it, then close two ends and look like a cigarette then keep aside to rest for 10 mins. Take a dough, use hand to roll one end to shape it like a cone. Use a rolling pin, roll it flat. Place a sausage at the bigger end, and start to roll like a swiss roll. Place sausage rolls on a lined baking sheet. Repeat the rest till finished. Let it to proof for another 30-45 mins.

Apply egg wash then sprinkle sesame seeds on top. Bake at a pre-heated oven 170°C (fan-forced) for 15-20 mins or 180°C (no fan) for 15-20mins.
Photo credit to Sonia, from Nasi Lemak Lover
Sonia was very lovely to share the step-by-step pictures on how to roll the buns, which I found very convenient, especially as a first timer.
I love popping by Nasi Lemak Lover as I often find recipes that reminds me of home - I've bookmarked the link as one of my favourites and I highly recommend you pop over too. ;)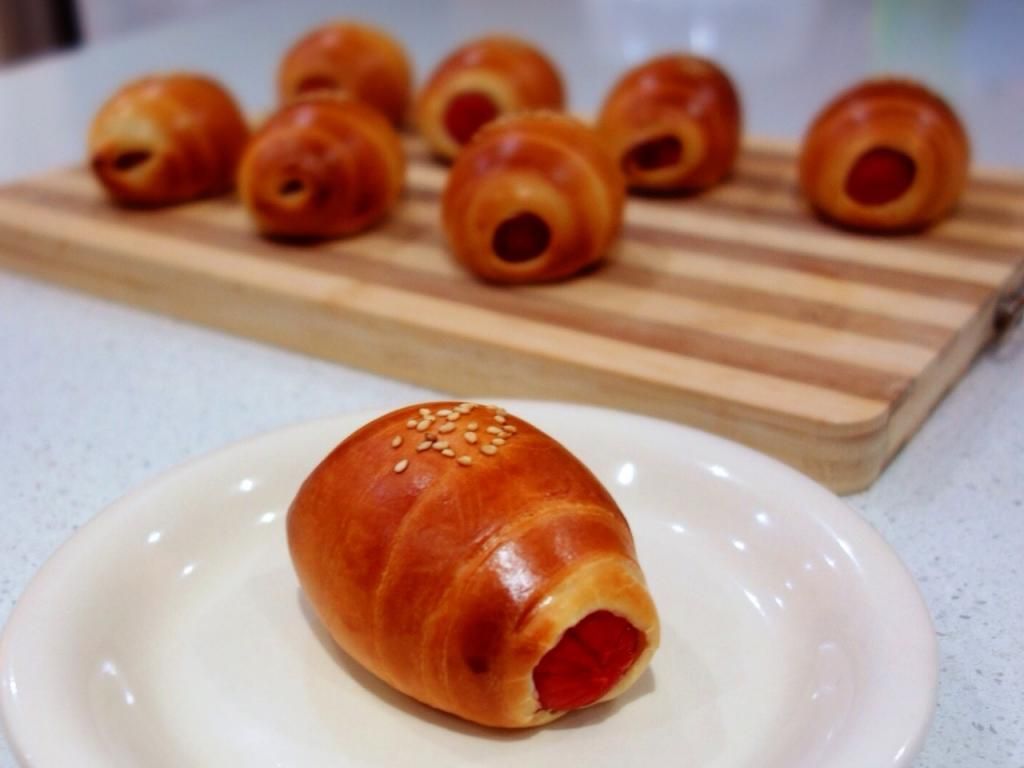 Anyways, back to the buns!! These buns make a good breakfast, and they're even perfect as an afternoon tea snack with a hot cuppa. I stored them in an airtight container, and they lasted me 3 days.
I hope you'll enjoy this recipe as much as I did! And if you're a Mum, it'll be fun making these with your kids. Good luck! ;)