Last year I hosted a Christmas luncheon with a small group of friends at my place. I put together a menu and started planning a week in advance. I single-handedly prepared the lunch - from appetizers to main, sides and even desserts.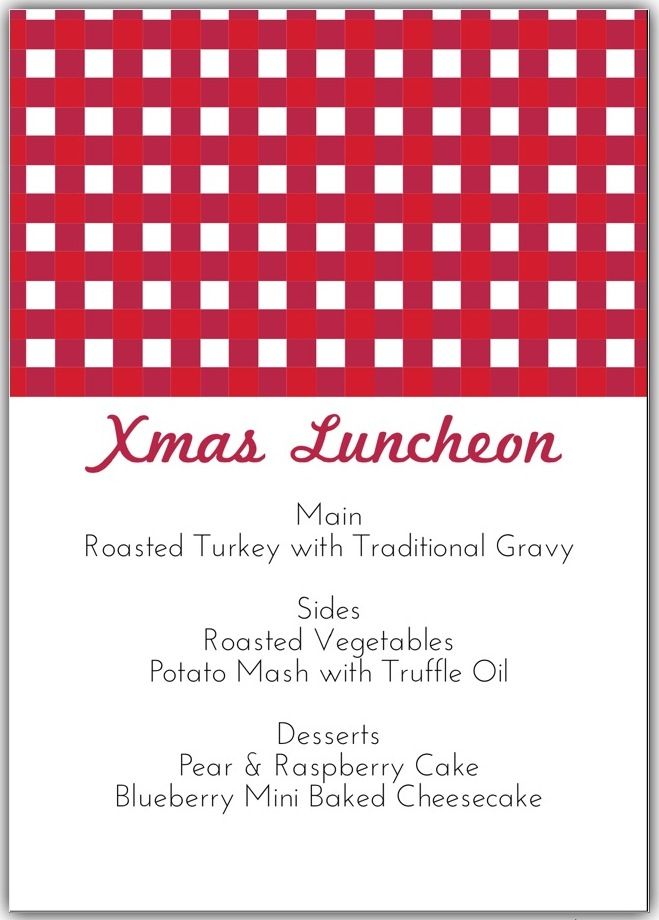 I don't know how I did it, but I managed to put up a delicious lunch although at the end of the day, I was exhausted.
My effort was well paid off though - everything was so yum, and I guess the lunch was my Christmas present to those who attended. :)
This year I'm taking it easy. But if you are considering to host a lunch/dinner with your family and friends, I hope this post would help give you some ideas. :)
Appetiser
-
French Baguette with truffle oil infused butter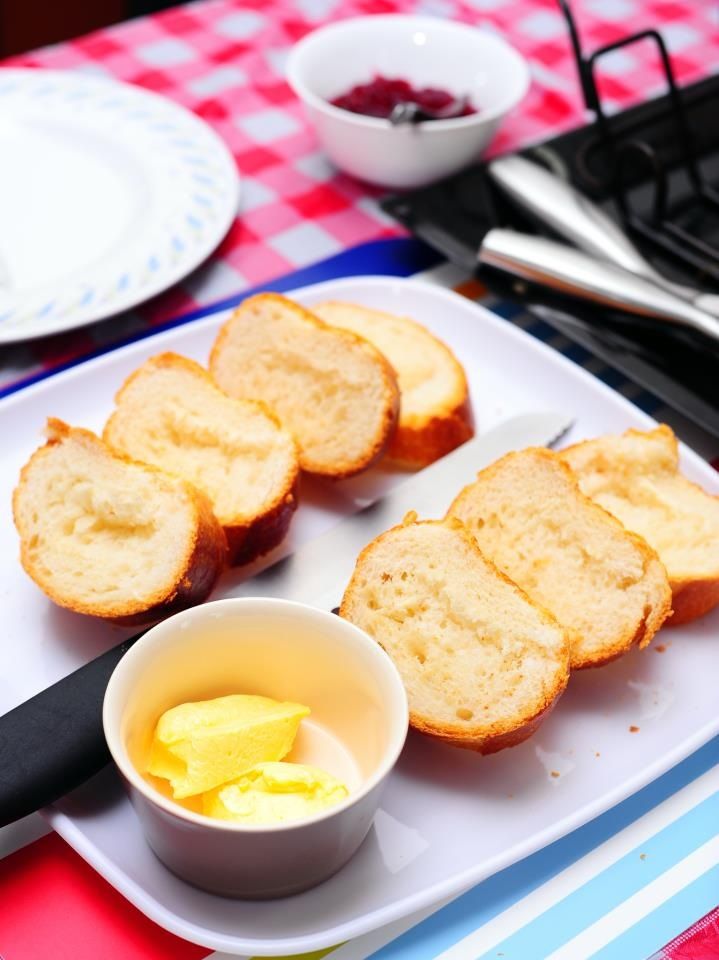 I cheated a little with this - I didn't make the baguette. I bought a loaf from Coles, popped it in the oven for several minutes prior to serving, and plated it up with truffle infused butter at the side.
For the truffle infused butter, I churned some unsalted butter with a few drops of white truffle oil. I then spooned the mixture along the center of a sheet of plastic wrap and shaped to form a log.
Roll up and twist the ends to secure. I placed the rolled up butter in the fridge overnight to ensure that it is firm and chilled.
Cut into slices to serve with french baguette or dinner rolls. Smells exceptional! ;)
Main -
Roasted Turkey with Traditional Gravy
Recipe adapted from Food Wishes - Roasted Turkey & Gravy
Ingredients:

Seasoning:
1 tbsp black pepper
2 tbsp kosher salt
1 tsp ground sage
1 tsp dried thyme
1 tsp ground rosemary
½ bunch sage
3 rosemary sprig
Filling and Base:
2 onions
3 ribs celery
2 carrots
Method: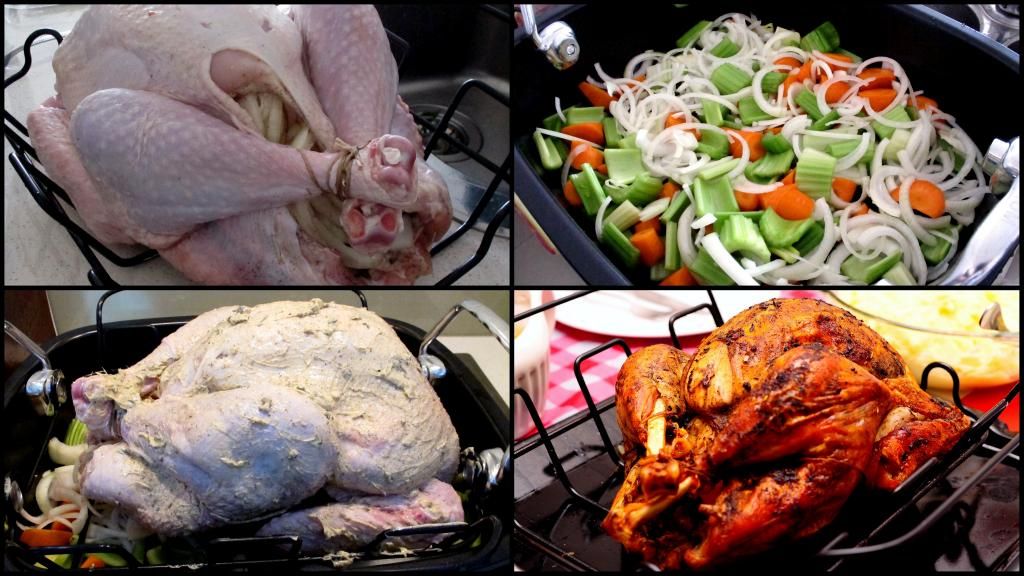 Mix the pepper, salt, sage, thyme and ground rosemary in a small bowl.
Lift turkey up on its head to have "easy assess into the cavity" then generously season with all the dry seasoning ingredients and give the turkey a good rub. ;)
Fill the cavity with the fresh sage, rosemary sprig and a handful of onions/celery and carrots mix. Reserve some of the vegetable as your base.
Fold the wing underneath the turkey to provide a stable base. Tie the turkey legs together with kitchen string to ensure filling does not fall off the cavity.
Loosen turkey skin with your fingers/silicon spatula. Open up skin gently and rub 2 tbsp of flavoured butter inside skin - this will help keep the breast moist and well-flavoured.
Spread remaining butter on the top of the turkey then sprinkle with some salt and pepper.
Roast at 160°C for 2 hours and 20 minutes until the thigh reaches approximately 75°C. When ready, remove from oven and let sit with foiled lightly covered for half an hour.
Prepare gravy, then serve alongside some cranberry sauce too.
Gravy
1 tbsp butter
2 tbsp turkey fats strained from base
½ cup of cooked onions from base
30g of plain flour
3 cups of cooking liquid (juice) from turkey
4 cups of turkey stock
1 tsp balsamic vinegar
1 tbsp sage
Salt & pepper
Method:
Melt butter with turkey fats and cooked onions over medium heat until onions turn brown.
Add plain flour and stir well for abour 4-5 minutes.
Stir in cooling liquid and turkey stock with balsamic vinegar.
Once liquid has reduced, add in sage, then season with salt and pepper.
Sides -
Roasted Vegetables
My apologies I can't seem to find a picture of the roasted vegetables. I think this is what happens when you put boys in charge of the pictures. Haha, but see below my recipe anyways:
Ingredients:
2 carrots
1 medium-sized sweet potatoes
Half a butternut pumpkin
2-3 potatoes
6-8 crushed garlic cloves
Chopped rosemary leaves
2 tbsp olive oil
Method:
Preheat oven to 180°C fan-forced.
Cut vegetables into bite-sized pieces then place chopped vegetables, along with crushed garlic, rosemary leaves and oil in a roasting dish.
Season with salt and pepper then toss to coat.
Roast for 45-50 minutes or until golden and tender. I had my tray of roasted vegetables seating on the rack beneath the turkey. Serve warm.
Sides -
Potato Mash with Truffle Oil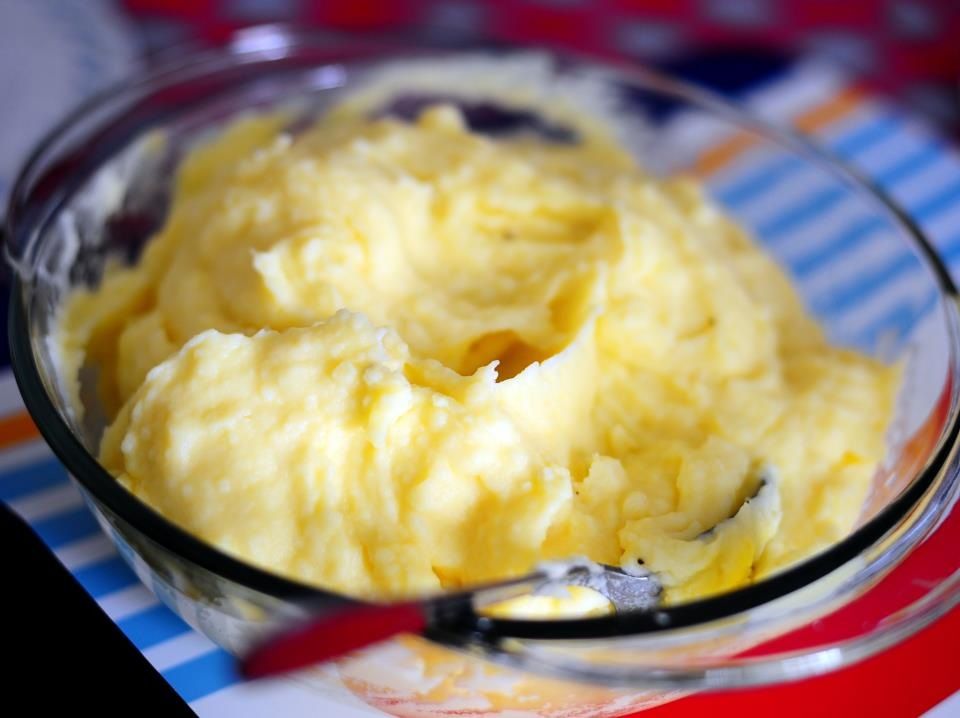 Mashed potatoes are a staple on our table for Christmas/Thanksgiving. Particularly this recipe that I adapted from
The Pioneer Woman
. ;)
It was the highlight of our meal - so creamy and heavenly good! The addition of truffle oil brought the mash to another notch higher. The Boys and myself kept going oohh and ahhh. YUM!
Ingredients:
1 kgs of potatoes (I like using golden delight)
120g butter
125g cream cheese, softened
30ml of milk
½ tsp salt
½ tsp black pepper
1½ tsp of truffle oil
Method:
Peel and cut the potatoes into pieces that are generally the same size. Bring a large pot of water to a simmer and add the potatoes. Bring to a boil and cook for 30 to 35 minutes. When they're cooked through, the fork should easily slide into the potatoes with no resistance, and the potatoes should almost, but not totally, fall apart.
Drain the potatoes in a large colander. When the potatoes have finished draining, place them back into the dry pot and put the pot on the stove. Mash the potatoes over low heat, allowing all the steam to escape, before adding in all the other ingredients.
Turn off the stove and add 80g of butter, cream cheese and milk. Mash, mash, mash!
Next, add salt, black pepper and truffle oil. Stir well and place in a medium-sized baking dish.
Slice the remaining 40g of butter and place over the top of the potatoes whilst still warm. The softened butter will melt and voila! NOW DIG IN!
Dessert -
Pear & Raspberry Cake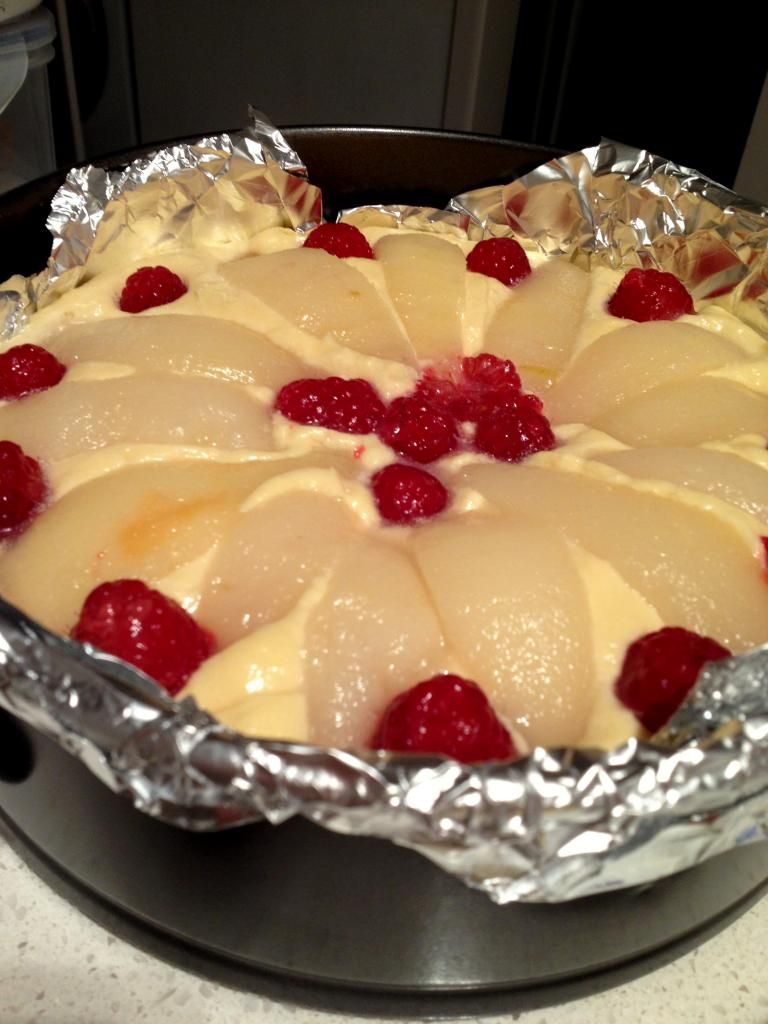 This Bourke Street Bakery cake is by far one of my favouritest cake ever. This cake is perfect for almost any occasion, or even as a gift. So moist, not too sweet, and most importantly very
very
delicious.
It is perfect eaten on its own or served with a dollop of cream at the side. My guests enjoyed the cake so much, they were fighting over the last few pieces. ;) Recipe can be found
here
.
Desserts -
Blueberry Mini Baked Cheesecakes
I'm sorry this picture isn't at all very enticing, but believe you me, these cheesecakes were divine! And your well-fed guests would appreciate them being mini ones.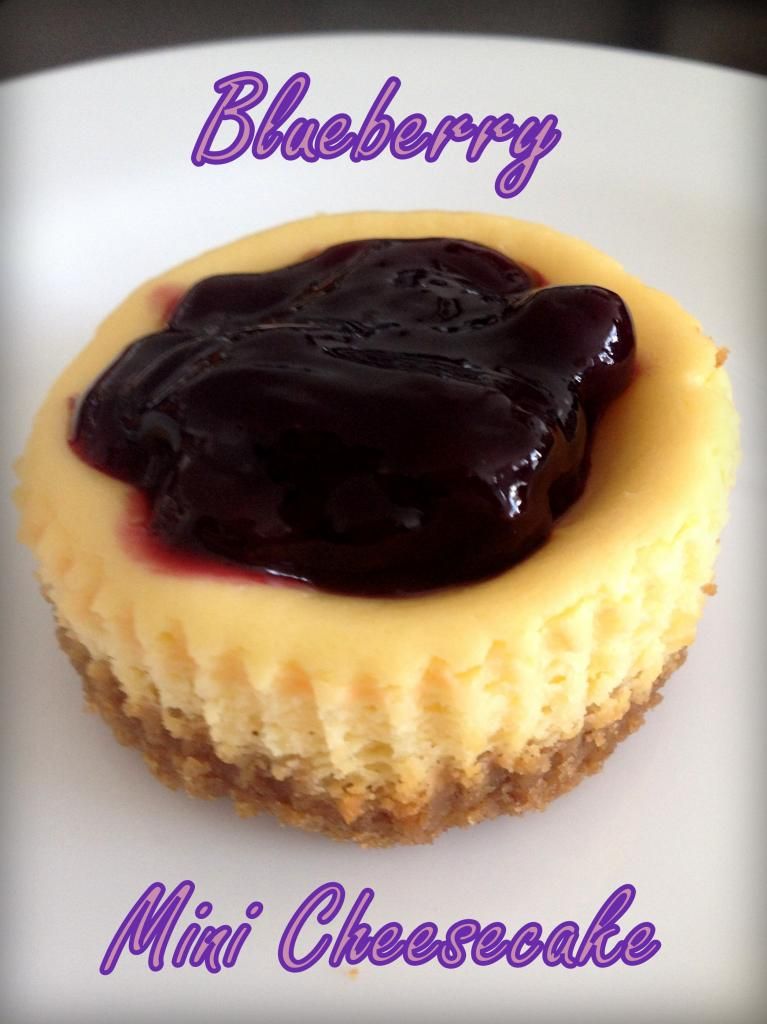 My guests were mostly boys, and I guess they digest their food pretty quickly seeing as they came back for double serving.
This is one of The Boyfriend's favourite and he has since requested that I remake these for him, a couple of times! You may find the recipe from Exclusively Food
here
.
For the topping, I used fresh ready-made blueberry pie filling. To be precise,
Fresh Berry Farm's
blueberries in their own sauce which you can get at Woolies supermarket.
And that is it! I hope you enjoyed reading this post and found some helpful ideas along the way. Oh, and do you like my new Christmassy header too? :D
Have
a
Merry
Christmas
, everyone!
:)
Signing off, The Reindeer Bakeanista