Time really flies. It really has - I cannot believe that we're about to usher in the Year 2014 in less than a month! And I also can't believe that it has been two years. Two years.
It felt only like last week when he first held my hands. To be honest, sometimes it still feels really surreal. Like... you mean this kind-hearted, handsome man is MY boyfriend? ♥♥♥
To celebrate our 2 years anniversary, The Boyfriend's initial idea was to take me to Vue de Monde, but unfortunately they were already fully booked despite us ringing in one month in advance.
In the end, we decided on Scott Pickett's new restaurant, Saint Crispin. Following our great experience at Scott's other restaurant,
The Estelle
, I no doubt had high expectations and I'm glad to say that Saint Crispin definitely did not disappoint.
The good note about Saint Crispin is we don't have to travel all the way to Northcote as it is conveniently located in Collingwood. As we were walking along Smith Street, The Boyfriend commented, "All the good food is here."
It's true, Smith Street is fast becoming one of Melbourne's top food precinct and Saint Crispin is definitely a great addition.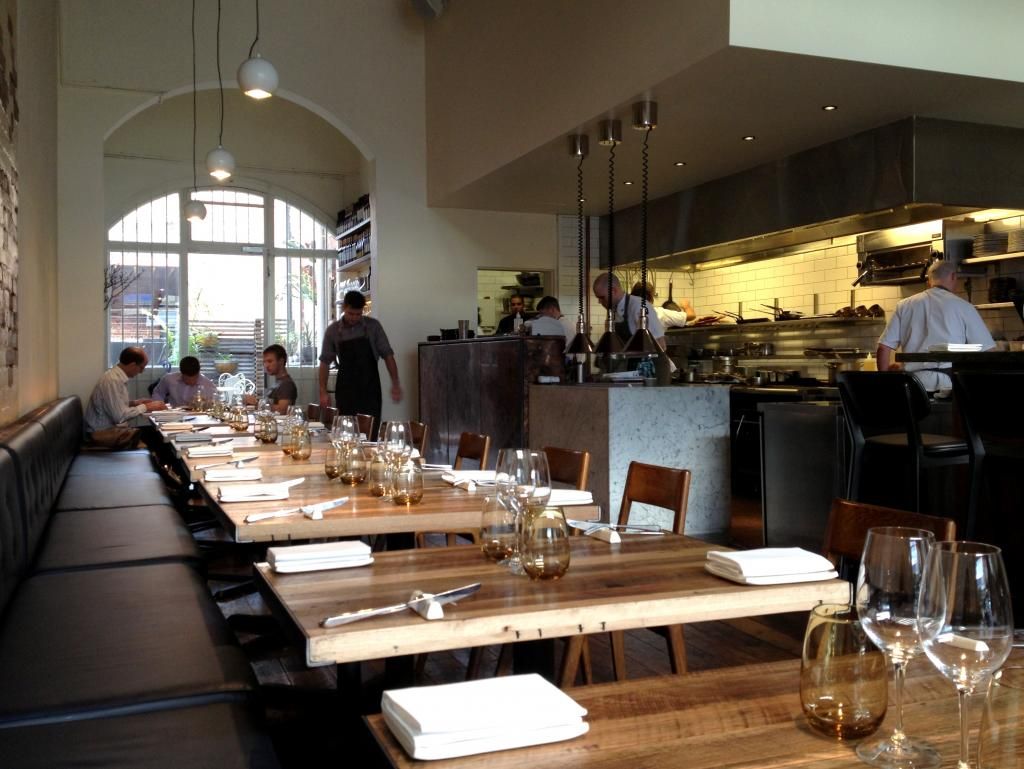 What I loved about Saint Crispin was not just the food, but the overall experience which was absolutely fantastic. The wait staff were so professional and friendly - I'd say top class service!
Anyhoos! Back to our meal... Saint Crispin offers two dinner options - either the two courses for $50 or three courses for $60.
You could also add on some snacks, or as they label as "little bites" to start with and even some sides to go with your mains. Given the quality and portion size, we thought it was really good value for money!
I love kicking start my meal with warm bread. They were served with the most amazing house made caramelised onion butter - so so good I wished I wasn't so embarrassed to ask for another slice of bread!
But it explains why it was so yum, Saint Crispin gets their bread from the amazing
Babka
bakery just up the road.
After reading about them eel croquettes from
Ms I-Hua's blog
, I could not help but to also order. I-Hua described them perfectly well, to quote her, they were "little bursts of pleasure". Even The Boyfriend who doesn't usually like eel went, "Hmmm hmmm".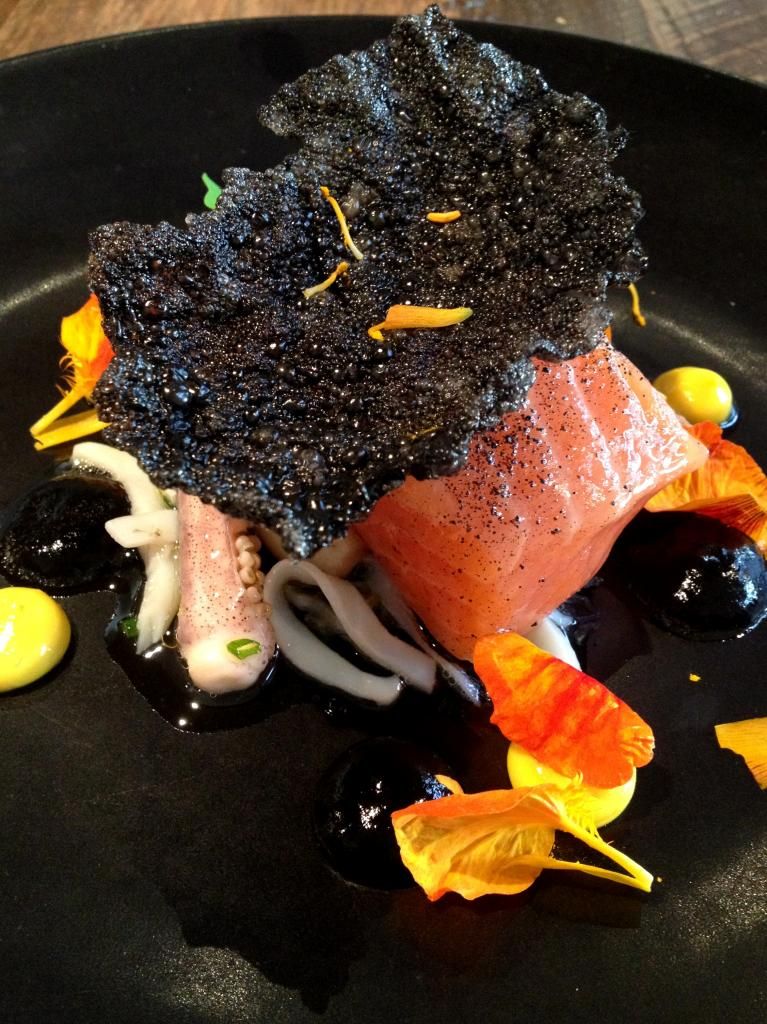 For my entree, I opted for the Atlantic salmon served with shaved calamari, oyster, squid ink and saffron.
It was so good - it wasn't fishy at all, instead I'd say it was very fresh. And don't you love all that bright colours in constrast to the black plate?
The Boyfriend on the other hand, went for the Wagyu bresaola, served with shallot rings, purple cauliflower and hay ash which he also really enjoyed. I stole a tiny bite, and wow! The flavours were exceptional.
But nothing beats the main that I had. Being the fish lover that I am, I inevitably chose the hapuka (a deep sea, white fleshed fish) which was served atop Maloolabah prawn, nicola, spring onion and kohlrabi.
It was so so so so amazingly divine, I devoured it all so quickly. This dish alone warrants yet another visit back!
And just how pretty does this look? I couldn't help going oooh and ahhh at The Boyfriend's Greenvale pork served with heirloom carrot, curried raisin and saffron.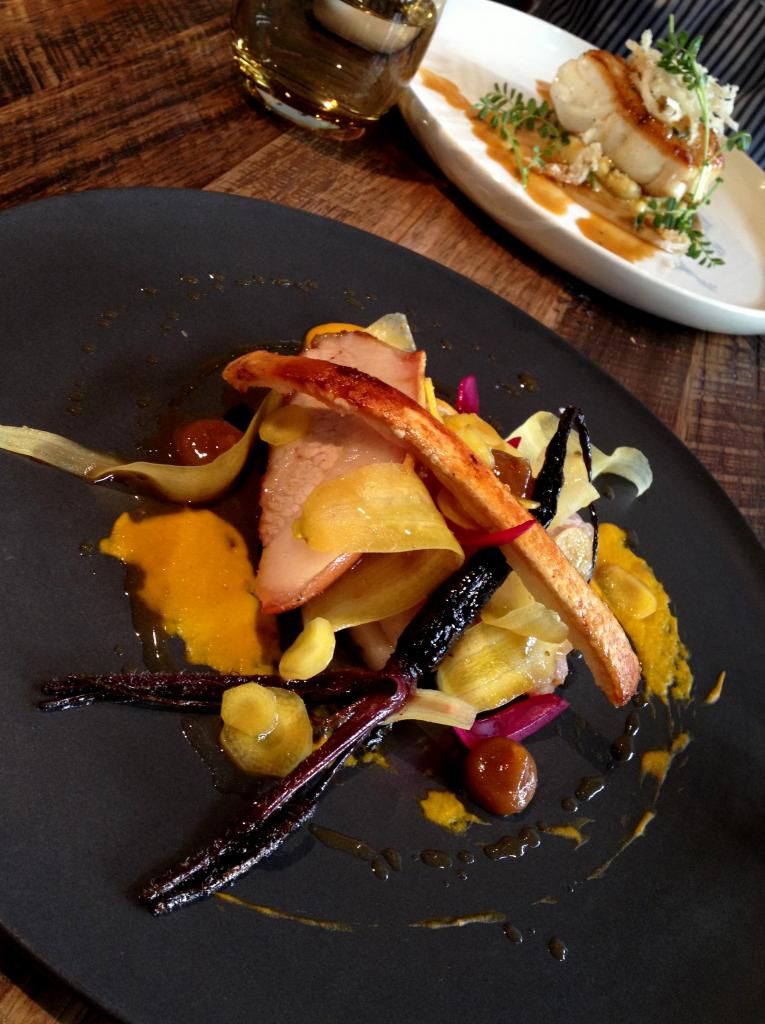 Not only was the dish extremely well presented, it was also very yummy! An interesting mix of Indian inspired flavours.
Memory has failed me (because this post is super delayed) but I am pretty sure The Boyfriend did say something along the lines of how good this dish was!
I was getting quite full so we both decided to share a dessert but I was having a hard time choosing just one, I wanted everything!
The Boyfriend then suggested to go with the Mango, Coconut, Ginger and White Chocolate mousse. The flavours went really well together and I liked how it was light yet creamy.
It was such a memorable meal, I can't wait to be back again. And especially without the hefty price tag. Fantastic ambiance, friendly staff and most important, a hearty meal - what more can you ask for?
Sometimes less really is more. I told The Boyfriend that I really really enjoyed dinner and glad that we're paying only half the price of what we would have paid at Vue de Monde.
But of course, we'll want to get to Vue de Monde eventually and we shall make sure we book well in advance then. I cheekily said to The Boyfriend, "Maybe we can go for my birthday in Jan, babe?"
He gave me a wink in response, which I would take as a yes! Not long to go now... :P