I have a thing, or two for Korean food these days. I'm going through a phase where I constantly crave for Korean
men (Hello Lee Min Ho!!!)
food. I blame this on all the K-drama that I'm watching.
My biggest current crave is tteok-bok-ki (떡볶이) which is a popular Korean snack food made from soft rice cake, fish cake and sweet red chili sauce. But that's story for another day!
Today it's all about my all-time-favourite Korean snack - Chilli Chicken (also known as Buldak which literally translates to fire chicken) topped with melted cheese!
For long-time readers, you'll know that I am not good with spiciness so when I first had Cheesy Buldak (치즈불닭) at Mook Ji bar probably at the start of the year, I felt like my tummy was like a volcano about to erupt! But it was so yummy, I kept going, and going, and have since got "accustomed to" (not really actually, I just deal with it!) the heat.
Since then, I have been seeking for more but sadly, not many places offer this dish. I don't believe this is a traditional dish, which could well be the reason why. I am guessing that this fiery cheesy chicken dish is a modern, improvised version of the "buldak".
Below I share my two cents on the few Cheesy Buldak's that I've tried at a couple of places around Melbourne CBD.
CJ Lunch Bar
If you're after cheap, affordable meals, then CJ Lunch Bar is your go-to place. That's if you don't mind smelling like BBQ after stepping out of the small, cramped restaurant.
There's often a queue out the door during peak hours at lunch or dinner. But they're quick, and have high turnover rate so the wait is usually not too long. Although I personally like to arrive early to avoid the crowd.
I think, apart from the affordable price tag, the patrons are probably after the popular cheesy buldak. Every single time I am there, I will find one on every diners' table. People rave about how good they are, so of course I too had to give it a go.
I might return again, just for the beef bulgogi and ban chan. :P
Darac Bar & Grill
I dragged both The Boyfriend and The Brudder there for dinner one fine night claiming that they have the best cheese buldak. I had to unfortunately swallow my words as none of us enjoyed it at all. :(
I don't understand why this dish was so highly regarded and I was needless to say very disappointed but The Boyfriend made a really good point the other day. Food is like art - they're both equally as subjective and everyone's taste buds are different.
I also find that the prices were a tad steep for the small portion. For a bargain hunter like myself, that gets a big cross on the 'value for money' box. And they don't offer ban chan! :(
You had the option to make up your own bento by choosing one choice for each steps below:
Base: Steamed rice or Yaki noodles
Main: Beef bulgogi, spicy pork bulgogi, chicken teriyaki, and two other seafood and vegetarian options
Sides: Crab meat salad, takoyaki, gyoza, spring roll, tempura or chicken/pork cutlet
I believe they also offer Bibimbap or Don's (a bowl of rice topped with meat/sauce of your choice), so a wide range of lunch options.
Mook Ji Bar
And leaving the best for the last! My absolute favourite chilli chicken has got to be Mook Ji's bar. Spicy yes, but full of flavour and oh-so-addictively-good!
My lips would be burning hot by the end of the meal, and my tummy would most probably hate me the following morning, but they are worthy of the pain!
JUST LOOK AT THAT CHEESY GOODNESS!!!
I also like how generous the serving size is, paired with a very affordable price tag - now you see why I keep returning? ;)
Whenever The Boyfriend and I visit, we would order just half the chicken. We even got greedy once and ordered the whole chicken (we are cray cray's!) - which we obviously struggled to finish and had to takeaway. But these chicken taste so good even the next day!
Their Beef Bulgogi as pictured on the left above isn't one of the best I've had, but they do pretty good Beef Bulgogi Hot Pot Stew (not pictured) which is perfect for cold wintry days!
What I also like about Mook Ji Bar is their endless flow of yummy ban chan's! Their fish cake and fried anchovies are really good, I usually get two or three refills. Teeheehee!
I've also tried the Korean chilli chicken with cheese at Oriental Spoon, but unfortunately I was dining with my family members so I have got no pictures to share. From memory, it was average - nothing to complain about but at the same time, no 'whoah' effect either.
Okay that's it from me today! Writing this post when I'm hungry is the silliest thing to do! Now all I can think about is Mook Ji Bar's chicken.
Seriously so good, you need to try! And if you've got any other places that serves good Korean Chilli Chicken with Cheese, please let me know!
UPDATE (16/03/2015) - I've since tried some new places that does cheesy buldak too, but none I've had that is better than Mook Ji Bar who currently still stands strong as my ultimate favourite.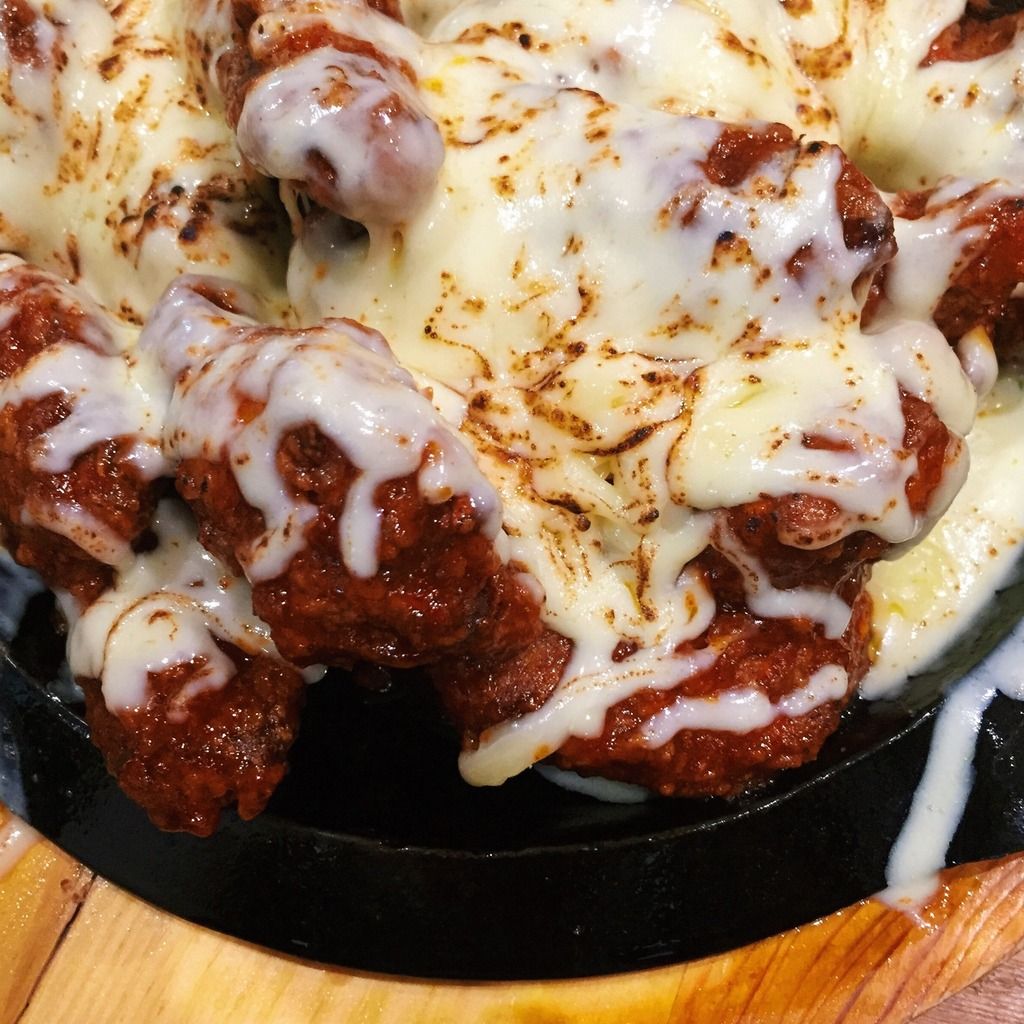 My favourite Cheesy Buldak from Mook Ji Bar! :D
ABC Chicken
I read raving reviews on ABC Chicken, so of course we had to make a pit stop! ;)
Dare
I really don't mean to bring restaurants down, but this place is a big no-no for us all. Everytime we walk past, Dare is always packed. I put us down for a table one Friday evening, and at the end of the dinner, all four of us vowed never to return again.
It wasn't great, but the batter was soggy, the sauce was bland, and the chicken pieces were so small we felt like we were eating just batter.