I don't remember if I've ever mentioned that I grew up in Klang, the royal city and former capital of state of Selangor, Malaysia... Or the city known to many as the
Land of Bah Kut Teh
.
When people hear that I come from Klang, the first question that I often get asked is: "Where can I get the best bah kut teh?"
Well, I think most bah kut teh's in Klang are good. But they do differ from recipe to recipe as some has stronger herbal taste than others.
As the broth at each shop taste
slightly
different to one another, I can't tell you which is "best" as it all boils down to personal preference.
But what I can tell you is that there are more to Klang than just bah kut teh. So today I bring to you 10 of my favourite places to go to for good eats in Klang. ;) They are in no particular order, as I like them all equally as much. Alrighty, here goes!
1) Restoran Siow Tiow (or known to locals as the Klang Hilton)
No.58, Lorong Gopeng, Off Jalan Goh Hock Huat, 41400 Klang
Siow Tiow is a well-known restaurant in Klang, which has been dubbed as the "Klang Hilton". But no, it's not a hotel, and please do not expect fine dining presentation/environment etc.
It's an old kopitiam-like restaurant, but I appreciate that the shop is air-conditioned and clean. The reason why it has been labelled as Klang Hilton is the sky high price that you have to fork out, in return for fresh, tasty, amazing, fabulous, delicious... (you get the gist)... food!
So, what's good here, you ask?
Their steamed pomfret with garlic sauce. Oh, the sauceeeeee! So garlicky, but OH-SO-GOOD! No doubt it leaves you with bad breath, but a very happy and satisfied tummy. ;)
I highly recommend that when placing the order, you request for "extra garlic sauce by the side". Yes, even if you're not too big on garlic, this sauce will convert you. This is the only garlic sauce I eat.
Then order their fried meehoon as well, and slam on a generous amount of the garlic sauce.... Oh, the best combination that will definitely keep the vampires away for a good while! ;)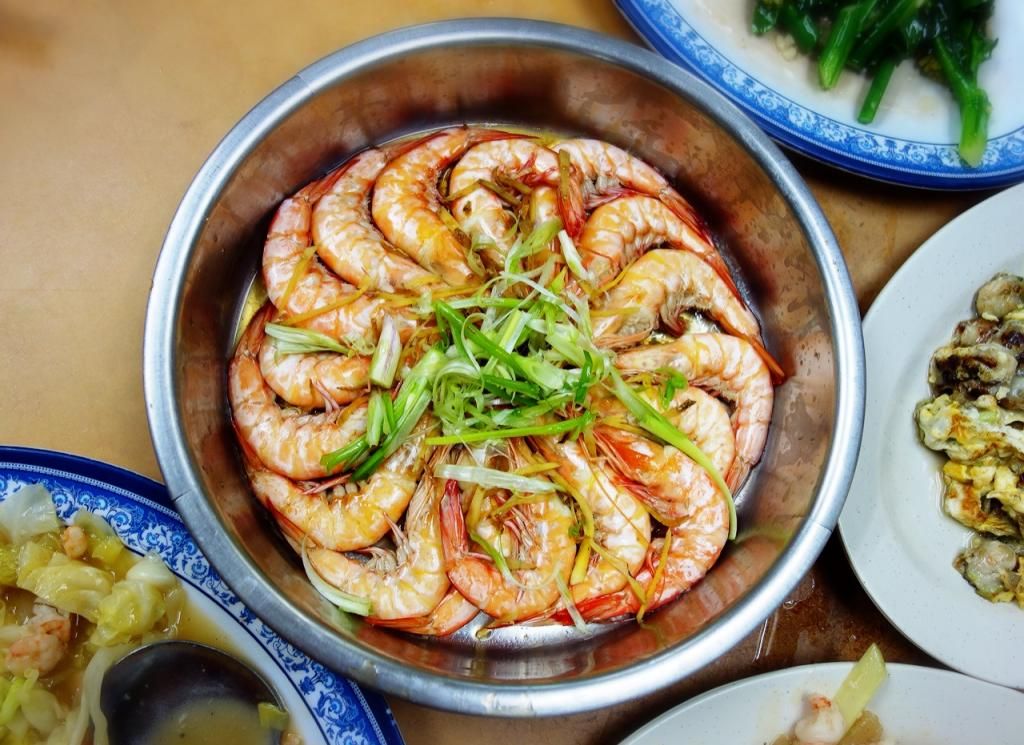 Their steamed prawns with rice wine is also really fresh and delicious. But I have to admit this isn't one of my favourite dishes.
For me, the
must orders
at Siow Tiow would be the steamed fish, fried kuey teow, fish maw and oyster omelette. Trust me, you and your dining partners will be very
very
impressed. ;)
2) Peng Heong Hakka Paikut Restaurant
No. 2, Lorong Gudang Nanas 1, Off Jalan Pasar, 41400 Klang
Peng Heong Hakka Paikut restaurant used to operate by the roadside, near the Klang bus terminal with a small stall and several tables, where the drains are visible and rare sights of unhygienic animals/insects sometimes put you off from returning.
But I am glad to report that they have since moved to a comfortable, clean and opened-air shop off Jalan Pasar.
As the shop's name suggest, Peng Heong is popular for their pai-kut (which translates to pork spare ribs) rice. The owner, Mr. Yong, has apparently been crowned the 排骨大王 (King of Spare Ribs).
Although I am unclear as to whether it was a self-proclaimed title, but I definitely wouldn't deny that their spare ribs are really good - in fact, these are the best I've had. And probably the only place that I know of that specializes in Hakka pork ribs.
The meat so succulent and tender, with a melt-in-your-mouth texture to boot. The spare ribs, packed with flavours, is perfect with a bowl of steaming hot rice.
As pictured above, the spare ribs come served with a family secret sauce, that often goes right into my rice. I love how the sauce is salty, yet has a hint of sweetness to it.
Their Hakka meatballs fried to a crisp perfection, and the assam fish (not pictured) are also really delicious too and compliments the spare ribs well.
What I also love about Peng Heong, is the affordable price despite its popularity, ranging about RM10-15 per person - cheap and delicious! ;)
3) Melawis Fried Kuey Teow
Jalan Lintang Gangsa, Taman Melawis, 41100 Klang
One of the best black char kuey teow you can find in Klang. I've been eating this since I was young, and absolutely love it.
This fried black kuey teow, whilst taste nothing like the kind of char kuey teow you'd get in Penang, is very unique in taste.
It has a good amount of wok hei, and is very
very
tasty. I think the addition of chu-yao-zar (pork lard crackling) contributes a fair amount of deliciousness heh! ;)
The uncle who mans the place is 70+ years old now, and according to my Mum, he has been frying kuey teow (rice noodles) for over 40-50 odd years now.

One day when Mummy and I were sitting down, enjoying our fried kuey teow, I asked her if she knew whether or not he has children. "Why so busybody?" she smirked back at me.

"Because I want to know if someone is going to take over the uncle's business one day!" I replied. I hope he has plans on who to pass on this amazing recipe to. I want to be able to eat this fried kuey teow with yellow noodles every time I am home.


4) Fatty Mee Hoon Kuih House
No. 19, Lebuh Bangau, Taman Berkeley, Klang
Mee Hoon Kuih is one of my favourite comfort food... it is one dish I've grown up eating. And no place does mee hoon kuih any better than Fatty MHK House does.
Fatty MHK House is a family business, and it opens from 10am to 10pm daily. The mee hoon kuih is always tasty regardless if it's the Mom (morning), Son (afternoon) or Daughter (night) standing behind the stove, manning and cooking bowls after bowls of mee hoon kuih.
The broth is light, naturally sweet and tasty; and the mee hoon kuih (ie. hand-peeled noodles) always has the right thickness and smooth texture. In other words, the noodles were always 'al dente'.

P/S: Although I've been to Fatty countless times now, I can't seem to find a picture that I've taken of the noodles. #failedblogger So I had to make do with a borrowed one.

But let me warn you, the queue and wait for this delicious noodles, can be quite long. Try to avoid lunch hour, and head down at odd hours like at 10.30am or 3-4pm.


5)

Funa Zushi Japanese Restaurant
Unit G-01, Garden Business Centre, No 3, Jalan Istana, Klang
There are usually a variety of sushi you can pick up from the cute sushi train that comes around, or if the items you want aren't on the train, you can easily place an order and have the sushi made fresh for you.
And if you're a big fan of soft shell crab, I highly recommend you pay them a visit. Here's why:
Although I love them all, the Klang Maki (pictured above, right in the front) has got to be my favourite amongst the lot! Crispy soft shell crab, rolled in delicious sushi rice, then topped with avocado, mayo and tobiko. YUM!
Even the sushi sitting right behind, that's delicious too. Similar to the Klang Maki, except with a different topping (ie. avocado replaced with mango). I know mango and soft shell crab sounds weird together, but you'll be blown away by the flavour combination.
On days when I can stomach that little bit extra, I'd opt for their garlic or salmon fried rice. Japanese fried rice seriously, hands down, beats any other kind of fried rice I've ever had.
*********
Alrighty, with this post getting a little too long, I figure maybe it's best if I break it down into two posts. Part two coming up soon!
I hope this post has somehow or rather managed to inspire you to head over to Klang, my haven of good eats! ;) Till the next time, folks!