Yay, the Lunar New Year is around the corner! And CNY for me = pineapple tarts season! :D
Pineapple tarts are my absolute favourite CNY cookie. But I'm not a fan of the open-faced pineapple tarts nor the nastar pineapple rolls, I only like the enclosed ones.
My mum bought heaps of pineapple tarts, enclosed ones included but I was still itching to make some more myself because I am one very picky pineapple tart lover and it's really hard to find good ones out there that suits my preferences.
Plus I love soft melt-in-mouth pastry with pineapple jam that isn't too sweet and I often find the ones that we buy a little too sweet for my liking. As my mum would often say, "So picky, how to find?" Lol true, so no choice, have to make my own lor!
My mum bought two pineapples known in Hokkien as the "Gien-kee" pineapple variety, however I am not too sure what it's called in English. All I know is that "gien-kee" pineapple is really sweet even when enjoyed on its own. So using this variety of pineapple resulted in an amazing jam!
Hehe and as you know, to live up to my nickname - The Matchanista - I am on a mission to matcha-fy everything so there's no exception for my pineapple tarts! Actually the main reason why I wanted to make pineapple tarts was because I could not get the idea of matcha pineapple tarts out of my head. So I knew I had to make my own!
I have to admit, the whole process was really arduous but very worth it. The kitchen smelt absolutely AMAZING and the pineapple tarts were so so good! Buttery pastry that melts in your mouth... ahhh, it's the best! I could not stop at one, they're simply too easy to eat.
I personally prefer the matcha version as I found that the addition of matcha produced a more fragrant pastry, which I absolutely LOVED! My mum who isn't too big a fan of matcha also gave me the big thumbs up, and agreed that although subtle, it was slightly more fragrant.
So here I am, to share my matcha pineapple tarts recipe so you too can enjoy some, if you're keen enough to make. :)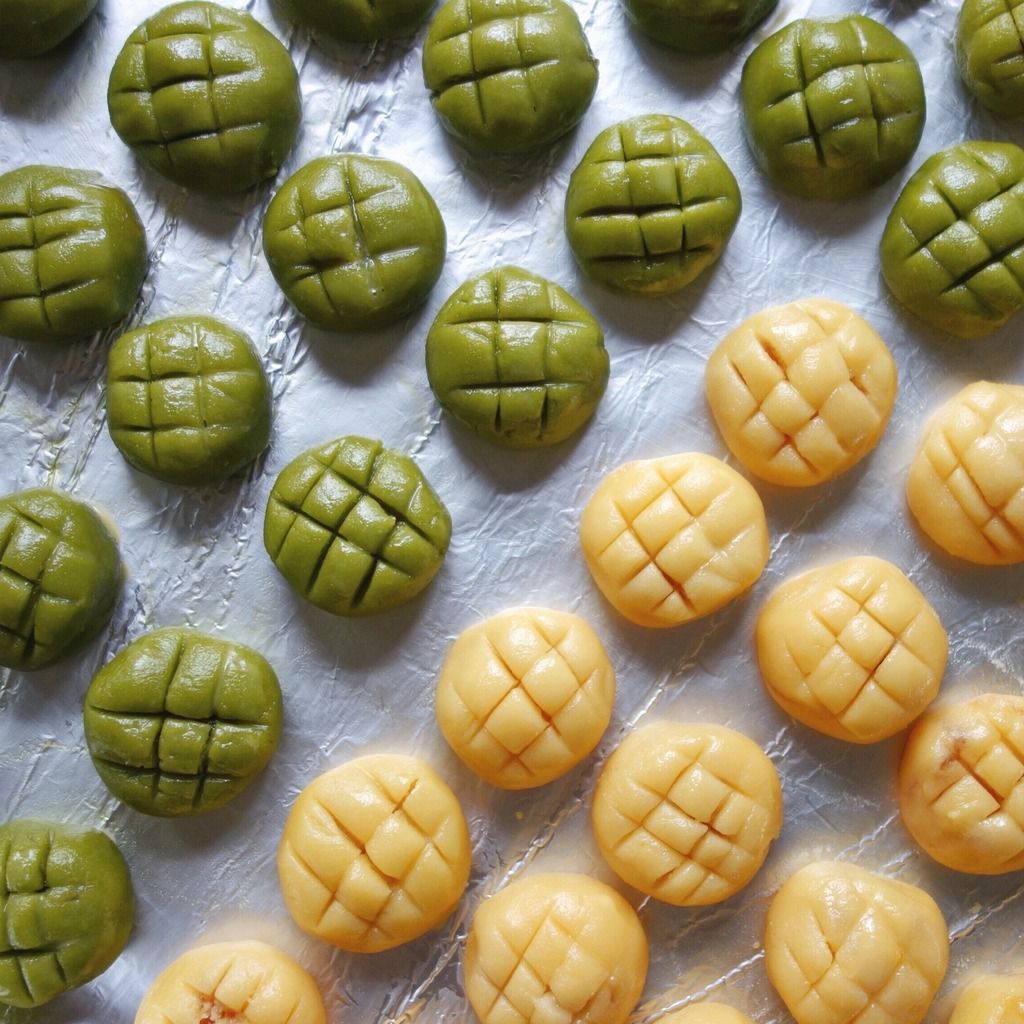 I tried two different recipes for the pastry dough - Wendy's (
Table for 2
) and Sonia's (
Nasi Lemak Lover
). I found Sonia's recipe a little more simple in terms of ingredients and although both weren't sticky, Sonia's recipe yielded a pastry dough that was a little easier to handle.
I've shared Wendy's recipe in my previous attempt
here
- so today I will share Sonia's.
Melt-in-Mouth Pineapple Tarts (Makes 65 pieces)
Recipe adapted from Nasi Lemak Lover and modified by The Bakeanista
Ingredients
300g butter

85g condensed milk

435 plain flour

2 egg yolks

1 egg yolk + 1 tsp milk, for egg wash

550g pineapple jam (see recipe below)
Method
Cream butter and condensed milk till light.

Add in egg yolk one at a time, and beat until well combined.

Sift in flour, mix till become a soft and not sticky dough.

To make matcha pastry, sift in 2 tsp of matcha powder and mix until just combined. Don't overmix. I did a half-half, so I separated the dough equally and mixed 1 tsp of Zen Wonders Taishiro into half of the dough.

Roll pineapple filling into ball (8g each) and roll dough into ball (12g each).

I like my tarts with more pastry than jam, so for some I used only 6g of filling to 12g of pastry dough. The best thing about homemade tarts is that you can adjust accordingly to suit your liking.

Flatten a piece of pastry dough and place a piece of the roll pineapple filling in the middle. Bring the edges of the dough together and press lightly to seal. Roll it in between your palms to shape it into a round roll.

Cut few lines on the pineapple balls to create pineapple pattern, apply egg wash with a brush.

Bake in preheated oven at 165C (fan forced) for 23mins or until golden brown.

Cool completely before storing. I stored mine in an airtight container at room temperature.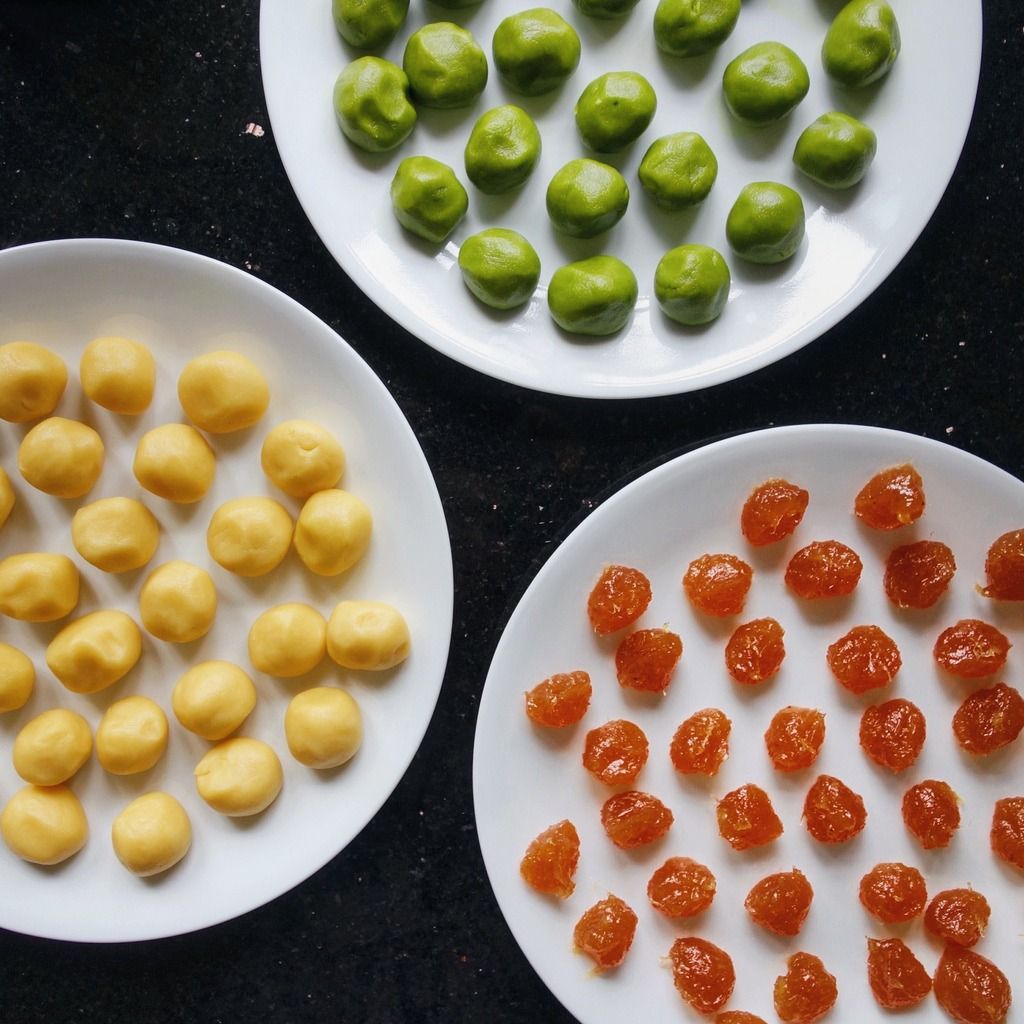 Please note that this pineapple jam recipe below yields approximately 550g jam, just the right amount needed for the pastry recipe above.
Homemade Pineapple Jam
Recipe adapted from Table for 2 and modified by The Bakeanista
Ingredients
900g pineapple, chopped into chunks

300g sugar

1 cinnamon stick
Method
Put half of the pineapple chunks into the blender and pulse. Add remaining pineapple chunks and continue to blend.

Pour the blended pineapple into a pan or wok, and cook pineapple paste with cinnamon stick on medium heat until pasty, like thick oatmeal.

After the cooked pineapple jam has lost 80% of its water content, approximately 30 mins later, add in sugar. It will turn watery again but don't worry, it's normal. The jam splatters quite a bit a lot, so be very prepared and careful. Use kitchen mitts to stir.

Turn to lower medium heat, and cook until very pasty. Stir only occasionally, (about once every 2-3 mins) but be sure to keep an eye on it to ensure that the pineapple jam doesn't burn.

When the jam is pasty enough, increase the heat to high to allow the base to take on some colour and caramelize the jam. Stop when the jam reaches your preferred colour and consistency.

Set aside to cool. I let mine cool for over an hour.

Roll jam into 6g balls each. I measured mine one by one to ensure that each piece has the right amount of jam.

You may opt to prepare the jam one day ahead as it is rather time consuming and by doing so, it'll allow you to focus on the tarts alone the following day.
Happy baking! I hope if you do give this recipe a go, you will love it as much as I do.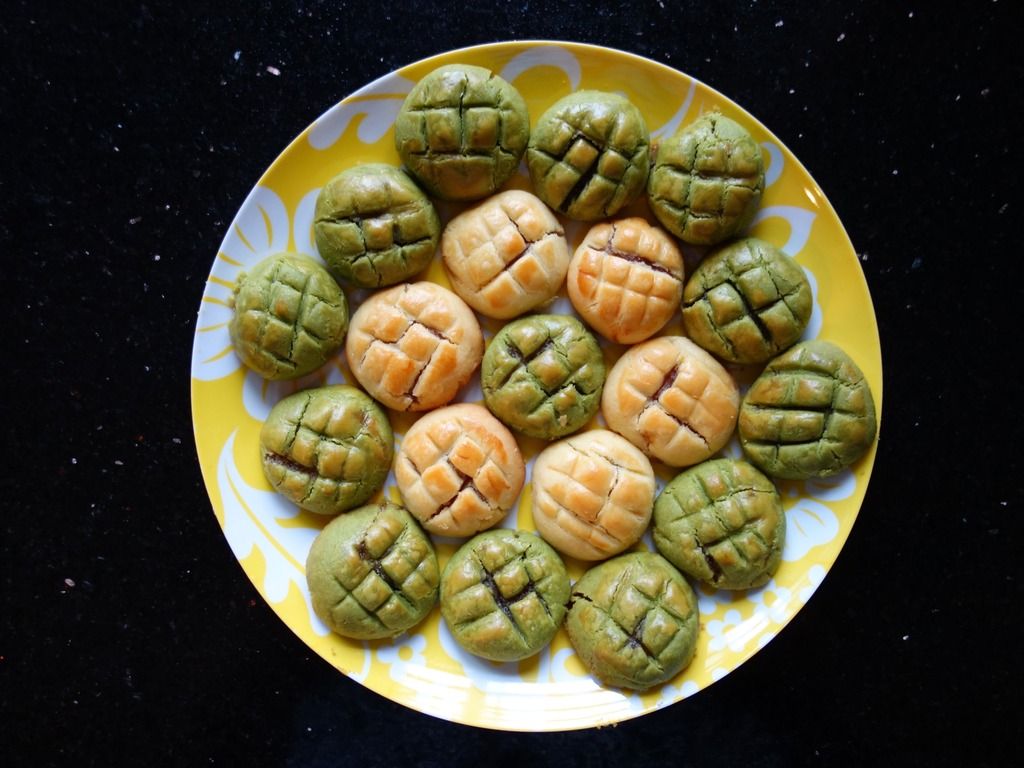 My PT kept saying to me "Don't binge eat!". It's going to be really tough watching what I put in my mouth but seeing as we celebrate CNY only once a year, I personally think we're all allowed to indulge in some amazing pineapple tarts. I had maybe 10 of them, in one day. *shifty eyes* I highly recommend sharing the calories with your family, like I did, so you feel less guilty hehehe! ;)
Happy Chinese New Year and may the year of the monkey bring to all of you an abundance of good luck, prosperity and most importantly, joy and happiness!