I had a craving (as I do every day) for pizza last Tuesday, and I decided I was going to make my own. The thing is, I've never made pizza before, so it was going to be my first attempt.
It was a bit ambitious for a weeknight dinner, especially when I was going to be eating alone (sounds really sad lol) but the overachiever in me was all in for a challenge.
When I was planning the pizza recipe, I thought of the Hank's Jams that
Wordstorm PR
had so kindly sent to me to sample, cook or bake, and create my own recipes with.
To give you a bit of a background on the brand; Hank as a young chef, 21 years ago, started making these jams and chutneys in a small kitchen near Bronte to earn some extra cash.
When he founded this little business to support his love for surfing, he did not expect to find his jams all around Australia two decades later, but as the reputation and word of mouth for Hank's jams started to spread, the demand for them also increased.
Now Hank's Jam can now be found stocked at local cafes, Woolies, David Jones, IGA, gourmet delicatessens or even online. I'd be very proud if I were you, Hank. ;)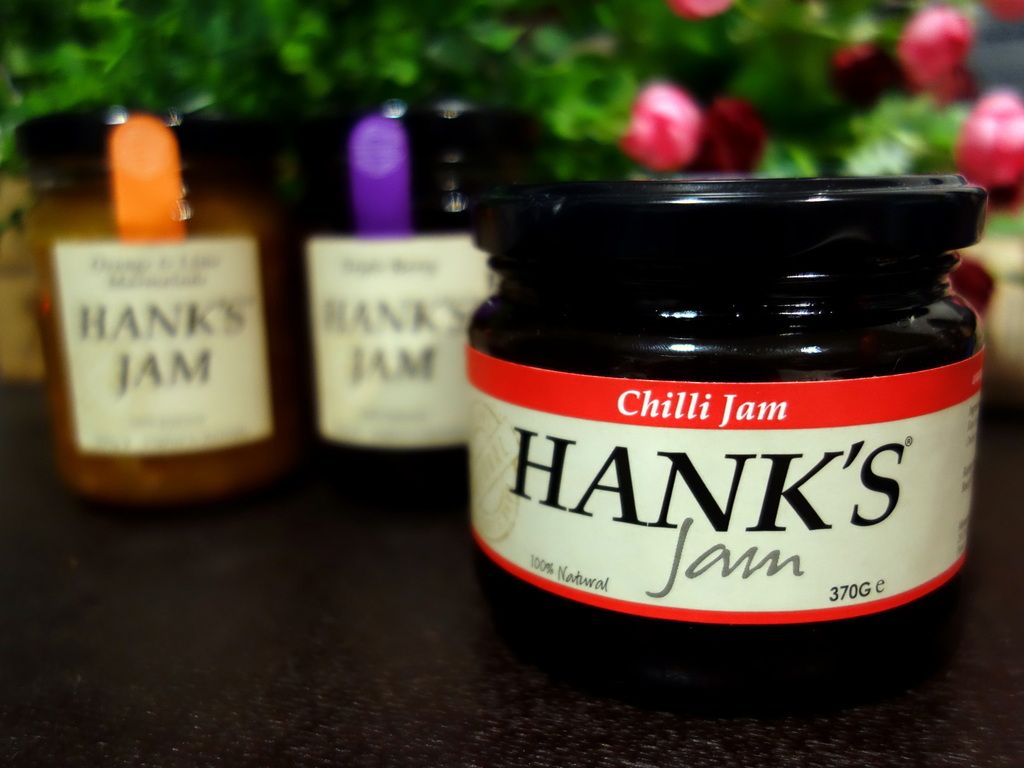 I was really glad Rochelle sent me this little gem, as amongst all of Hank's
jams
and
chutneys
, the chilli jam stood out the most.
I was really intrigued by the description -
When is a jam not a jam? When it's this rich chilli and sultana based condiment, with just enough heat to fire you up but gentle enough not to overpower.
Yep, I'm sold, Hank. You got me at rich chilli.
Anyway, back to pizza making. Being the overachiever that I was, I was reluctant to use a store bought dough or pita bread for the base, instead I was rather adamant on making my own dough.
I came across this easy
two ingredient pizza dough recipe
and was like WOW okay that's easy! I read up about it and everyone who made it seemed to really rave about how convenient it was.
It does sound great for a first attempt, doesn't it? Knead knead knead, and voila... my little ball of dough.
I rolled it into a round, large pizza shape and topped it generously with dollops of Hank's chilli jam. I love the good, thick consistency and boy, it already smelt so good! I also appreciate the chunks of sultana which gave the jam a nice texture.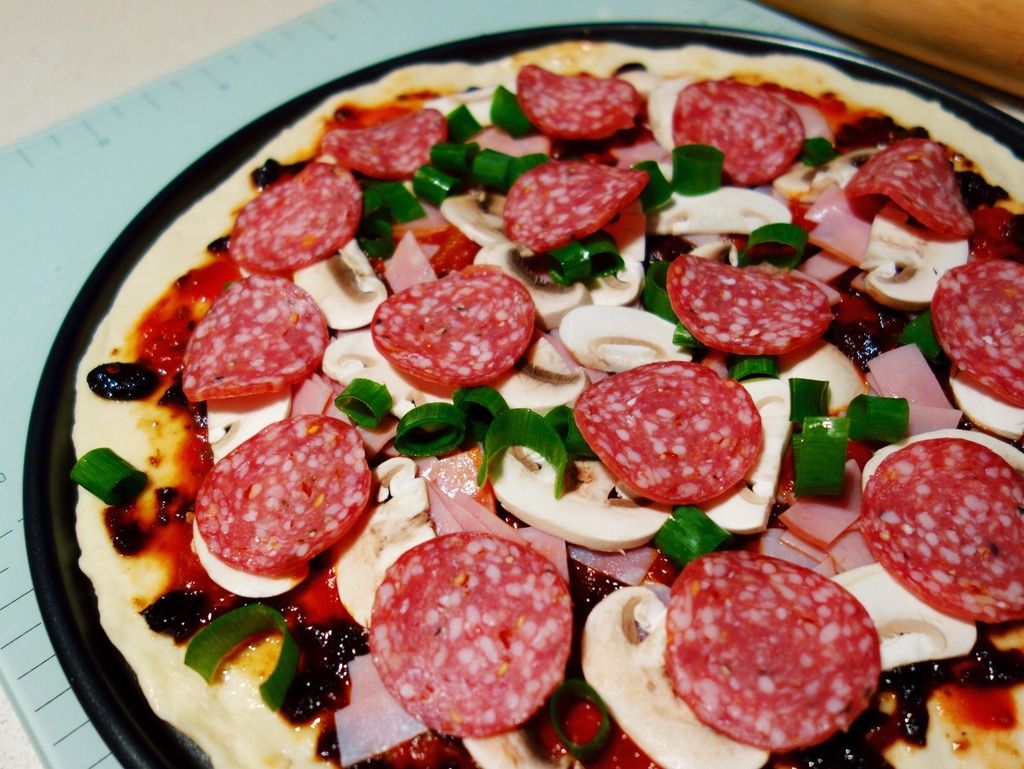 I was going to use some tomato paste alongside the chilli jam as pizza sauce, but I ran out and had to make a last minute improvisation so I used Barilla Arrabbiata pasta sauce and spread an even, thin layer atop the jam. The jam + sauce combo actually turned out really well.
I then topped the pizza with thinly slices honey roasted ham, button mushrooms, spring onion, and pepperoni salami.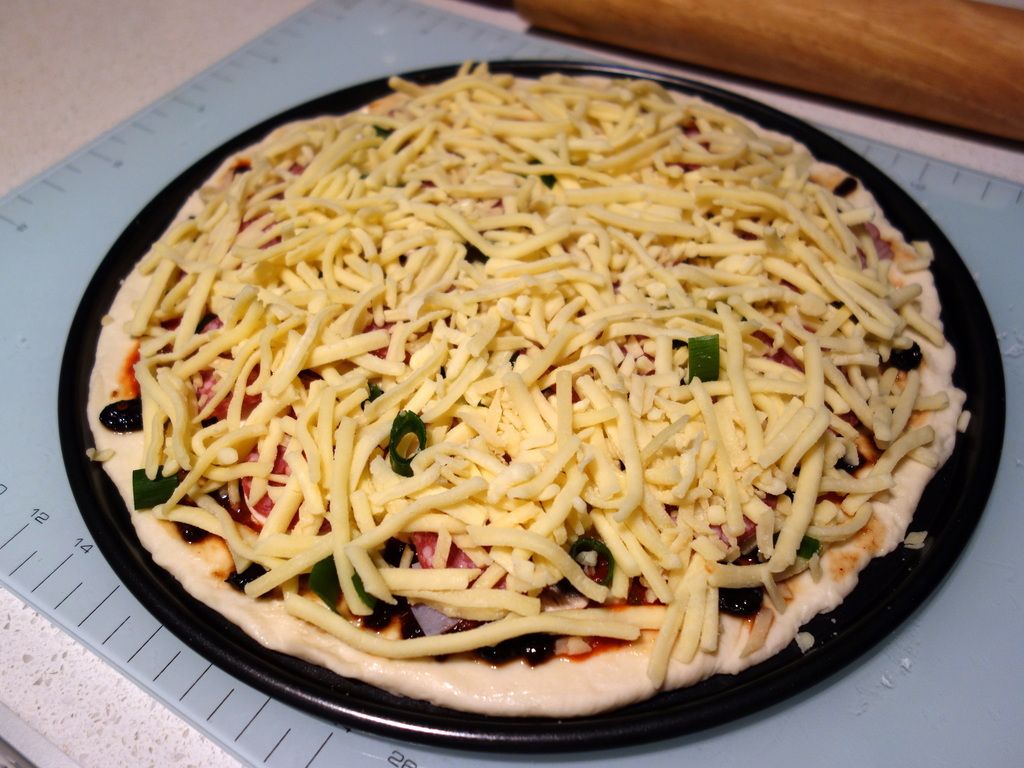 The final step was to sprinkle loads and loads of mozzarella and pizza cheese on top. I think I overdid it but I believe one can never have too much cheese, agreed? :P
Pop it into preheated oven at 240°C and pray that it turns out well.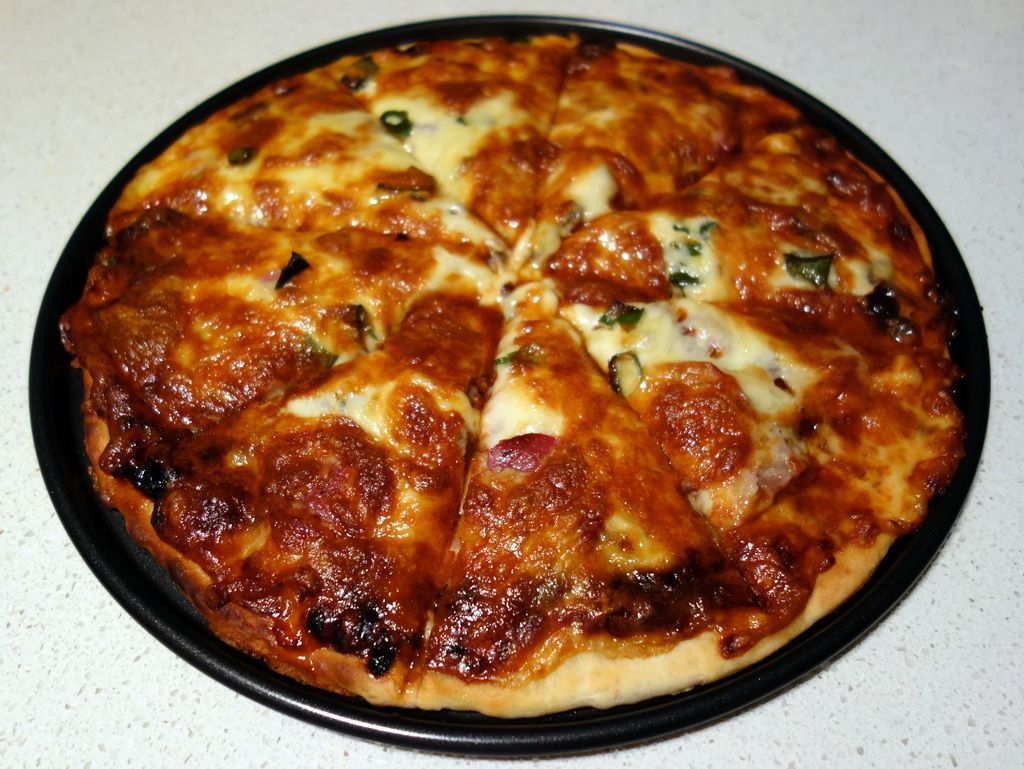 I baked the pizza for 15 minutes until crust is golden and cheese has melted. I think it is slightly overbaked as I was washing up and left it in the oven for an extra 5 minutes. But tadahhh, this is how the pizza looked fresh out of the oven.
I cut the pizza up into 8 slices and dug in immediately! Nothing quite like warm, freshly made pizza with stringy cheese for dinner, hey? It did turn out quite tasty, if I may say so myself.
Although having said that, I have to admit I was a tad disappointed with the dough. It did not taste quite up to par. Next time I'll try a proper pizza dough recipe using yeast and will give it time to proof.
Thankfully the chilli jam was so amazing! It definitely came to the rescue and I cannot stop raving about it! I truly was blown away by how delicious the chilli jam was and I'm not even exaggerating. I don't think I've had chilli jam this delicious before.
The flavours were very outstanding and I am guessing it is because Hank's jams are all made using slow reduction cooking method which helped enhance the flavours and textures of the jams.
If you're keen to try, which I'd highly recommend, find out where you can buy your Hank's jam
here
. As for me, I need to get my hands on the
onion marmalade
next. I can only imagine how delicious it would be and how perfectly well it'll go with a cheeseburger. Om nom nom...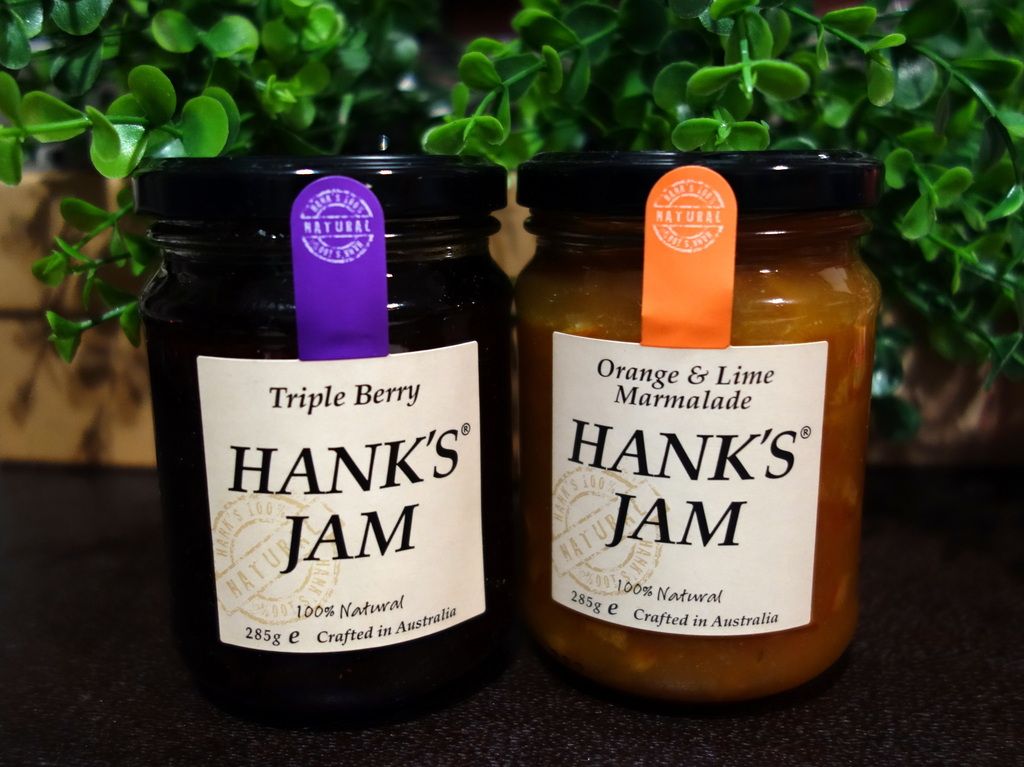 Now I can't wait to bake with these jams next! Any ideas on what I can use them for? ;)