I'm not sure about you but I'm a big fan of fusion food. So when I heard of Koba K-BBQ, I invited my cousins out for lunch so we could try it out.
We arrived at Hardware Street to find bright baby blue tables and chairs neatly arranged outside the shop which is located
just right opposite the buzzing Hardware Societe.
It's a tiny little store with limited sitting areas. Only two tables outside that seats 3 people each, and two island tables indoor that seats 2.
But I guess with tacos and burritos, even if the store is jam packed, it's easy to just pop in and do takeaway. ;)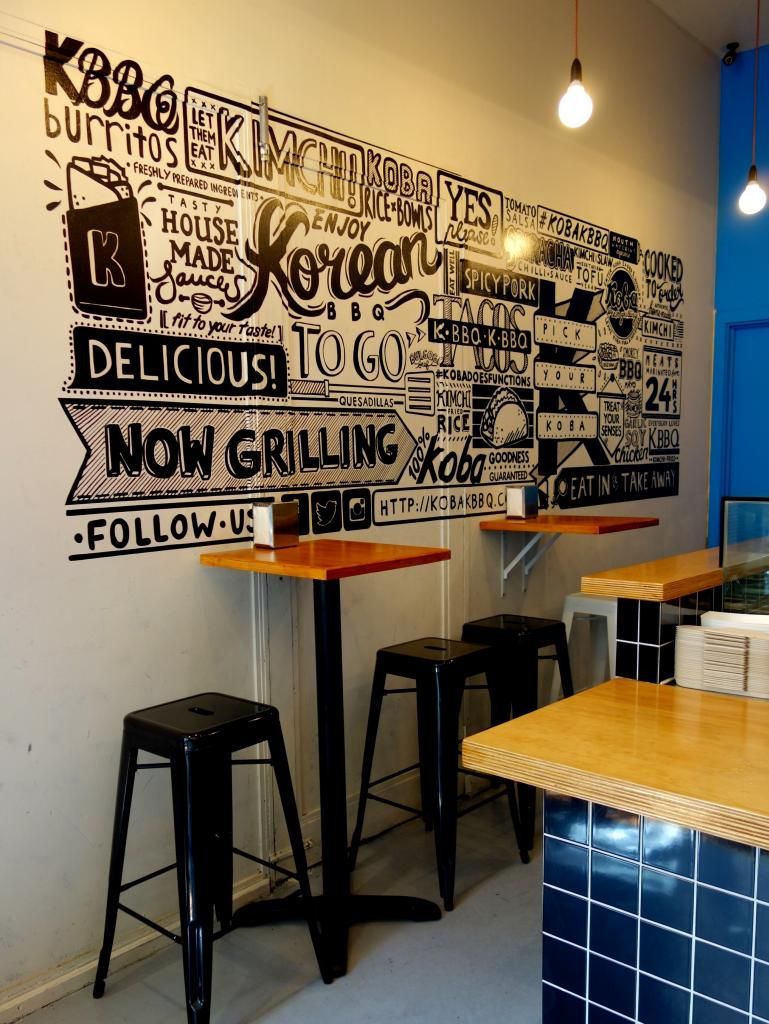 Oh, and on the wall of Koba K-BBQ, is this beautiful mural artwork by
Julie's Little World
. I absolutely adore her work - super cute! So I've decided, when or if I choose to revamp my website, I'd definitely seek her help in customizing a logo for The Bakeanista. ;)
Anyway back to the menu, it is fairly straightforward; simply pick your koba (ie. taco, burrito or rice bowl), and then choose your filling.
You could go with either beef bulgogi, garlic soy chicken, spicy pork or tofu for vegetarian. You also had the option to replace white rice with kimchi fried rice for an extra dollar.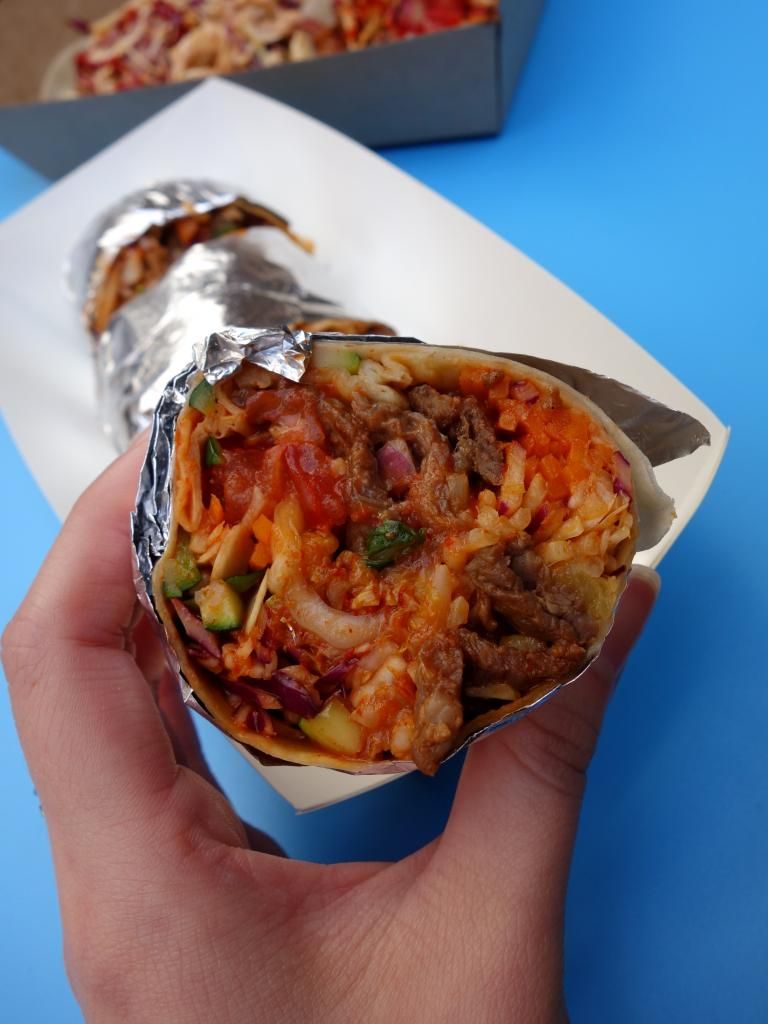 And that is what we did with our
beef bulgogi burrito
. It was a dollar very well spent; the kimchi fried rice added more flavour and a nice spicy kick to the burrito. Boy, it was so tasty, flavourful and very filling too! Burrito never tasted
this
good - I am so coming back for more!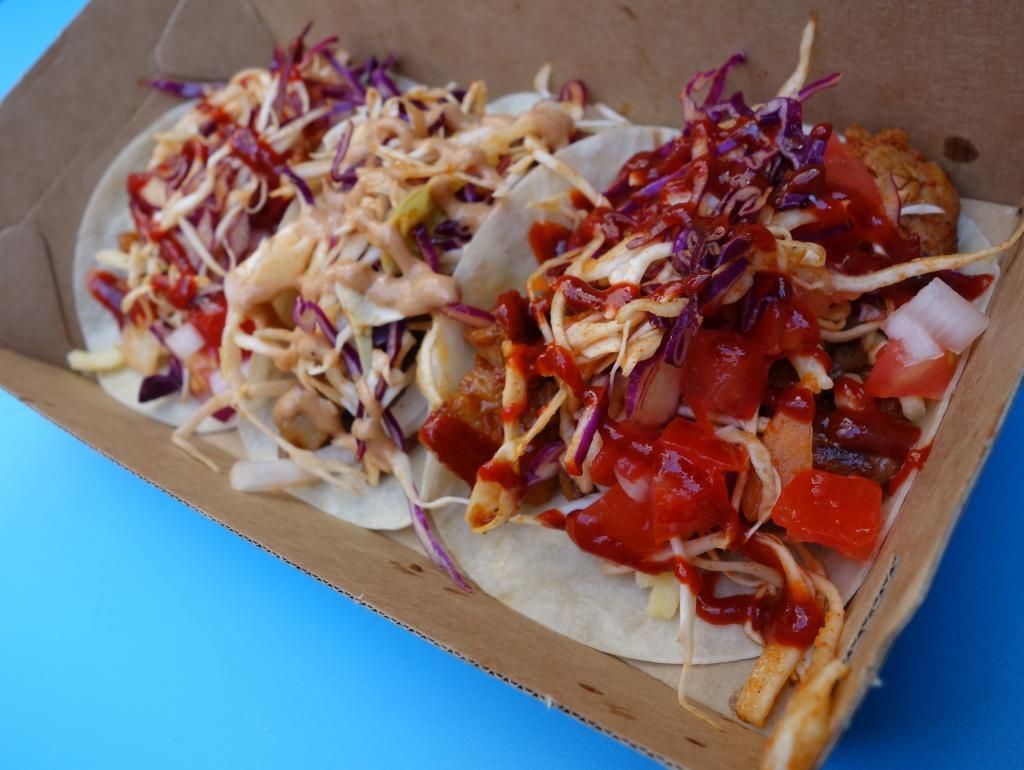 We also ordered tacos which came in a set of 3. We opted for the
spicy pork bulgogi tacos
- fuiyoh, it was spicy but so good and full of flavour.
Also, because Ash does not tolerate spiciness well, the lovely waitstaff very kindly allowed us to have one with garlic soy chicken topping and Ash enjoyed it as much as we did ours.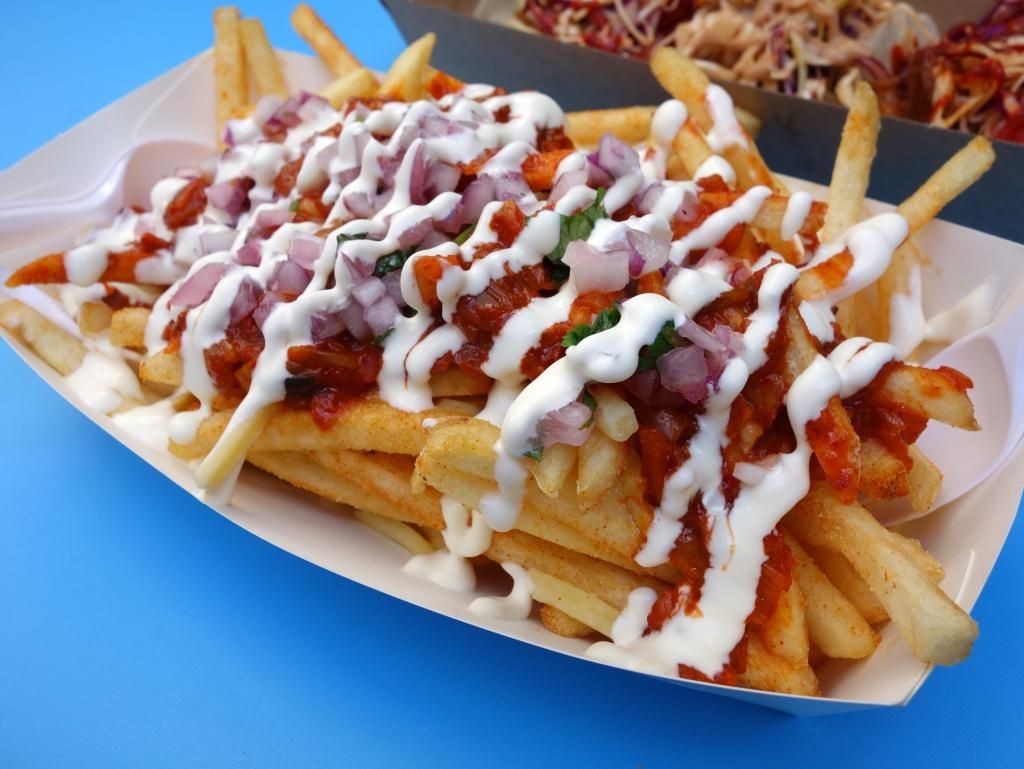 Of course, we could not go past the
kimchi fries
. The topping was very tasty, but I find the fries a little too soft for my liking. If only if was a tad crispier, it'd be perfect.
Overall, a big thumbs up for Koba. This Korean & Mexican fusion is indeed one clever concept - new and unique in taste, which I like!
Not only were the food great, even the service was super friendly with big smiles. If you're in the city and adventurous enough to try something new, definitely give Koba K-BBQ a go.
As for me, I am definitely coming back! ;)