Being unemployed ain't all that bad really, it is actually quite fun! Life is pretty good, and I am really embracing this freedom. :P
I get to sleep in, drag myself out of bed any time I wish (without the dreaded sound of alarm going off) and of course, I get to spend heaps of time in the kitchen.
One of the baking challenges I gave myself this year was macarons. I've always wanted to make them, but never really got to it. Now that I've got plenty of time up my sleeves, I thought, why not?
This is my first time making macarons, and I know I should have kept to a basic recipe. But the over-achiever in me knew at an instance what I wanted to make - green tea macarons!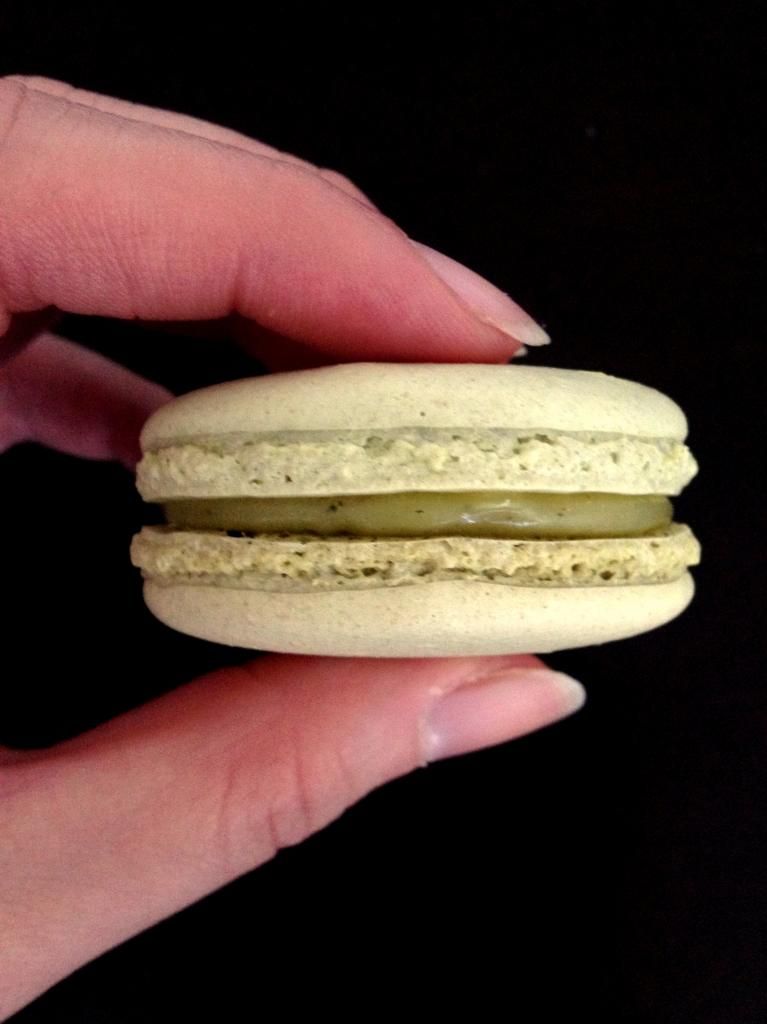 I am very very happy with how they turned out and I said if they were yummy, I was going to share the recipe, so here goes! :)

This recipe uses the "Italian Meringue" technique which involves making a sugar syrup (i.e. you might need a digital thermometer) that gets poured into the egg whites to create a stable meringue.

I have not tried the French Meringue method myself, but I read that the Italian Meringue method guarantees feet as long as you follow the instructions correctly.

So please ensure that you read the recipe thoroughly before you start. It is very important that you are familiar with what steps are next as time is essence when it comes to making sugar syrup.

I've also included some tips at the bottom of this post, compiled from all the readings I've done on macarons. You might want to first start by aging your egg whites for at least 24 hours to 48 hours. :)
Green Tea Macarons with Matcha infused White Choc Ganache
Makes approx. 55 macarons the size of an Australian 50 cent coin.
Recipe adapted from
Honey&Soy
and modified by The Bakeanista
♥ Green Tea Macaron Shells
450g TPT (225g blended almond meal mixed and sifted thrice with 225g icing sugar)

90g aged egg whites (approximately 3 large egg whites)

1 tbsp matcha powder
225g caster sugar

55g water

90g aged egg whites (approximately 3 large egg whites)
Preheat oven to 150°C.

For part A, sift the matcha powder with the TPT in a large bowl and mix well. Mix the aged egg whites (ie. egg whites that have been left out in room temperature for a day or two) into the TPT, stirring vigorously until you have a smooth paste. Set aside.

For part B, mix the caster sugar and water in a saucepan and bring to boil at 118°C (a digital thermometer would be handy).

Whilst mixture is boiling, place the aged egg whites in a stand mixer with the whisk attachment.

Once the sugar has reached 115°C, start whipping your egg whites at the highest speed until soft peak.

When the sugar reaches 118°C in temperature, remove from the stove. Slow down the speed of your mixer, then slowly and gradually, pour the sugar to mix with the egg whites.

Once you've poured all of the sugar mixture into the egg white mixture, turn the speed to maximum for a minute then return to medium for a further 2 minutes. Reduce speed and continue to beat the meringue mixture for another 5-8 minutes until lukewarm.

Using a spatula, fold the meringue into the TPT and egg white batter from part A. Work the mixture for approximately 5 minutes, vigorously from the sides to the middle until you reach a homogenous, shiny texture. This will knock out the air so that you can achieve runny consistency.

Using a plastic piping bag with a round nozzle tip, pipe the shells onto a baking sheet according to the size template (I drew my own).

You should stop piping when the mixture reaches the inside edge of the template.

Tap the tray gently on the side of the bench until the macaron reaches the size of the template then remove the template from beneath your baking sheet.

Leave the macarons outside at room temperature for 30 minutes or until they have formed a skin. You may touch to check, if it is ready, it doesn't stick to your hand.

Bake the macarons for 12-15 minutes (depending on the size) at 150°C or according to the cooking guide for your type of oven.

Once cooked, slide the paper off the tray and let the shells cool on a wire rack.
Tip: If you are not using the macaron shells right away, store in airtight container for 2-3 days (out of the fridge).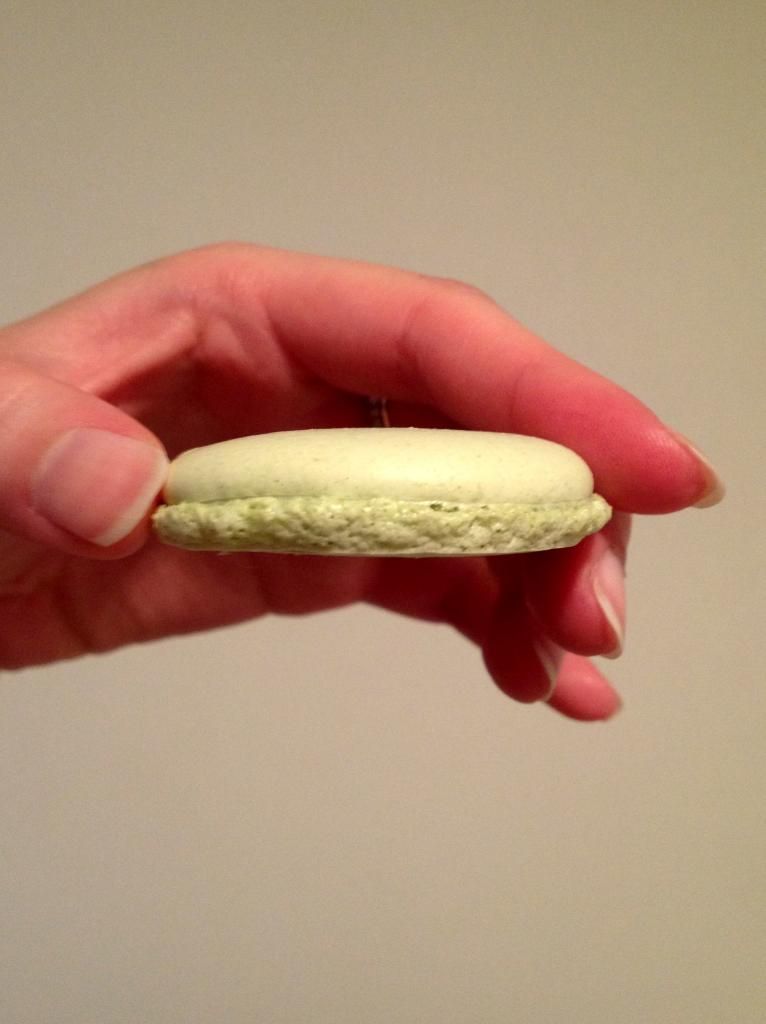 Yay!!! My macaron shells have beautiful feet!!! :D
♥ Matcha infused White Chocolate Ganache
300g white chocolate, chopped into small pieces (I used Nestle Baking White Melts)

1/2 teaspoon matcha powder

2 tablespoons loose green tea leaves (from approximately 4 tea bags)

1 cup thickened cream
Place white chocolate in a medium sized mixing bowl, and sprinkle green tea powder over it. Set aside.

In a saucepan over medium-high heat, bring the loose tea leaves and cream to a boil. Stir continuously and let mixture simmer for 5-8 minutes so to extract as much flavour as possible. Strain the tea-infused cream.

Bring the strained mixture back to a boil over medium-high heat. Once boiled, immediately pour over the white chocolate.

Let it sit for a minute or two to let the chocolate melt completely then stir until the mixture is completely smooth. If mixture is still lumpy, you may place mixture on top of a double boiler. If you don't have a double boiler, you can place the bowl (if non-plastic) over a pot of lightly steaming water. The steam will slowly melt the chocolate. (Note: Make sure the bottom of the bowl that's holding the chocolate does not get in contact with the steaming or boiling water. Contact with the water may cause the bowl to get too warm, and burning the chocolate instead of melting it.)

Once mixture is smooth, let ganache cool at room temperature for about 30 minutes, stirring occasionally until mixture becomes pipe-able.
Tip: I made the macaron shells a day prior, but if you are doing it all in the one day, I'd highly suggest that you make the ganache first then set it aside to cool and thicken. The ganache can be kept refrigerated for up to 2 weeks.
♥ To Assemble
Pair your macaron shells according to size and lay them out on your bench/wiring rack.

Place ganache into a piping bag. Fill one half of your paired macaron shells filling them generously but keeping a space of approximately 3mm from the edge of the shell.

Pick up the macaron filled with ganache in one hand and the empty pair in the other and sandwich them together. Gently twist the two shells together to secure the shells together and also to let the filling spread to the edge of the shells.

Store the filled macarons in an airtight container in the fridge for at least 24 hours, preferably 48 hours. Bring the macarons to room temperature prior to serving.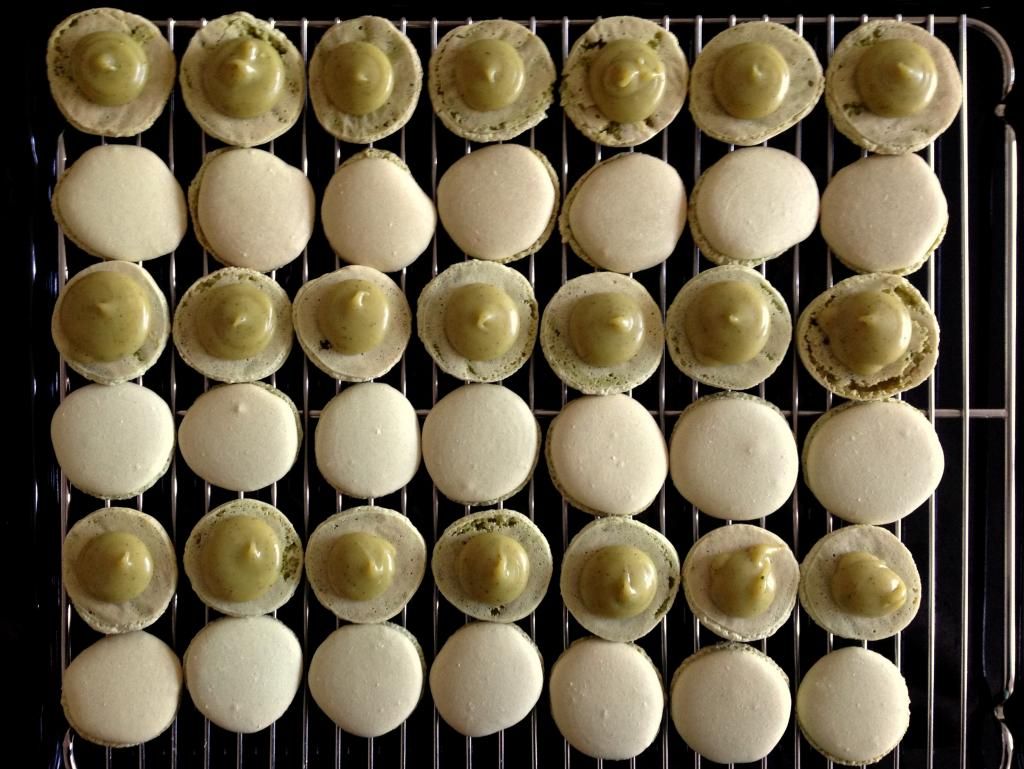 The Bakeanista's notes:
Strain the egg whites to get rid of any sloppy bits to achieve pure liquid egg whites for smoother macaron shells.

Blend your almond meal (using food processor) for approximately 5 minutes. Mix the icing sugar into food processor, and pulse for another 3-5 minutes until fine. Triple sift the mixture to discard any large bits. You want your TFT to be as fine as possible for a smooth shell.

Let piped macaron shells sit out on the counter for at least 30 minutes in order for it to develop a skin. If it is an overly humid day, it's best to let your macaron sit for an hour or more.

Filled macarons can be stored in an airtight container in the refrigerator for up to three days, or frozen for up to three weeks.
Good luck! And let me know if you have any further questions. :)
Psst, if you have any leftover macarons, you can use them to decorate your cakes, like I did with my
Green Tea Mascarpone & Sponge Layer Cake
- you may find recipe
here
. :)