Hello everyone or should I say, anyone out there who's still reading my blog! My sincerest apologies for going MIA over the past 2 months.
If you've been wondering what has been happening in my life, this is a quick summary:
I left my job and headed back to Malaysia to spend some time with my folks. After being abroad for a decade, going home for a couple of months took some adjusting to, but I did enjoy being home and back to being my parents' little girl for a little bit.
I signed up for personal training and started weight lifting + clean eating. I've lost a total of 8kg to date and hopefully more to come. But I have to admit, every day I look forward to my cheat meal on the weekend as I am still as greedy as I was before, just a little more controlled. But I will share the details regarding this new lifestyle change in another post.
I also joined some bread-making classes with my favourite aunt who loves baking as much as I do and I can't wait to put the new knowledge that I've learnt to use.
Whilst I did have a good time away, I've also missed blogging so I am glad to be getting back to it.
Today I'm going to be sharing with you this amazing recipe for Rotiboy inspired Mexican coffee buns I learnt in one of the breadmaking class.
These Mexican coffee buns were really soft and fluffy as all buns should be; but paired with a deliciously fragrant coffee crisp crust... Mmmm, they were to die for! All the buns were devoured fresh out of the oven, that's how good they were.
So without further ado, here's the recipe:
Sweet Bun Dough
Makes approximately 14-15 medium sized buns
Ingredients
500g bread flour

100g sugar

10g yeast

4g salt

1 egg, beaten lightly

(+/-) 180 to 200ml water

50g yogurt

80g butter
Method
Mix together all the dry ingredients (flour, sugar, yeast, salt) in your mixing bowl and whisk to mix thoroughly.

Gradually add in water and egg then knead using dough hook on medium speed for about 10-12 minutes until the dough come together.

Slowly add in the yogurt and butter, then continue kneading till you get a shining and elastic dough. It should be able to stretch without breaking apart.

Place dough in a bowl that has been lightly oiled, then cover with a damp cloth. Leave to proof for about 40-50 minutes or until dough has doubled in size.

Place dough on a lightly floured surface then punch down to release air.

Divide dough into 50grams each, then roll and shape them into small round balls. Place them on a baking sheet lined with parchment paper and keep them 2 inches apart.

Leave the ready bun to proof again for another 40-45 minutes, and remember to

cover with a damp cloth to maintain moisture.

While the dough is let to rest for their final proofing, prepare the topping as per recipe below. If you're done preparing the topping and the dough is not ready, feel free to refrigerate the topping. This topping can be kept refrigerated for 3 days, or frozen for a couple of weeks.

About 15 minutes before your buns are done resting, preheat your oven to 180°C.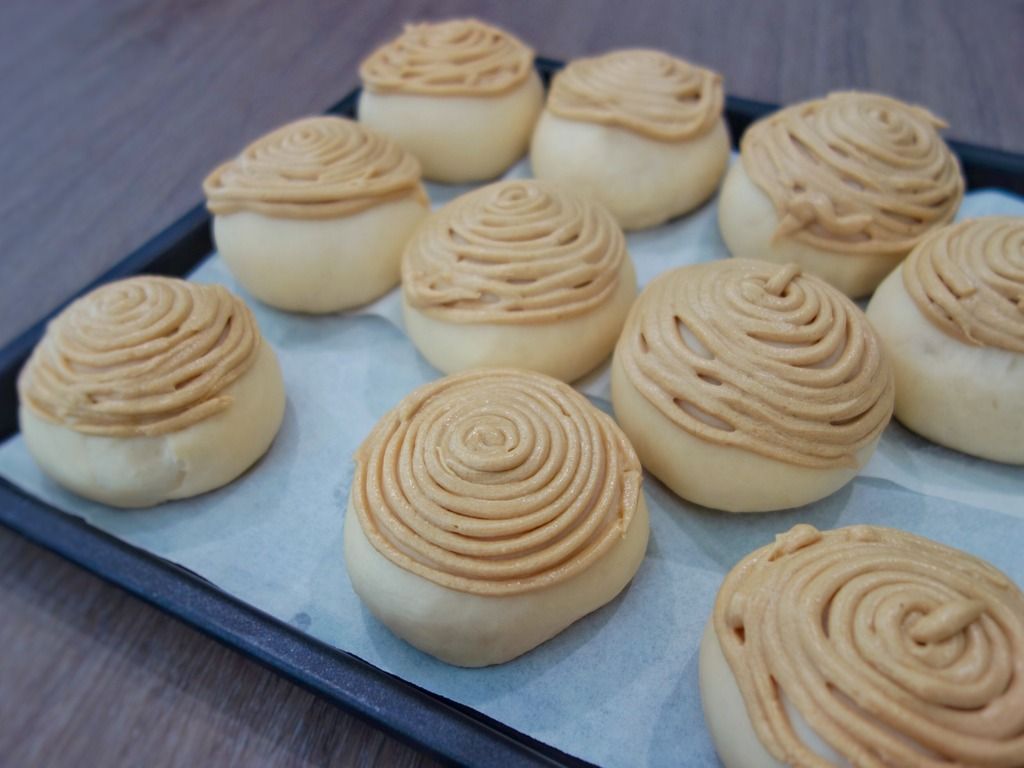 Mexican Coffee Topping
200g butter

160g icing sugar

3 eggs

1/4 tsp vanilla extract

200g plain flour

1-2 tsp coffee (could be adjusted for stronger flavour)
Method:
Dissolve the instant coffee with 1 tbsp of hot water, it will turn into a paste. Set aside.

With an electric mixer on low, beat the butter and icing sugar until well mixed and smooth.

Add the coffee paste and vanilla extract and beat for 30 seconds until well incorporated.

Add the eggs and beat for another 30 seconds.

Add the flour slowly and beat on low for 30 seconds and then on high for another minute or so until mixed well.

Fill a piping bag fitted with a round nozzle (or if using a disposable piping bag like we did, you don't have to use a nozzle, just cut a small hole) and fill with the coffee mixture.

Pipe the filling on top of each bun in a spiral circular pattern like so:
When you're done piping all the buns, pop them into the preheated oven and bake for around 15-18 minutes, or until lightly golden brown.
I absolutely loved watching the coffee topping melt away in the oven!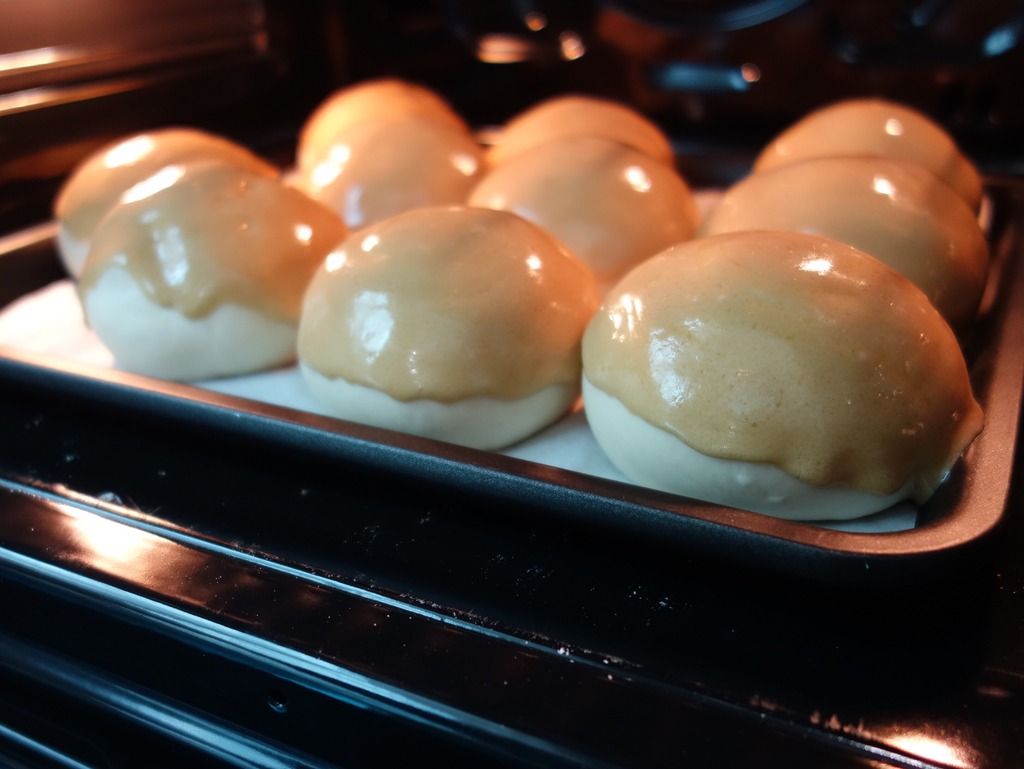 At this point, the entire kitchen already started to smell so AMAZING, let alone after they were done!
Remove from oven and place on cooling rack. It is hard to resist them with such a fragrant aroma, but please do let them rest for just a couple of minutes for the topping to get a little more crisp then enjoy whilst the bun is still warm! ;)
Oh, they were so SO good. One is never enough! Just a little heads up, if you're serving them to a larger group, you might want to double the recipe. That's what I'll do next time I attempt this recipe again.
The original Rotiboy has a butter filling, but we omitted that. You may opt to fill 5-8g of cubed salted butter before shaping them into small round balls. Might do that next time when I feel like indulging in some buttery goodness.
I hope you enjoy them as much as I do. If you've got any questions, please feel free to leave them in the comment box below.
Good luck! :)